Restaurants helmed by television chefs | The feed
Cooks you'll recognize from the small screen.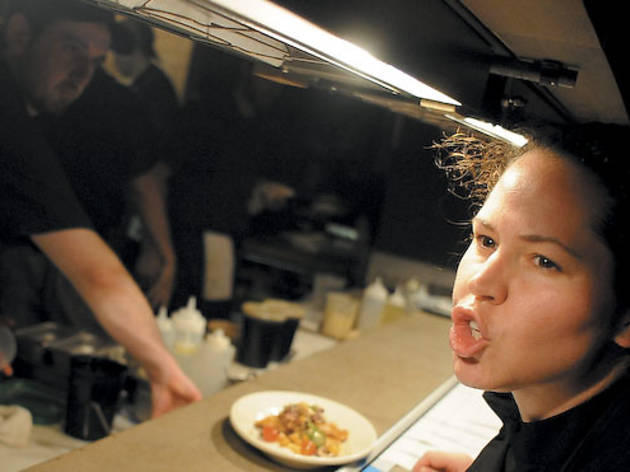 Big & Little's This quick-service fish shack shows some gourmet leanings: It's run by former Hell's Kitchen contestant Tony D'Alessandro, the standout fish in the fish and chips is breaded and fried to order, burgers are made from Angus beef and the french fries are larded with hunks of foie gras. Though recently relocated, this place is still a dive—which is how it made it onto Guy Fieri's show, too. 860 N Orleans St (312-943-0000). Lunch, dinner (closed Sun). Average main course: $7.
The Bristol Waits on weekends might be a thing of the past at this Bucktown spot, which has begun accepting reservations after three years. The restaurant has matured in other ways, too, from its still-strong cocktail program, now directed by Debbi Peek, to its desserts, which pastry chef Amanda Rockman of Top Chef: Just Desserts fame is hitting out of the park. (Just try her Basque cake, and you'll become a believer.) We have a hard time moving away from Chris Pandel's signatures, like the salad of heirloom apples and the devastatingly delicious egg-and-ricotta-filled raviolo, but it's worth it to try the unusual, always-changing daily specials (marinated beef tendon salad and a cold-smoked fillet of salmon with bacon-dill dumplings recently blew us away). 2152 N Damen Ave (773-862-5555). Brunch (Sun), dinner. Average main course: $19.
Chicago Q The queen of competition barbecue, Lee Ann Whippen, has parlayed recent fame from TLC's BBQ Pitmasters series into a swank sit-down restaurant in the Gold Coast. Upscale touches include Kobe brisket and a slab of "competition" ribs that goes for about 35 bucks. But we prefer the straight-up standard spare ribs, which are just tender enough, have a good dose of smoke and sport a slightly sweet rub. 1160 N Dearborn St (312-642-1160). Lunch, dinner. Average main course: $20.
Girl & the Goat The way things are going, Stephanie Izard's restaurant will be packed to the gills with diners until the end of time. There might be a few among the throngs who are here for a Top Chef sighting, but most are seeking the chef's surprising flavors. Begin with one of the housemade breads served with inspired butters; home in on the vegetable dishes, which breathe new life into the likes of green beans and chickpeas; and don't leave without taking at least one risk: roast goat neck? Foie gras for dessert? Izard is evolving the way these ingredients are seen. And along the way, she's evolving contemporary Chicago cuisine. 809 W Randolph St (312-492-6262). Dinner. Average small plate: $14.
Moto Chef Homaro Cantu has become known through the TV show Future Food for wacky-sounding ideas like "ending world hunger" with edible paper. But what's going on in the mad scientist's restaurant? It's anybody's guess what the night's tasting menu holds, but past trickery included a play on egg-drop soup in which frozen-egg and microgreen pellets were dropped tableside into steaming soup, and triple-seared beef was paired with "caramelaserized wine." (Yes, a laser was involved in a wine pairing.) 945 W Fulton Mkt (312-491-0058). Dinner (Tue–Sat). Average degustation: $135.
Sprout With so many Top Chef expectations preceding him, one might guess that Dale Levitski would be putting out safe food at this cozy Lincoln Park spot. Instead, he's challenging diners with inventive flavor combinations. A green salad comes with shaved licorice root; a cheese course arrives as a grilled cheese sandwich stuffed with apples; short ribs come with decadent truffle dumplings. Stick with the prix fixe (the à la carte prices are insane), and you'll find yourself captivated and wanting more. 1417 W Fullerton Ave (773-348-0706). Brunch (Sun), dinner (closed Mon). Average tasting menu: $65.