Restaurants that offer cooking classes
You don't just eat at these restaurants—you learn. Then you eat.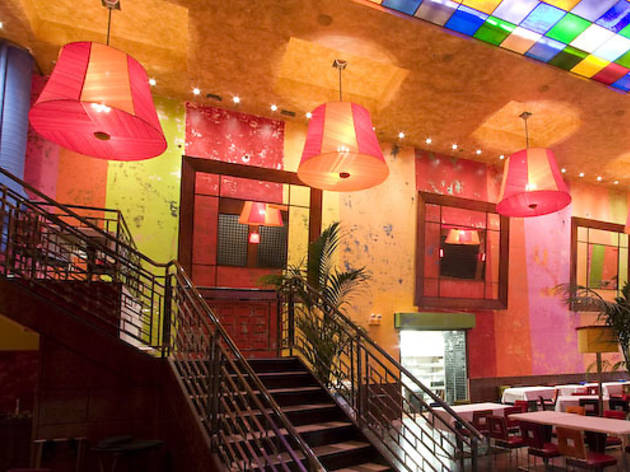 Butcher & the BurgerIt's not just a burger joint—Allen Sternweiler's spot is also a butcher shop and a butchery school. Every Monday, Sternweiler demonstrates a different butchering technique, and it's not always beef (deer and game birds are common, too). The BYOB classes culminate with a meal featuring the butchered protein. 1021 W Armitage Ave (773-697-3735). 7:30pm; $85.
CarnivaleWhat's to learn about wine? You just drink the stuff, right? Apparently there's more to it, and frequent Carnivale University courses (the next one, on Portuguese wines, is May 9) lay it all down. 702 W Fulton Mkt (312-850-5005). 6:30–8:30pm; $25.
FiliniStarting May 8, this flashy hotel restaurant will host complimentary "Crafting the Classics" cocktail classes the second Tuesday of every month. May is all about the bee's knees; you have to wait until December for the class on homemade eggnog. Radisson Blu Aqua Hotel, 221 N Columbus Dr (reserve a spot at info@filinichicago.com). 5:45pm and 6:30pm.
KoiIf you've always wanted to be a Szechuan cooking master (and you obviously have), Koi's class on Sat 21 is a good first step. Chef Mark Tsang will demonstrate four courses of Szechuan cooking. Your job: Drink wine and taste every dish. 624 Davis St, Evanston (koi-chens.ticketleap.com/koi-cooking-class). Noon; $28.
Mon Ami GabiThe first thing you do at Mon Ami Gabi's cooking classes: Get schooled in French dishes like crab salads and "floating salads." The second thing you do is eat a three-course lunch with wine. The third thing: Go home, recipe booklet in hand, to cook. (As if! You're totally going home to take a nap.) 2300 N Lincoln Park West (773-348-8886).
SushiSamba RioFor the next three months, SushiSamba Rio is taking it upon itself to teach you about sake and sushi. You won't be taught how to consume those things at these classes (the next is May 8)—you've got that covered. Instead, you'll be taught how to pair one with the other, and how to make sushi (and pair it) at home. 504 N Wells St (312-595-2300). 6:30–8:30pm; $75.