Revisiting Pork Shoppe, Lillie's Q, Rub BBQ Company & Chicago Q
Heather Shouse revisits the glut of last year's barbecue joints.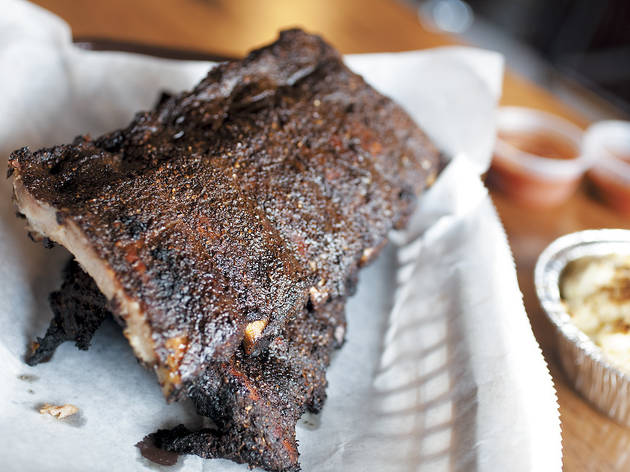 1/4
Photograph: Martha Williams
Pork Shoppe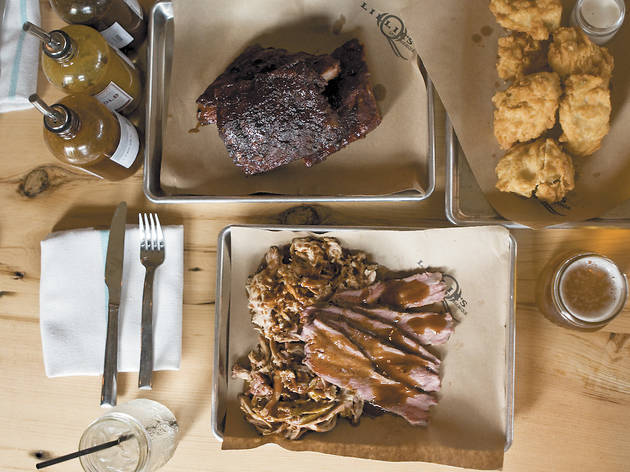 2/4
Photograph: Martha Williams
Lillie's Q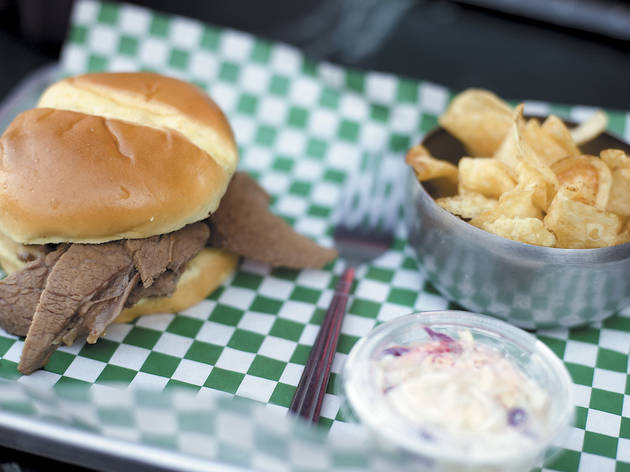 3/4
Photograph: Martha Williams
Rub BBQ Company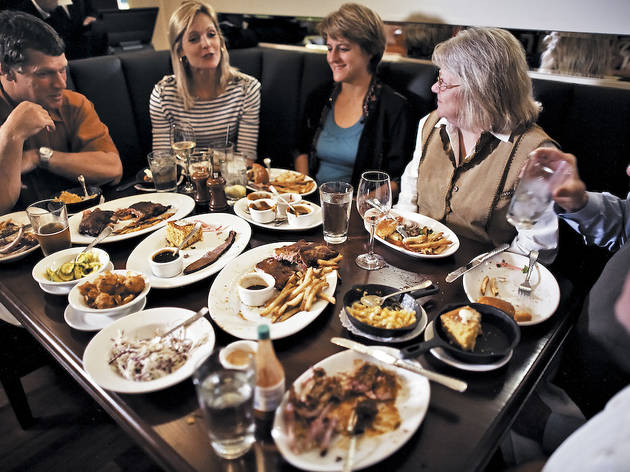 4/4
Photograph: Dave Rentauskas
Chicago Q
Pork Shoppe (2755 W Belmont Ave, 773-961-7654)
Then I liked the mac and cheese and the baked beans with burnt ends and felt the pork belly pastrami was deliciously genius. But the chicken had a sticky chew, the pork shoulder was dry (so was the brisket), and dry-rubbed ribs left me with a mouthful of gritty spices. Read the original review >>
Now Things are looking up heading into year two. Ribs sport some good bark hiding tender meat, while both the brisket and pork shoulder are considerably moister. Unfortunately, the chicken is still on the dry side. However, the sides (and that pastrami) are good enough to warrant a trip on their own, and in an interesting twist, the french fries have somehow graduated from solid to stellar.
Lillie's Q (1856 W North Ave, 773-772-5500)
Then This Wicker Park debut for Memphis in May champ Charlie McKenna was an instant hit for the innovative tri-tip, the tender pulled pork, the boiled peanuts…basically everything but the too-lean and too-sticky baby back ribs. Read the original review >>
Now The tri-tip is still the star of the show (and the ribs are still not my thing), but lately McKenna has upped the Southern portion of his menu. Whole birds get smoked then quartered, battered and fried, resulting in some of the juiciest (and definitely smokiest) fried chicken around, taken up a notch with a drizzle of tupelo honey. The lobster roll goes Creole with Lillie's crawfish take, plump tails bathed in tarragon mayo and piled high onto buttered, toasted brioche. Finally, the simple shortcake has become one of my favorite desserts in town, a split biscuit sandwiching seasonal fruit and fresh whipped cream.
Rub BBQ Company (2407 W Lunt Ave, 773-675-1410)
Then This tiny takeout joint's brisket was moist, but more in line with a Shabbat supper than Hill Country; the pulled chicken was juicy but tasted like a Thanksgiving bird; pulled pork tasted as if it were cooked (expertly) in an oven, not a smoker; and the ribs sported tough, gray meat.
Now Not much has changed at Rub, and for many loyal regulars, that's a good thing. Brisket, chicken and pulled pork still remain solidly juicy and make for a comforting meal, but those ribs still have yet to find their way. The grayish meat shows none of the pink smoke ring I love, and they're now inexplicably cut into individual ribs from the rack, a bad move when you need the meat to hold its moisture in the trip from the smoker to the table.
Chicago Q (1160 N Dearborn St, 312-642-1160)
Then Lee Ann Whippen's pricey Kobe brisket and $35 slab of "competition ribs" were disappointing, the former dry and the latter tough. But the straight-up spare ribs were perfect: pull-apart tender, ringed with smoke and slick with fatty juices. Read the original review >>
Now I still can't get a straight answer as to the difference between the competition and regular ribs (I was told multiple times that a "secret blend of spices" is applied to both, with no further explanation), but by now I'm past caring, especially when both are incredibly good. The only noticeable difference I can make out between the two is that the pink and smoky meat on the competition slab pulls clean off the bone, while the standard slab needs a bit more tug to pry bites, so choose according to your preference. Either way, these are undoubtedly the cream of the crop in Chicago, and the best thing on a menu that still includes that dry brisket.