Rib tips | Cheap eats
These messy little morsels are the most misunderstood of Chicago barbecue.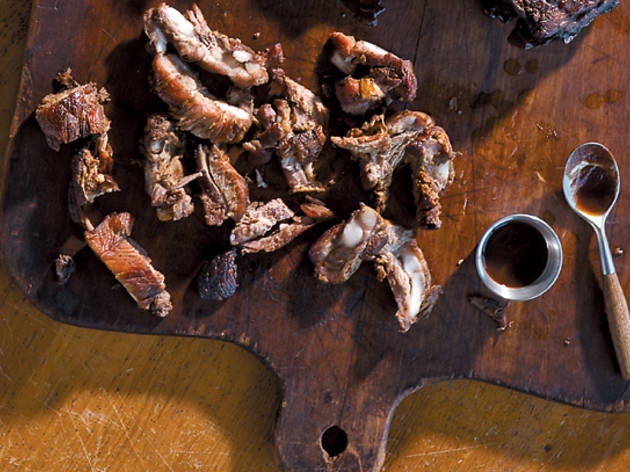 No, rib tips are not simply ribs hacked up into smaller pieces. And no, they're not all gristle and bone. Tips are delicious little hunks chopped off the belly end of the spare rib. Perfectly cooked tips are equal parts tender meat and flavorful fat, with a bit of softened cartilage, a quarter-inch or so of smoky pinkness and a thin layer of exterior bark to add a light crunch. And to think butchers and cooks used to toss these aside like scraps.
Lem's Bar-B-Que House Attention culinary historians, fledgling pit masters and general barbecue fiends: Get textbook examples of rib tips at this joint, in business since the 1950s. There's something about the way the pork is marbled that keeps the tips nice and juicy, and gives the appearance that they're mighty meaty when in fact there's a touch of fat in each bite. Salt, pepper and subtle smokiness mean you don't need the sauce, but if you must, a little dip'll do. 311 E 75th St (773-994-2428; $10–$13).
Barbara Ann's This joint gets aggressive with the seasoning, salting its tips just to the point of too much, but not over the edge. More meat than fat with a good hit of smoke, these tips are so deliciously greasy that if the slogan "finger-lickin' good" weren't already taken, we'd suggest it to management. 7617 S Cottage Grove Ave (773-651-5300; $9–$12.50).
BBQ Zone Maybe it's the proximity to an industrial pocket, but the rib tips here are meaty enough to stand in as a full meal for even the hungriest blue-collar roughneck. The aquarium smoker, mix of cherry and hickory woods, minimal seasoning and sizable strips of fat running through the tips all point to experience; the team running the show all came from Leon's Bar-B-Q, a South Side legend before most locations were sold or closed. 3309 E 106th St (773-374-9663; $7–$8, bucket $23).
Mary's Bar BQ Peel back the wax paper that snugly wraps your tips between a hot pile of fries and a slice of white bread to uncover an impressive mess of meat spotted with glistening bits of cartilage and boasting slick red edges that show they've been given their proper time in the smoker. Those edges are key, adding a touch of satisfying chew. 606 S Pulaski Rd (773-638-2233; $6–$12).
Honey 1 BBQ This is one of only a few spots on the North Side with tips, and good ones at that. The father-and-son Adams team that runs this joint knows how to buy good tips—the meat-to-fat-to-bone ratio is almost exactly thirds, math that adds up to enough fat to flavor the meat and enough bone to hold in moisture. Appreciate the subtle smokiness on their own, or dunk them in the matriarch's sweet-with-heat sauce. 2241 N Western Ave (773-227-5130, honey1bbq.com; $6–$16).