Scofflaw and North Shore Distillery release collaborative Old Tom Gin
The Logan Square gin bar works with the acclaimed distillery on a signature spirit.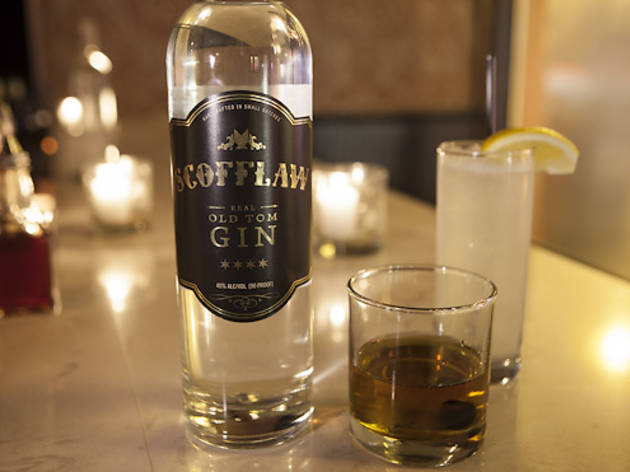 Before gin-focused bar Scofflaw even opened, its partners approached North Shore Distillery, the Lake Bluff company acclaimed for its distinctive gins, about making its own version of Scofflaw's signature spirit. After nearly a year of testing and refining, the final product is officially released this week: an Old Tom gin, a sweetened, rounder style made by only a few other producers and less popular than the sharper London Dry category. "There was a hole we could definitely fill," says North Shore's Sonja Kassebaum. In order to make this version better suited to mixing in cocktails, Scofflaw Old Tom Gin has a higher proof (90) than its cohorts, and is made from a unique combination of botanicals, including juniper, cardamom, coriander, cinnamon, anise seed, citrus peels and—"the key element," according to Scofflaw head bartender Danny Shapiro—osthmanthus blossoms, a tea that gives it "its distinct floral note," per Kassebaum. "I hate to use this word," hedges Shapiro, but "it's really luscious." Scofflaw Old Tom Gin will be released Sunday 10 at 5pm at Scofflaw (3201 W Armitage Ave, 773-252-9700). Taste it anytime thereafter as a shot ($6) or in a Tom Collins or Martinez cocktail ($8), or purchase it for $35/bottle.