Shares well with others
When economic downturns happen, shared-use kitchens boom.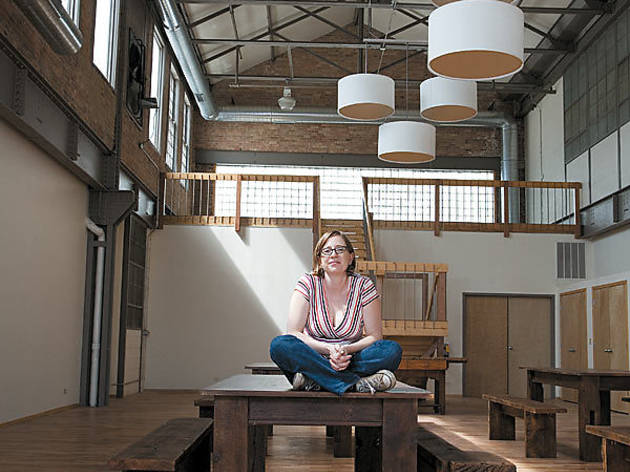 For about six months, Doug Cox sat by and watched as the crumbling economy dried up projects at the Chicago architectural firm where he worked.
And then he did what any sane person in that situation would do: He volunteered to be laid off last year so he could spend his time making cheese dip.
"I just saw this huge hole in the market," says Cox, 29, the founder of Dig Dips. "I got tired of stadium glow-in-the-dark cheese, and I thought it could be done better." Dig Dips, which are made with actual cheese and veggies, are now available in three Chicago-area stores, and Cox is in talks to expand thanks to the availability of rental commercial kitchen space in Chicago—specifically Kitchen Chicago, a shared-use commercial kitchen that will soon open expanded digs at 324 North Leavitt Street.
"We've seen a lot of people who are doing this because they've lost their jobs," says owner Alexis Leverenz (pictured), who herself quit an unfulfilling job at Merrill Lynch to start Kitchen Chicago. In its four-and-a-half years, the space (with rates ranging from $10–$24 an hour) has helped launch several well-known establishments, including Bleeding Heart Bakery, Hoosier Mama Pie Company, Vella Cafe and TipsyCake.
There are several shared-use kitchens in the area, all of which supply a licensed facility stocked with big-ticket kitchen equipment—ovens, coolers, freezers, mixers, etc. You pay by the hour; supply your own small equipment and ingredients; and you must also have a city sanitation license, insurance (in case anybody keels over after eating your food) and a willingness to clean up after yourself.
Kitchen Chicago's new space has 4,000 square feet for cooking, up from just 1,700 square feet. There are two kitchens, one geared toward catering, the other designed for baking. There's also a 2,000-square-foot area to host events and classes. All of which may come in handy as a selling point, because Leverenz will soon face significant competition. Caterer Tonya Ojuluwayo plans to open Splice Kitchen in the West Loop later this summer. And Logan Square Kitchen, built with green materials, plans to open next month with two pastry kitchens ($25 an hour), one catering kitchen ($35 an hour) and an event space. On the South Side, Kennedy-King College's Washburne Culinary Institute (where I'm a baking-and-pastry student) opened a six-station incubator kitchen about a year ago, with rates of $100 for five hours or $175 for ten.
Eric Marie, chef of wholesaler New World Pastries, started his business at Now We're Cookin', a kitchen in Evanston, but moved into his own space about six months ago. The shared kitchen gave him a great jump start, he says, but it's not all "Kumbaya." "You have to be a flexible chef or you will go crazy quite fast," he says.
But Hoosier Mama's Paula Haney says her pie company never would've hatched without incubating in a shared kitchen. "I didn't have tens of thousands of dollars to build a kitchen," she says. "We really couldn't have done this without a legal kitchen to work out of."
Even now, in her own kitchen, Haney says she sometimes misses the camaraderie of Kitchen Chicago. "I feel kind of lonely," she says with a laugh.