Six nouveau "diners"
Not old school—old schoolish.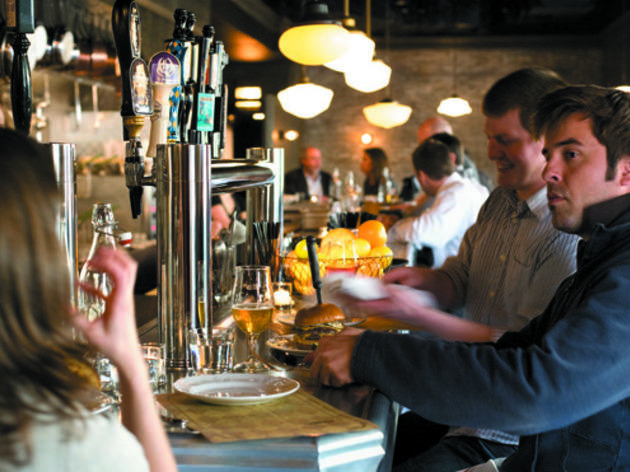 Au Cheval You practically trip over all the perfectly executed, endlessly cravable food at Brendan Sodikoff's "diner": the exemplary matzo ball soup. The devastatingly delicious chopped chicken liver. The gloriously messy double-decker burgers. But there's not a whole lot of lighter fare to start a meal with here. Likewise, there aren't many dishes that won't make you feel as if you've just eaten a pound of butter. So head to Au Cheval when it will serve you best: for a burger and a beer at the bar, for a plate of fried chicken after hitting the bars, or both. 800 W Randolph St (312-929-4580). Dinner. Average main course: $16.
Chicago Diner If you can get used to all the soy milk, tofu and tempeh on the menu, this vegetarian restaurant can feel like a normal, everyday diner. Waits for weekend brunch can get painful (even though the menu is served daily), but patient non-meat-eaters are rewarded with dense (and fairly flaky) soy margarine biscuits and sweet chocolate-almond muffins made with vegan egg substitute. French toast is a little soggy and lackluster—but after all, this is diner food. 3411 N Halsted St (773-935-6696). Brunch, lunch, dinner. Average main course: $11.
Delish Diner "Upscale" diners might be the new trend, but this spot on Division, where stained-glass windows show signs of the building's former life as a funeral parlor, is decidedly old-school and zero-percent ironic about it. Like every real diner, you don't go here thinking the eggs and bacon are going to change your life. You go here because your coffee mug never will be empty, your waitress seems to care more about you than your mom ever did, and you've never known any place this no-frills to make its own cinnamon rolls. 2014 W Division St (773-276-5200). Breakfast, lunch, dinner. Average main course: $8.
Eleven City Diner Owner Brad Rubin scoured the country to research this Jewish deli/diner. His pastrami is tender, fatty and full of flavor; the milkshakes are thick and oversized; matzo balls are enormous; and the brisket is good enough that any grandmother would want to claim it, Jewish or not. Does it hold a candle to other Jewish spots in the country? It's hard to say. But Rubin definitely holds his own as the host, giving this place enough character to become a fixture in its own right. 1112 S Wabash Ave (312-212-1112). Breakfast, lunch, dinner. Average main course: $9.
Glenn's Diner More than 25 varieties of cereal with free second and third helpings. Blackboard fresh-catch tilapia specials. Huge salads (no iceberg lettuce here). Bananas Foster apple pancakes. Any place with such a varied menu is going to have some hits and misses. But the salads, grilled sandwiches and enormous omelettes, all made with fresh veggies and no greasy-spoon feel, are what keep us (and Mayor Rahm, who counts this among one of his favorites) coming back. 1820 W Montrose Ave (773-506-1720). Average main course: $15.
Pei Wei Asian Diner This is P.F. Chang's on speed, a quick-service offshoot of the national chain that built its following on the accessible exoticism of the lettuce wrap: cool leaves, hot minced chicken and water chestnuts, no complaints. That same lettuce wrap is available at Pei Wei, a restaurant that pulls off the remarkable feat of transporting you from Logan Square to Any Mall in America. Browse the menu on computer screens toward the entrance, relay your order to the programmatically friendly folks behind the counter, grab a drink from the soda machine (which mixes Coke to order) and in minutes your combination of sweetly sauced meat and corporatized trends (chewy Korean barbecue beef, tea-smoked chicken) will arrive steaming. 2709 N Elston Ave (773-687-0290). Lunch, dinner. Average main course: $8.