Six serious sandwich shops
Chicago Bagel Authority This Ohio-loving, toaster-shunning shop steams every bagel it serves, and if that sounds weird, you obviously haven't had one...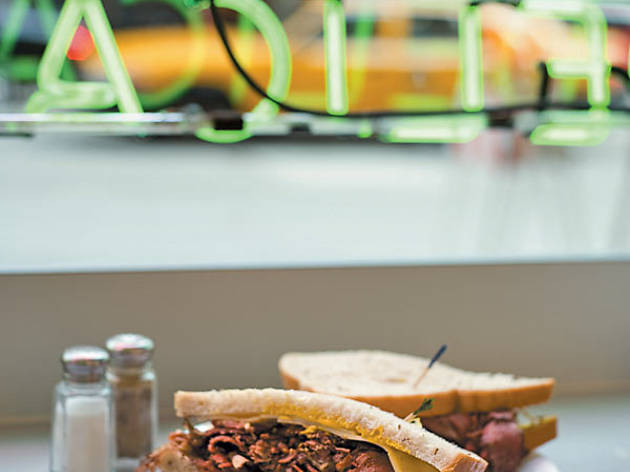 Chicago Bagel Authority This Ohio-loving, toaster-shunning shop steams every bagel it serves, and if that sounds weird, you obviously haven't had one of its warm, soft sandwiches yet. Steaming the bagels (or, if you must, wraps and sub rolls) makes ambitious sandwiches like the "Bacon Boat to Turkey Town" (stuffed with turkey, bacon, chive cream cheese, red onion, banana peppers and spicy mustard) and "Mikey's Munch" (roast beef, pepperjack, avocado and peppercorn dressing) manageable. If it's a crisp bagel you prefer, though, you're out of luck. 953 W Armitage Ave (773-248-9606). El: Brown, Purple (rush hrs) to Armitage. Bus: 8, 73. Breakfast, lunch, dinner (Mon–Thu). Average main course: $6.
Jerry's Sandwiches If this design-your-own-sandwich bar—with its selection of eight breads, 28 fillings and 25 sauces—doesn't make you slip into a coma of indecision, then we're sorry, but you're probably one of the most boring people on Earth. A list of suggestions helps indecisive lunchers, but with 100 selections, all of them as tempting as the Diego R. (steak, avocado, cilantro, cheddar, chipotle chutney and adobo sauce), it's still tough to choose. So when you're here, grab a menu to study at home. And tell your boss that, from now on, you're going to need some extra time on your lunch hour. 1045 W Madison St (312-563-1008). Bus: 8, 20. Lunch, dinner (Mon–Fri). Average main course: $9.
Moon's Sandwich Shop If you're going down Western Avenue and happen to blink, you'll miss this lunchtime spot that resembles an abandoned shack. If you do muster up the courage to saunter through the front door, you'll feel as if you've stepped into a Mississippi short-order grill. The assembly line of cooks whips up mile-high, shaved-to-order corned beef sandwiches, moist meatloaf between soft white bread (Tue, Thu, Sat, Sun only), and breakfast hangover cures like buttery flapjacks, big bowls of grits and griddled ham with fried eggs. 16 S Western Ave (312-226-5094). El: Blue to Western (Forest Park). Bus: 20, 49. Breakfast, lunch. Average main course: $7.
Nhu Lan Bakery This former Greek bakery now makes about 1,000 deliciously crusty loaves of bread a day, providing the canvas for eight different banh mi. Pig out on the meaty grilled-pork version or the "seasoning pork," which layers glistening pork belly atop a slather of peppery housemade pâté. To make a meal, grab sides from the pastry case and fridge. (The owner is quick to warm up items and offer cups for wine if you choose to eat at one of the two tables.) Don't miss the dried shrimp sticky rice topped with Chinese sausage; steamed buns packed with black pepper–seasoned pork, hard-boiled eggs and black mushroom; tartarelike "ham snacks" with raw garlic and chilies; and cheese-filled croissants, evidence that the French occupation of Vietnam had at least one positive outcome. 2612 W Lawrence Ave (773-878-9898). El: Brown to Rockwell. Bus: 49, 81. Breakfast, lunch, dinner (closed Tue). Average sandwich: $2.25.
Perry's The attraction of the original Perry's on Franklin Street is that it's a bit of a mess: Random signs and posters litter the walls, the floor is worn from the constant foot traffic, and the counter guys don't have the time—or inclination—to make nice. This new University Village location doesn't have any of that. In fact, at first it feels like an imitation gone wrong: LEYE does Perry's. But this joint's lack of soul dissipates on the first bite of its warm pastrami, sliced thick, ribboned with buttery fat, and so delicious that the joint's grittiness—or lack thereof—will be the last thing on your mind. 719 W Maxwell St (312-243-1633). El: Blue to UIC/Halsted. Bus: 8, 12, 168. Lunch. Average sandwich: $8.
Uncle Sammy's If you've ever passed by this Lincoln Park sandwich shop, you've probably assumed it's a chain. Well, you're right and you're wrong. At the moment, this is the only location, and once you get inside, you'll see that some of the sandwiches pay homage to our lovely city (not that we have any idea what a ham-and-roast-beef sandwich has to do with its moniker, the Windy City). What you'll also see inside are bags of Uncle Ben's stuffing (the better to make the Thanksgiving-inspired Pilgrim sandwich with) and Ghirardelli brownie mix (nothing wrong with that). Bite into the soft, doughy bread, though, and it's hard not to be reminded of Jimmy John's. 1231 W Fullerton Ave (773-525-4800). El: Red, Brown, Purple (rush hrs) to Fullerton. Bus: 9, 11, 74. Lunch, dinner. Average main course: $5.50.