Six sources for a deli sandwich | The feed
Places to get sandwich fixins—or just have one made for you.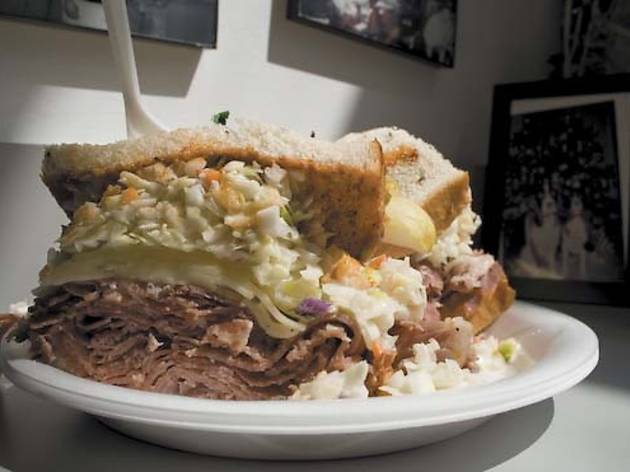 Bergstein's NY Deli Chicago Heights' Bergstein's NY Deli has taken to the streets in a bright blue truck, serving up all the classics, and (like any good deli) never skimping on the meat. The warm corned beef on rye is simple and delicious, while Lou's Second City combines turkey, salami and Muenster on a pretzel roll for hearty goodness. The coleslaw is fine, but the housemade potato chips are the better choice: light, crunchy and perfectly salted. Best of all, the staff is friendly and quick, getting you fed, happy and on your way in a New York minute. @BergsteinsNY.
Cipollina This Italian-leaning deli from the folks behind stellar sandwich shop Milk & Honey offers cured meats, cheeses and antipasti by the pound, making it a perfect post-work or pre-picnic stop. For snacking instead of shopping, order one of the 16 panini and sandwich creations, the best of which is the porchetta, tender roast pork dressed with pickled cabbage, smoked mozzarella, red onion and apple mustard. Italian sodas and caramelized banana ice cream with Valrhona chocolate chips are stellar refreshers. 1543 N Damen Ave (773-227-6300). Mon–Fri 7am–6pm; Sat 8am–5pm; Sun 8am–4pm. Average sandwich: $7.
City Provisions Delicatessen Chef Cleetus Friedman calls this locally minded, sustainable-foods storefront a "deli," but it's really more deli/bakery/coffee shop/butcher/grocery store. Service is unfailingly friendly: To walk into the place is to experience a happy barrage of "good morning"s and "How are ya?"s and, most important, "What would you like to try?" The answer to that last question: everything. Try the housemade pastrami, silky pâtés, herby meatloaf and smoky ham sandwich. 1818 W Wilson Ave (773-293-2489). Breakfast, brunch (Sun), lunch, dinner (Sat, Sun). Average sandwich: $8.
Deli Boutique Jana Buchtova knows that Chicagoans are well-traveled people, and with her European-style deli, she hopes to remind them of where they've been. She's likely to succeed: Her breads are imported, par-baked, from Europe, and she's using them on her panini, including one that layers prosciutto, fresh mozzarella and an olive tapenade. She also has a whole line of imported meats and cheeses and serves Italian coffee drinks using Lavazza beans. 2318 N Clark St (773-880-9820). 8am–8pm. Average main course: $7.
Perry's The closest thing Chicago has to the "soup Nazi," Perry's is a lunchtime institution with a fiercely enforced policy of no cell phones. The wait is rewarded with deli classics, like egg salad sandwiches; hot, juicy pastrami; and "Perry's Favorite"—corned beef, Jack cheese, coleslaw and Russian dressing piled high on fresh rye. Earlier hours offer breakfast takes on similar classics, including the Mad Moscow, a mess of eggs scrambled with pastrami, corned beef and Russian dressing, piled onto a toasted bagel. 174 N Franklin St (312-372-7557). Mon–Fri 7:30am–3:30pm (closed Sat, Sun). Average sandwich: $9.
Publican Quality Meats The sister restaurant to the Publican serves a number of functions: It's a butcher shop, a sandwich joint, a boutique grocer and a bread bakery. The selection of locally sourced meats and dairy is a home-cook's (bourgeois) dream, but if you'd rather leave the cooking to Paul Kahan and crew, get a bowl of the deeply flavorful ribollita soup, a sandwich (the tuna muffaletta with soft-boiled eggs on focaccia and the veggie tartine with roasted cauliflower and pickled fennel are exceptional) and a seat at one of the cramped communal tables. 835 W Fulton Mkt (312-445-8977). 10am–7pm. Average main course: $10.