Summer recipes by Ryan Poli | The seasonal supper
The chef at Tavernita designed this Spanish picnic just for TOC.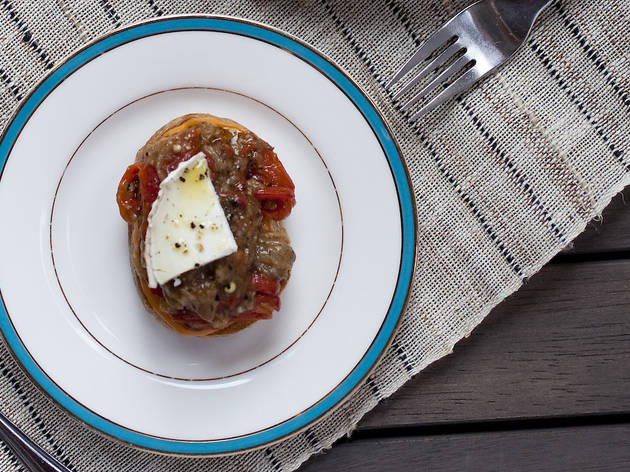 1/4
Photograph: Nicole Radja
Escalivada; Dishes by Plate, Vintage Crockery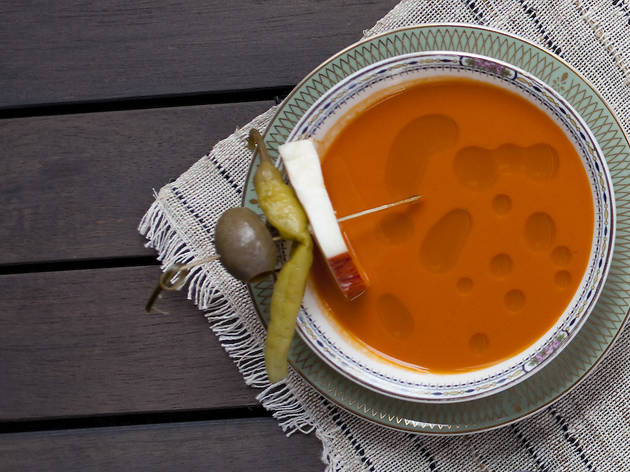 2/4
Photograph: Nicole Radja
Gazpacho with smoked paprika; Dishes by Plate, Vintage Crockery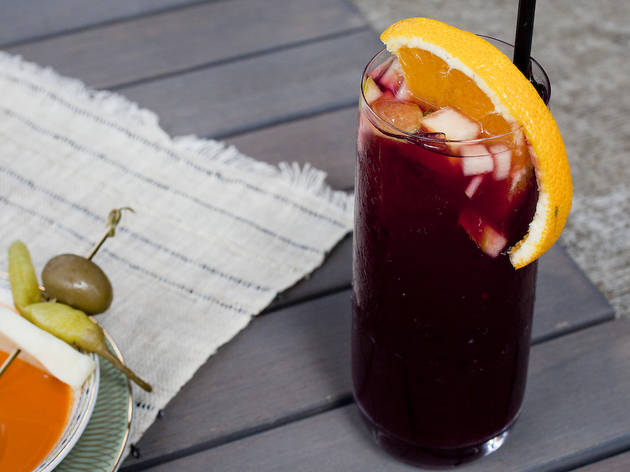 3/4
Photograph: Nicole Radja
Tippling Bros. Sangria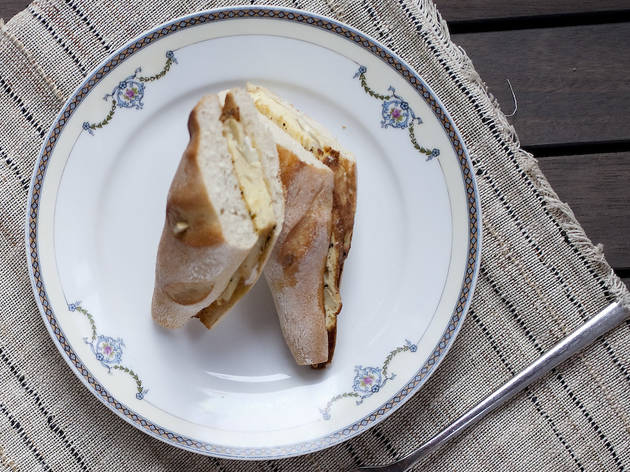 4/4
Photograph: Nicole Radja
Tortilla Espanola sandwiches; Dishes by Plate, Vintage Crockery
When we asked Tavernita chef Ryan Poli to put together recipes for a Spanish picnic, he said one word: "Easy." Maybe for him, we thought. But it turns out he was right—all you need to do for this picnic is fire-roast some veggies for the escalivada, mix some wine and spirts for the sangria, blend some veggies for the gazpacho and whip up some eggs for the Spanish tortilla sandwiches. All right, so maybe that last recipe takes some time. If it's too intense, skip it. Spaniards don't stress out about stuff like that—why should you?
Gazpacho with smoked paprika
½ cup olive oil
2 small onions, diced
2 red peppers, diced
3 cloves garlic, chopped
5 roma tomatoes, chopped
1½ English cucumbers, peeled and chopped
¼ cup basil, chopped
1½ tbsp smoked paprika
¼ cup sherry vinegar
2 cups sparkling water
Kosher salt
Fresh ground pepper
1. Heat the oil in a large pot. Add the onions and peppers and sauté until soft. Add the garlic and tomatoes and continue cooking for another two minutes. Add the cucumbers, basil, paprika and two cups water, cover, and cook on medium heat until all of the vegetables are soft and tender.
2. Transfer the soup to a blender and blend until smooth. (Alternatively, blend in the pot with a hand blender.) Cool the soup. Add the vinegar and the sparkling water, season to taste with salt and pepper, and serve.
Serves 4.
---
Escalivada
4 small eggplants
4 small onions, halved
4 red bell peppers
2 Roma tomatoes
¼ cup extra virgin olive oil, plus more for brushing the vegetables
2 cloves garlic, minced
3 tbsp sherry vinegar
Salt
1 small baguette, sliced, slices grilled
Zingerman's Creamery Lincoln Log goat cheese (or other slightly aged goat cheese)
1. Prepare a hot fire in a charcoal grill. (Alternatively, heat a cast-iron grill pan on the stove top.)
2. Brush the eggplants, onions, peppers and tomatoes with oil. Grill, turning to ensure even cooking, until the skins are blackened and the vegetables are tender. Place vegetables in a bowl and cover to steam for 10–15 minutes.
3. When they're cool enough to handle, peel the eggplants, peppers and tomatoes, and peel away the outer layer of the onions. Cut the vegetables lengthwise into strips about one and half inches wide. Transfer to a bowl.
4. Whisk the garlic with the vinegar and a quarter cup of oil. Sprinkle over the vegetables, season with salt, and toss to mix well. Serve at room temperature on grilled bread, topped with a slice of the goat cheese.
Serves 4.
---
Tippling Bros. sangria
1½ cups red wine
¼ cup white rum
¼ cup curaçao
¼ cup simple syrup
¼ cup guava puree
1/3 cup grapefruit juice
1 apple, cored and cubed
4 orange slices
Cinnamon
1. Add the first six ingredients into a cocktail shaker and shake over ice. Strain and pour into a highball glass. Garnish each glass with a pinch of cinnamon, some apple cubes and an orange slice.
Serves 4.
---
Spanish tortilla sandwiches
1 cup extra virgin olive oil
3 small potatoes, peeled and cut into ¼-inch thick slices
1 small onion, thinly sliced
6 eggs
2 small Roma tomatoes
6 mini baguettes, sliced lengthwise and toasted
Kosher salt
Fresh ground pepper
1. In a medium sauté pan over a medium flame, heat one cup of the oil. Slowly add the potato slices and cook, turning occasionally, being careful not let potatoes brown. When the potatoes are halfway tender, add the onion and cook for another five to eight minutes. Continue to turn occasionally until the onions and potatoes are tender. Strain the onion mixture and reserve the oil. Let onions sit at room temperature until completely cool.
2. In a large bowl, mix eggs with one tablespoon of water, the onion-potato mixture and a pinch of salt. With a fork, mash potatoes and press into egg. Let sit for about ten minutes.
3. Heat a quarter cup of the reserved oil in a medium nonstick sauté pan. When the oil is almost smoking, add the egg mixture and lower the heat. Cook over low heat until it starts to set. At this point, the tortilla is almost cooked, though the center should still be a little runny. Place a large plate over the top of the pan and carefully invert the tortilla onto the plate; then, slowly and carefully slide it back into the pan and continue to cook for about two to three minutes. Remove from the pan and let cool to room temperature.
4. While the tortilla cools, make the tomato bread. Slice the tomatoes in half. Rub the cut half of the tomatoes onto the cut sides of the bread, then discard the tomatoes. Season with kosher salt and pepper and drizzle with a little olive oil. Cut the tortilla into slices, and sandwich them with the baguettes.
Serves 6.