Tastes like team spirit | Chicago Bears foods
If you thought watching football was just about eating...you're right!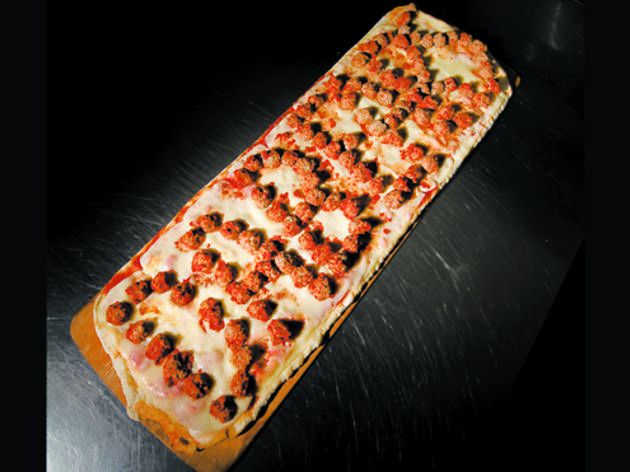 There are football fans, and there are football-foods fans, and if you're in the latter camp (key indicator: You only know the names of Bears players so you can name dishes after them), you'll be fine with the Pigskin Burger at DMK Burger Bar(2954 N Sheffield Ave, 773-360-8686). But if you're in the former, it may stir feelings you'd rather keep at bay. The burger, available during home and away games, takes a basic beef patty and tops it with root beer–braised pork, pickles, onions and—here's where things get dicey—Wisconsin cheddar. Wisconsin. On top. Again! Luckily, those football fans not emotionally stable enough to face such a thing can opt for a different Bears promotion, this one from Dough Boys(626 S Racine Ave, 312-243-9799). Order a standard-size thin-crust or deep-dish pizza during Bears season, and they'll put the Bears logo on it. Order the massive, three-foot-long "Pizza Metro," and the pizza shop will spell out da bears on it in meatballs. And if you order enough of those Pizza Metros, and you ask nicely enough, and the Bears are doing poorly enough, maybe the shop will use those meatballs to spell dammit, cutler, what are you doing? But who knows, there's a chance it won't come to that.