The Aviary's sassafras cocktail
It's not what it seems.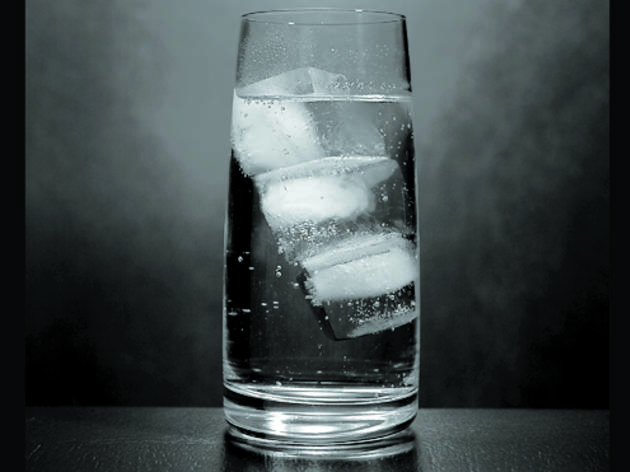 The cocktail above—"sassafras," by the Aviary—looks like water. But it tastes like sassafras, sarsaparilla, licorice, star anise, cardamom, peppercorns, vanilla beans, black pepper, birch bark and applewood, all of which is cooked down into a dark, almost black stock, which is then boiled in a machine called a rotary evaporator, which releases steam through a chamber before it is condensed and chilled into a liquid—"a crystal-clear root-beer stock," as the Aviary's Craig Schoettler describes it. Kirsch—a cherry eau de vie—is added next, then simple syrup, which brings the Brix (sugar level) up to that of "normal root beer" (Schoettler again). Then, the mixture is carbonated. In the glass go three ice cubes: The top one is vanilla, the middle bay, the last cinnamon, each one distilled through the same machine as the stock, then frozen in an ice-cube tray custom-designed by Crucial Detail's Martin Kastner to make perfect one-and-a-quarter-inch cubes. As the drink is served and the ice begins to melt, it's not only the perception of the cocktail that changes but the taste, too.