The bar chart | Feb 8–15, 2012
Our heated assessment of where to drink this week.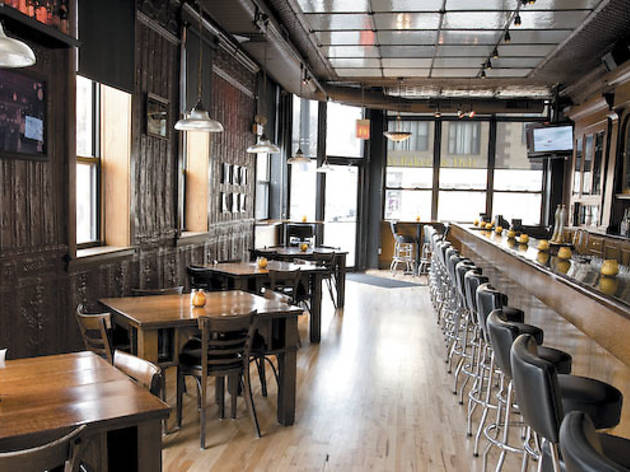 BANGERS & LACE On Mondays, $10 now buys you fried chicken, a Krombacher Pils and a shot of malört. 1670 W Division St (773-252-6499). file under: beer geeks, real deals
BARCITO Stand while we eat? For Ryan Poli's pintxos and Tippling Bros. cocktails, we can manage it. 151 W Erie St (312-274-1111). file under: cocktailians, good enough to eat
BREAD & WINE Wine by the glass, wine to take home, wine for everyone! 3732 W Irving Park Rd (773-866-5266). file under: winos
BULL & BEAR You can't name France's president, but you've seen all of Sex & the City. Go here for trivia Tue 14. 431 N Wells St (312-527-5973). file under: ladies night
FLIGHT 1551
Small plates (e.g., bacon-wrapped dates)—and 50-plus wines by the glass to drink with them.
1551 N Wells St (312-664-0841).
file under: winos
THE OGDEN What's a hipster doing at a sports bar near United Center? Checking out Bite alum Rodney Staton. 1659 W Ogden Ave (312-226-1888). file under: game on
THE SOUTHERN The new late-night menu starts at 11pm. Your second dinner starts with andouille corn dogs. 1840 W North Ave (773-342-1840). file under: southern comfort
TUMAN'S TAP & GRILL Add this to the list of things we never would have considered: eating at Tuman's. 2159 W Chicago Ave (773-782-1400). file under: neighborhoodie, there goes the neighborhood