The Big Star/Publican collaboration with Lagunitas Brewing
Three beer directors introduce Zephyr (a pre-prohibition–style lager) to Chicago—via California.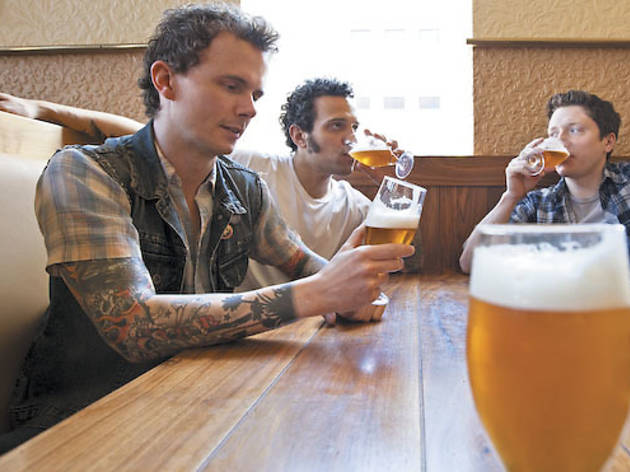 Yes, Lagunitas, the much-loved and fast-growing California craft brewery, has been a staple at Big Star since the bar opened, a perfect fit for the Wicker Park spot's dusty Western-migration theme. Yes, the brewery has earned such a strong reputation for its "really classic, clean styles of beer"—as Ben Fasman, one of Big Star's managers and beer directors, puts it—that customers are prone to simply order "whatever Lagunitas beer you've got on draft." And yes, when Big Star rolled out its beer dinners, Lagunitas was the first brewery it partnered with, and owner Tony Magee flew in and performed a few bluesy songs in the bar for the occasion.
All of these were reasons Fasman and his fellow manager and beer director, Laurent Lebec, wanted to collaborate with Lagunitas on a beer, as the two had previously done with Goose Island for Big Star's one-year anniversary. But unlike Goose, Lagunitas has "never really done a collaboration like this—ever," Fasman says. So when the Big Star duo, along with Publican beer director Michael McAvena, found out that collaborating with Lagunitas was a possibility, the trio jumped at the opportunity. "It makes perfect sense," Lebec says, "because pretty much everything they do is golden."
He knows this because he, Fasman and McAvena, as well as Lagunitas's Chicago rep and its distributor, gathered every Lagunitas beer they could find one night, sat around McAvena's place and got drunk. "We discussed styles and what we liked about all their beers…and we just got really nerdy, but fun, about it," Lebec recalls. They regrouped after that to homebrew many test batches of the beer to present to Lagunitas. Knowing the release date was the beginning of summer, the trio wanted "a beer that you can keep going back to," Lebec says. "But at the same time," he notes, "we didn't want to make yellow water."
The result, after a trip out to the brewery in early April, is 200 kegs of Zephyr, inspired by pre-Prohibition lagers (bigger lagers with higher alcohol levels), named for the scenic train line between California and Chicago, and dry-hopped with a less common hop strain McAvena found from New Zealand, which lends a "really nice, aromatic lemon balm–y" aroma, Lebec explains. It's "something you could drink six or seven of and still feel totally comfortable," he adds. Says Fasman: It's "a lager with some balls to it."
100 kegs of Zephyr are available for $4 for a 12-ounce pour beginning Monday 6 at Big Star (1531 N Damen Ave, 773-235-4039) and the Publican (837 W Fulton Market, 312-733-9555 ); the remaining 100 will be distributed citywide.