The comeback kid
After a much talked-about crash and burn, Michael Carlson is back, and he's bringing a new Schwa with him.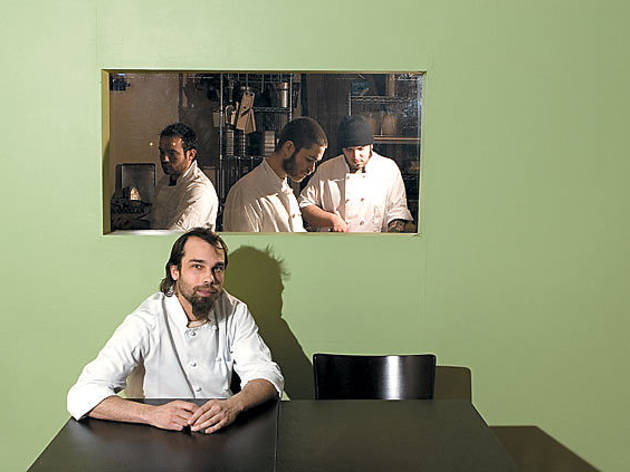 The plates were empty, the bellies were full. The men seated around the snaking tables in the tiny Chicago restaurant they took over for the night included the world's best chefs: Ferran Adrià, Heston Blumenthal, Wylie Dufresne, Charlie Trotter among them. And while they refilled glasses with rare vintages of pricey wine and offered toasts to Trotter, the man of the hour whose restaurant's 20th anniversary was the impetus for the culinary equivalent of a U.N. meeting, the young chef who had just created, cooked and served them 14 courses was crumbling from within. His head spinning and heart racing, he decided then and there that this would be his last night of service. Tomorrow there would be no Schwa.
That Michael Carlson even got to this point was a small miracle. Sure, he had trained under some of the best, including Blumenthal at the Fat Duck and Alinea's Grant Achatz in his early Trio days. But to eschew more mentoring from the masters to open your own 27-seat restaurant—without a liquor license, without a service staff, on a deserted strip of Ashland Avenue facing a gleaming tire-rim shop—is risking, maybe inviting, professional suicide. Carlson met it head-on. He arrived at his cramped kitchen just after dawn every day, cranked up the stereo to blast Wu-Tang and Atmosphere, and created food that would make the world sit up and take notice.
The accolades soon poured in. Schwa opened in fall of 2005; Carlson was named one of Food & Wine's Best New Chefs for 2006. Local press glowed, online message boards were abuzz and globe-trotters added Schwa to the top of their destination lists. But all of this came at a price. The restaurant industry is, after all, a world that glorifies excess and extremes. Anthony Bourdain created a career out of exposing (or some would say bragging about) the casualties of the job. Mario Batali has such a far-reaching reputation for mass consumption—from fistfuls of prosciutto to magnums of Barolo to whatever else is passed—that wherever he goes, young adulating cooks line up for a chance to go toe-to-toe. But these are the big shots, the ones who rarely, if ever, cook. In small kitchens like Schwa around the country, the 100-hour workweeks take a toll that goes deeper than arm burns.
"You have to understand, the menus we were doing were so ridiculously labor intensive that we would get here at 8am and leave at 2am," Carlson says. "In the beginning it was just me and Nathan [Klingbail, sous chef], then we had three . But it was still this six-burner stove, answering phones, serving the food. And that's the way I wanted it. That was the whole point."
Carlson kept up the pace for almost two years exactly. In the weeks leading up to last October's private dinner for the 22 bigwigs, the tightly wound crew began unraveling. Adrenaline propelled them toward the event. As Carlson puts it: "We'd been talking about closing for weeks, but we knew we just had to do this dinner, we just had to get there."
To do so, he called in help from Klingbail, who'd since moved on to Alinea, and the four-man crew managed to simultaneously serve 22 portions, 14 courses in a row, to an esteemed audience who was audibly impressed. "Seeing all those cats was the biggest thing in anyone's career," Carlson recalls. "It was ridiculous. It was the scariest thing and at the same time just unfucking real. It was one after another walking through the door. Idols you respect and read and have always wished to meet walking through our door. It was sick. There was a lot of power in the room. Everybody at that dinner was somebody."
Adrià commented, via his Spanish interpreter, that "there is very much passion here." Trotter bragged to his visitors that the man behind this little Chicago spot was "brilliant." Blumenthal stuck his head in the master bathroom–size kitchen and laughed that it reminded him of his early days. And after every last one of the guests cleared out, "I pounded three glasses of wine, sat down and just reflected on what happened," Carlson says. Then he reached for the phone to call his father, Stan, a.k.a. Schwa's sole investor. "I said, 'I don't know if I have anything else in me now,' and that was it. We closed and I left town."
A little more than three months have gone by since, time that Carlson has called a "physical, emotional and spiritual break." But in the last month, that nagging bug, the creative drive that started this whole thing, bubbled toward the surface, leading to the decision to reopen Schwa in the next few weeks. He's been keeping a notebook, jotting down flavor combinations that, to casual observers, seemingly make no sense, but under Carlson's hand, likely will come together to yield unparalleled results. He'll pickle monkfish cheeks and add flavors of banana, celery root and coriander. Calf's liver will get slow-cooked then quick-seared and plated with a toasted rice risotto flavored with onion puree (Carlson calls it "tricked-out liver and onions"). Hops from a home-brewer supplier will result in a variation of beer-cheese soup. The Hawaiian fish kona kampachi will be combined with lime puree, galangal and maple syrup. Spicy-sweet rutabaga juice will combine with mustard, sage and pumpernickel to accompany arctic char roe. A "tricked-out" take on chilaquiles will make an appearance, and only three dishes from the past will repeat: the now-famous quail egg ravioli, "pine cone" (a tiny housemade cone filled with yuzu-rosemary-juniper pudding topped with a scoop of sea urchin ice cream and pink peppercorn) and "pad thai" (strands of jellyfish replace traditional glass noodles to absorb the lime, peanut and cilantro flavors).
So the big question is: When? "I'm in a hurry to get in the kitchen, but at the same time, I know people are looking for us to put out good food again and I'm not going to rush that and put out shit just to get open," Carlson says. "Luckily, my dad, Stan, who is partner and obviously wants us open, is being great about me taking my time." What that means for those clamoring to get in is that Schwa will test out new dishes on friends and family during the last week of January, use the first two weeks of February to honor reservations that were canceled due to the closing, and start taking new tables for February 15 and beyond.
And this time around, Carlson is peppering his rapid-fire rants with words he seldom used in the past: delegate, balance, focus and relax. "Lessons are learned," he says. "I have this amazing new team of guys, one from Heat, one from Butter and a dope intern. Plus Rachel [Brown, Carlson's girlfriend] is going to help with office stuff, and she'll bring Lily [the couple's daughter] in for part of the day so I don't freak out when I need a hug. Just being able to sleep eight hours a day helps. From all those aspects—spiritual, mental, physical—I feel great. And I feel ready."