Heads up! We're working hard to be accurate – but these are unusual times, so please always check before heading out.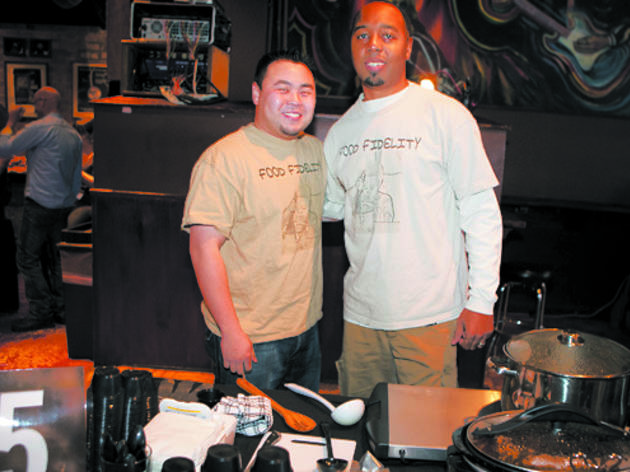 The Time Out Chicago 2011 Chili Cook-Off Champion
Marwin Brown's award-winning chili.
Our sixth annual Chili Cook-off at [node:33372 link=Martyrs';] was once again an epic competition among 15 chili die-hards. Last year's winners, Jonathan Jamieson and Ginger Semany, returned to defend their Pot Full of Pig Chili, earning first place in the popular vote for the second year in a row. But the Critics' Pick, selected by TOC's Julia Kramer and David Tamarkin, went to Marwin Brown, who writes about food and music at foodfidelity.blogspot.com and who made a complex ground-beef-and-smoked-brisket chili with subtle chocolate notes.
Texas smoked brisket chili with dark mole
For the chile paste:
6 dried chiles (use a combination of ancho and pasilla)
5 garlic cloves, peeled
1 tsp brown sugar
1 red bell pepper, chopped
1 yellow bell pepper, chopped
½ can of chipotles in adobo sauce
3 fresh jalapeños, chopped
To complete the chili:
½ tsp olive oil
5 strips beef bacon (can substitute pork bacon)
1 lb ground beef chuck
1 bottled beer (Shiner Bock or any Mexican beer will do)
1 large yellow onion, chopped
1 tsp coriander
2 tbsp paprika
2 tbsp cumin
½ tsp cinnamon
1 tbsp kosher salt
1 tbsp ground black pepper
3 tbsp chili powder
2 12-oz cans fire-roasted tomatoes
1 2-oz dark chocolate bar
12 oz low-sodium chicken broth
1½ lbs smoked brisket (either homemade or from a local barbecue restaurant)
1. Make the chile paste: Bring 2 cups of water to a boil, and pour water over bowl of chiles. Let soak until softened, 20–30 minutes. De-stem and de-seed chiles. Reserve liquid. Place de-stemmed and de-seeded chiles in food processor along with garlic cloves, brown sugar, ¼ of each of the bell peppers, chipotles, jalapeño peppers and reserved liquid. Process until it forms a smooth puree. Set aside.
2. Brown ground beef: Heat skillet over medium heat. Cook bacon in olive oil until browned. Remove bacon and set aside. Using the same skillet, brown the ground beef in remaining bacon grease.
3. Caramelize onions: In large pot, add ¼ bottle of beer, onions and remaining bell peppers, and cook on low heat for about 30 minutes until onions are translucent. Add spices (coriander, paprika, cumin, cinnamon, salt, pepper and chili powder), tomatoes, chocolate, ground beef, brisket, chile paste, chicken broth and remaining beer. Stir to mix all the ingredients. Chop bacon slices to form bacon bits, and add to the pot. Reduce heat to low, and cook covered for at least 2 hours, stirring occasionally.