Three new takes on ice pops
Cool off with a fruit—or meat?—pop.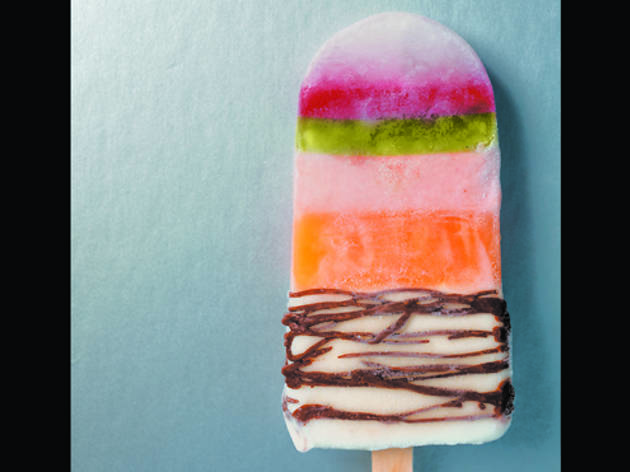 Jicama, wheatgrass, cured yogurt, habaneros. To study the ingredients on the menu of the new food truck Ice³ (pronounced "ice cubed") is to agree: There are few things one cannot (leaving aside should not) freeze into the portable treats a large multinational corporation has forbidden us from calling Popsicles®. "We sit around going, Hey, I really like pepperoni; can I make this into an ice cream?" says Erika Stone-Miller, who launched the sweets truck in mid-July with chef Adam Harralson. Their most ambitious creation: an Italian prix fixe in the form of a pop, with layers of prosecco, beet-and-arugula salad, prosciutto, veal ragù and tiramisu (pictured). Not exactly what you crave during 100-degree temps? At Bake, owner Jennifer Estrella recently began offering (decidedly more familiar) pops, in flavors like watermelon-strawberry, blueberry and peach. And newbie Antique Taco finds its own way around trademark infringement by simply dubbing its frozen purees of watermelon-rosemary or (the current offering) cucumber-habanero by their Spanish name: paletas.
Ice³ (ice-cubed.com, Twitter: @ice3truck)
Bake (2246 W North Ave, 773-384-7655)
Antique Taco (1360 N Milwaukee Ave, 773-687-8697)