Tony Mantuano's pupils open Autre Monde in Berwyn
A Tony Mantuano–trained dream team opens a cafe in uncharted territory: Berwyn.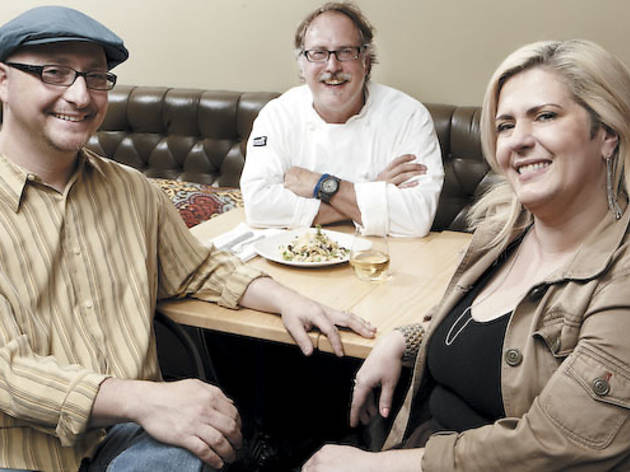 A juicy Italian beef from the legendary local chain Buona. A cup of watermelon ice scooped by the adorable namesake behind Gina's Italian Ice. A set of live roots rock at FitzGerald's nightclub. These are among the reasons people like John Aranza and Christine Tully Aranza move to Berwyn. But these well-traveled restaurant-industry vets wanted more for their town. Specifically, they wanted a good plate of pasta.
As luck would have it, pasta is something the pair know about. "We ended up out here after we both worked for Tony Mantuano," Tully Aranza says. She worked as a manager at the now-defunct Tuttaposto; she met Aranza, an assistant sommelier under Henry Bishop, at Spiaggia in 2000. The couple hung out with another couple, chefs Dan Pancake (Cafe Spiaggia) and Beth Partridge (Spiaggia). "We were this tight little crew, sharing the same ideas of what food and wine could be," Tully Aranza remembers. "And now we're getting the band back together."
"The band" recently reunited under the restaurant name Autre Monde, French for another world, which is what this dream team hopes to bring to Berwyn. Aranza and Tully Aranza lit the match when the couple purchased the defunct floral shop next door to Aranza's sci-fi and horror shop Horrorbles, taking advantage of a Tax Increment Financing (TIF) program to finance it and turning to Kickstarter to raise additional funds for a greenhouse out back. Pancake and Partridge had already split town for their own adventure, first living and cooking in Spain then running a few kitchens in Cincinnati while growing produce at the Pancake family farm in the Ohio River Valley, which they still operate. But the Aranzas lured them back to Chicago with the goal of building a restaurant unlike anything Berwyn has seen, a hybrid of the Mediterranean influences each partner pulls from, with a casual trattoria-like setting, a seasonal menu of share plates made of minimally manipulated ingredients, and an eclectic and affordable wine list, mostly sold by the glass. "It sounds simple because it is simple," Aranza says. "But this is how we eat, how Dan and Beth eat, how we think a lot of people out here in Berwyn want to eat."
"We wanted to see how far we could take this idea of doing something really different in Berwyn," Tully Aranza adds."Now we have a [greenhouse] for Beth to play around with growing parcel, this really cool leaf celery, and where they can pull from their own heirloom tomatoes or squash blossoms, Padrón peppers, garlic chives or French breakfast radishes."
Those tomatoes might end up tossed with caper berries and wood-grilled octopus, the peppers will be roasted for za'atar flatbread with feta and olives, and the chives will get snipped over a plate of ricotta ravioli in salt-pork red sauce. Partridge, a CIA grad who cooked under Takashi Yagihashi at Ambria before joining the Mantuano world, has a charcuterie specialist in her co-chef Pancake and a day-to-day chef in Matt Saccaro, a line cook brought in from Anteprima. Meanwhile, Tully Aranza fills the managerial role of the watchful owner-operator, and Aranza looks to live up to his status as the protégé of the legendary Bishop. Aranza also managed to sneak in a few nods to his horror and sci-fi film obsession. Two giant French subway posters of cult-classic thrillers line one wall of the dining room, while a small flat-screen mounted behind the bar shows similar cinema on mute. "The idea is to put a little of that edge in there, to do something different. But just because I pull from that world it's not like I'm some satanic guy with a full sleeve of arm tattoos wearing tight black jeans with Slayer T-shirts," Aranza says. "People expect that from me with the shop, but the point of what we're doing here is to go beyond expectations, not just for Berwyn but for ourselves."