U Lucky Dawg's hot dog legacy
The home of the first Chicago-style dog might have a new name, but it's held on to its tried-and-true taste.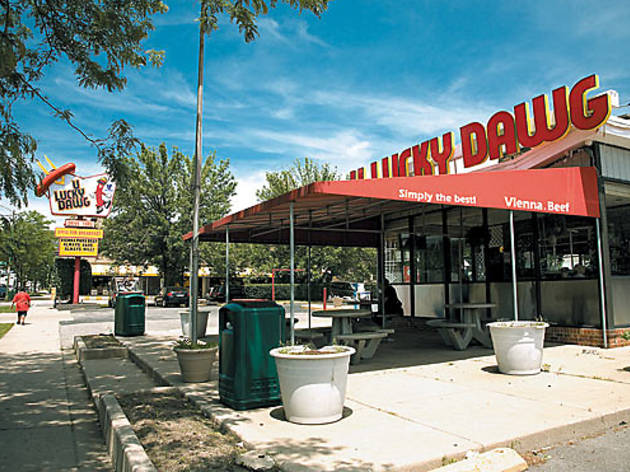 NOTE: U Lacky Dawg is no longer open.
For many fans, memories of U Lucky Dawg go way back.
"My dad started taking me here when I was little," says 22-year-old Jon Moy, waiting for a hot dog at the Restaurant Formerly Known as Fluky's—now U Lucky Dawg (6821 N Western Ave, 773-274-3652)—one recent Saturday afternoon. "We'd play music on the jukeboxes and drink Green River. Now, it's kind of like my place."
A lot of people consider it "their place." Something about U Lucky Dawg makes customers feel right at home (or at least as if they're in Grandma's living room, circa 1986). Maybe it's the two TVs tuned to Channel 7. Or maybe it's just the serene (yes, serene) atmosphere.
"It's really quiet," says 22-year-old Alberto Santos, who works the drive-through. "Sometimes, I lean back, look around and realize just how peaceful it really is."
The jukeboxes broke in 1999, so the loudest sound is the hum of the air conditioner. That and the "snap" of U Lucky Dawg's Chicago-style Vienna Beef wiener as it bursts in your mouth.
"It's something you look for, and it's very important," says 36-year-old Chris Kranz as he snaps his fingers.
The self-proclaimed originator of the Chicago-style dog, Fluky's started off as a humble hot-dog stand on Halsted Street and Roosevelt Road in 1929. Its founder, 20-year-old Abe Drexler, came up with the catchy name, in reference to a cruel childhood prank he survived. As part of a grade-school initiation, Drexler was dragged up three flights of stairs by a rope around his neck—one of the kids involved later said it was a "fluke" he didn't get killed.
Feeding off Chicagoans' insatiable appetite for affordable food, Fluky's flourished in the 1930s. For a whopping five cents, customers could indulge in the stand's signature treat: the "Depression Sandwich," an early predecessor to the Chicago-style frank, topped with mustard, relish, onion, pickles, pepper, lettuce and tomatoes.
Nearly four decades after wheeling onto Chicago's eating scene, Fluky's became more than a cart. In 1964, it opened its first store on the southwest corner of Pratt and Western Avenues. Four years later, it moved to its glass-encased digs at 6821 North Western Avenue, where it has operated for 36 years.
But all good things must come to an end; in 2006, Fluky's changed its name to U Lucky Dawg.
"My friends used to call me 'you lucky dog' as a kid because I was always so lucky," says owner Larry Estes, who's managed the restaurant since 1997. "The other Fluky's locations did not serve Vienna Beef hot dogs, so we decided to disassociate ourselves from the Fluky's name. I know some people weren't happy with it, but it was time for a change."
Frankly, not happy may be the biggest understatement on Western Avenue.
"I'll call it Fluky's till the day I die," says 56-year-old Naomi Safiran of West Rogers Park. "It's hard to get used to the new name."
Name aside, U Lucky Dawg maintains the same principles as old-school Fluky's: good service and fresh food. Like Drexler, Estes is a believer in old-fashioned respect—for employees, for food and especially for the store, which seems to have a personality all its own.
"Every morning, I tell it 'hello' and every evening, I say 'good night, store,' " Estes says. "I try to make this a peaceful place to be."