Umami dearest
Go beyond swank sushi bars for a taste of honbon (authentic) Japan.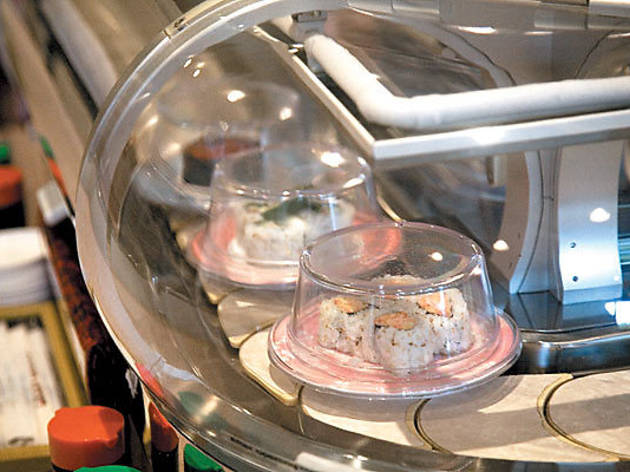 By

Bianca Jarvis; Photographs by Jeremy Bolen
|
Ask Japanese nationals living in the city what their favorite place to get authentic sushi is, and there's a pretty good chance they'll tell you Itto Sushi (2616 N Halsted St, 773-871-1800). This Japanese-owned restaurant has been in business for more than 24 years, experience that shows in simple things like the bowl of hot, fluffy rice that comes with tonkatsu, a crispy pork cutlet (and if you're thinking all rice tastes the same, you need to get to Japan). The specialty of the house is the sushi, naturally, with perfectly warm rice and buttery, fresh fish. Ask the bilingual staff for suggestions about what's in season.
Not a fan of the raw? Sunshine Café (5449 N Clark St, 773-334-6214) might not look like much from the outside, but it's one of the few places in the city where you can get homestyle Japanese cooking, without even a cursory nod to sushi. Try unpretentious basics like gyoza dumplings, katsudon (fried, breaded pork cutlet sautéed with egg and onion and served over rice), koroke (fried mashed potato croquettes, served with fruity brown sauce) and kinpira gobo (julienned burdock root in a sweet-spicy soy-based sauce). It opens at 4pm for dinner only and closes by a quarter to nine, so plan ahead. The restaurant is BYOB, so feel free to bring your own sake.
For an interactive group meal, Chiyo (3800 W Lawrence Ave, 773-267-1555) focuses on table-cooked hot-pot dishes like shabu-shabu and sukiyaki. Paper-thin slices of Wagyu or Kobe beef are rapidly cooked in a vat of boiling water at your table, then dipped in citrus-based ponzu or sesame sauce. The complete dinner arrives with a plate heaping with tofu and vegetables also intended to be cooked in the pot, as well as a small cooked appetizer (kobachi), sashimi, pickles and rice (served after you've finished the beef so you don't fill up too fast), and dessert, typically mochi ice cream and mizu manju (sweet red-bean paste encased in clear jelly). The mellow J-pop playing on the speakers adds an extra touch of authenticity, plus there's an impressive selection of sake, shochu and plum wine. A prix-fixe kaiseki dinner is also available with advance reservation.
Heading north of the city toward the suburbs (where the majority of Chicagoland's Japanese nationals live and work), Renga Tei (3956 W Touhy Ave, Lincolnwood, 847-675-5177) offers a well-rounded bilingual menu of sushi, ippin ryori (small plates) and entrées. The trademark balance of sweet and savory flavors shows up best in the sauce accompanying the beef-wrapped asparagus, while agedashi tofu shows off signature textural contrast, the battered and fried tofu crumbling into a rich broth laced with green onions. It's the little things that make the meal here—a shaker of traditional sansho (Szechuan pepper) served with unagi kabayaki (barbecue eel) and a generous portion of chunky adzuki paste that adorns the bowl of green-tea ice cream.
Less of a restaurant for a leisurely meal and more of a quick, cheap lunch staple for Japanese businessmen is 1 Sushi Station (1641 Algonquin Rd, Rolling Meadows, 847-593-2450). Just as at the original kaitenzushi (conveyer-belt sushi) restaurant in Chicago's sister city of Osaka (which opened in 1958), diners grab what appeals to them from the passing conveyer belt and are later charged according to the color of the plate. While cooked items and specialty rolls can be hit or miss, the nigiri is reasonably priced and fresh, and there are some interesting items like jellyfish salad and iidako (baby octopuses served in chili oil, heads intact).
Craving dessert? The Japanese megamarket Mitsuwa Marketplace (100 E Algonquin Rd, Arlington Heights, 847-228-5435) boasts an in-house bakery dubbed Pastry House Hippo, which does an impressive job of emulating the "Western style" bakeries that appear in most Japanese department stores, selling European-style pastries alongside exotic variations like black-sesame custard, green-tea mousse cake, and various kashi pan (snack bread) like curry doughnuts, melon rolls and bean-paste buns baked in the shape of cartoon characters. The buttery, croissantlike "Danish bread" is a standout.
Well worth the drive to Elk Grove Village Business Park is the amazing $8 lunch special at 2 Kurumaya (1201 E Higgins Rd, Elk Grove Village, 847-437-2222). The sushi 3 is fantastic, and the dinner menu offers an extensive selection of izakaya-style dishes highlighted in a tiny illustrated booklet (and also written in Japanese on slips of paper hanging above the counter; 4). A pair of televisions tuned to NHK, Japan's public station, offer entertainment while you wait for your food—recently it showed a program dedicated to Tokyo women gluing bows and rhinestones to their fingernails. It's tough to decide which is more captivating—the TV shows or fantastic comfort food like tako yaki (octopus dumplings; 5) and katsu kare, breaded pork cutlet served with rice, sweet red ginger pickles and Japanese curry sauce.
Similar Japanese TV programs, plus a collection of manga, serve as entertainment at 6 Sakura (105 S Main St, Mount Prospect, 847-577-0444), a 30-year-old restaurant that features seven traditional tatami rooms, electronic doors that greet you in Japanese as you enter and the lovely kimono-clad manager, Toshiko 7. The sushi is excellent and fresh, the tempura is hot and crispy, and chawan mushi (savory custard; 8) is a specialty. In addition to a $35 kaiseki dinner, hot-pot dishes and a variety of chazuke (green tea poured over rice with seasonings), Sakura serves great nasu dengaku, fried eggplant topped with sweet miso sauce, and natto maki, sushi topped with viscous, fermented soy beans. Toshiko claimed I was the first American she'd seen order the strong-flavored natto, but she didn't know this Japanophile had a three-pack of the stuff back home in the fridge.