Vegetarian barbecue | Cheap eats
Meat-eaters think they have exclusive rights to summer's favorite meal. Let them. Meanwhile, vegheads can get their sweet, sticky, chewy, charred satisfaction with these meat-free barbecued delights from five local restaurants.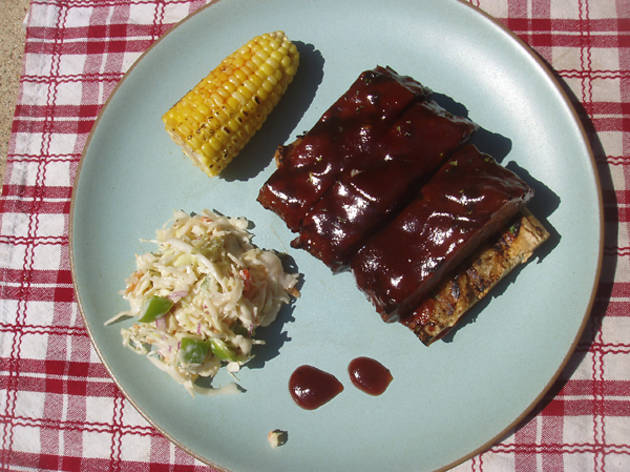 Karyn's Cooked
This veg spot's Slab of Ribs ($13) is one of the most convincing barbecued meat substitutes we've tasted. Grill marks on the rib fingers presage the smoky, charred flavor of the tender, chewy highly processed tofu-seitan slab that comes smothered in some of the tastiest sweet-tangy sauce around. Served atop a hearty slice of grilled hoagie bread with coleslaw and grilled corn sides. 738 N Wells St, 312-587-1050.
Soul Vegetarian East
Normally, the ubiquity of lard and pork makes soul food a stomach-churning nightmare for vegetarians. But not at this South Side spot run by the African Hebrew Israelites. Everything's vegan-friendly, but the BBQ Twist platter ($9) is a rare treat: Peanut-butter marinated seitan offers a rich, satisfying meatlike flavor, plus a hearty, chewy texture that some carnivores have compared to pulled pork. "Hebrew fries" come on the side. 205 E 75th St, 773-224-0104.
Yah's Cuisine
The latest addition to the city's health conscious, vegan "meat" purveyors, this new South Shore soul food joint—like it's 75th Street competitor, Soul Veg—sates your animal-free barbecue itch with BBQ Nuggets, a seitan-made chunk of perfectly textured, highly convincing protein slathered in a thick, tasty barbeque sauce. 2347 E 75th St, 773-382-1742.
Loving Hut
Quirky Edgewater spot Alice and Friends was recently folded into the international vegan chain Loving Hut, run by its cult leader Supreme Master Ching Hai. While longtime vegheads still mourn the change, notably the disappearance of the juicy, perfectly charred vegan Korean BBQ kabob from the menu, the dish's new incarnation, Spicy BBQ ($8.50), still hits the spot. The tender "meat" admittedly won't arrive on a skewer; instead the plate of soy protein now comes as a stir-fry, complete with broccoli, red pepper, snow peas and a side of rice. 5812 N Broadway, 773-275-8797.
Chicago Diner
Big and messy, just like the real carnivorous deal, the city's oldest veggie hangout delivers its BBQ "Ribs" Sandwich ($9) in the form of layered slabs of handcarved seitan slathered in a tangy barbecue sauce and finished with lettuce, tomatoes and onions on top of a thick, crusty hoagie bun. 3411 N Halsted St, 773-935-6696.