Virant, LaRoche and Paskewitz on Virant, LaRoche and Paskewitz
Three chefs talk about the what, where, how and why behind their new concepts.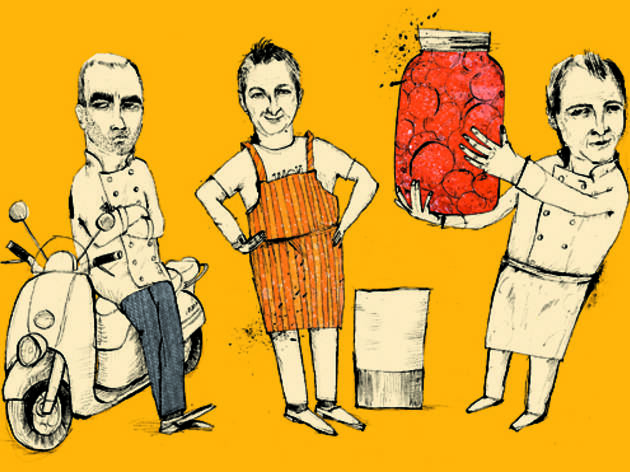 "Gemini [Bistro] has some more of the traditional French bistro items on the menu. [Rustic House] is a little more American. Midwest. As far as the local produce, the meats, even the beer list—we're trying to use as much local stuff as possible. It's just a real clean, simple way of cooking, and I enjoy that style. Also, when we walked in [for the first time], the rotisserie was already in that space. And we designed a lot of the restaurant and the menu around this rotisserie. The rotisserie made it sort of that rustic feel. There's only a few things coming off the rotisserie every day, but just the feel, the warmth to it, definitely had some influence in my thinking when I was writing the menu."—Jason Paskewitzon Rustic House(1967 N Halsted St, 312-929-3227), his follow-up to Gemini Bistro, which is just a few blocks away. Paskewitz has more concepts he'd like to tackle in the future, and he recently bought a scooter to shuttle himself among them all.
"Fine dining has changed so much. [NoMI] is still an elegant dining room, and there's still a level of elegance. Just not like before. I think elegance has evolved into something different.… Believe me, I grew up in fine dining, and I love those years of my life. But this is such a relief…. You can't hide behind whimsical tricks on the plate. If you put that chicken on that plate, and you put it with leeks and fingerling potatoes, it better be very good, because everybody that eats it can recognize what's on that plate…. You can't hide behind simplicity. It better be perfect, otherwise it's terrible. In my opinion, this is the highlight of my career, right now, that I can do this food and be happy with it—happy with simplicity."—Ryan LaRoche on NoMI Kitchen(800 N Michigan Ave, 312-239-4030). LaRoche has been with NoMI since before it took a months-long hiatus to reconcept from upscale French to (slightly more) relaxed American.
"The only thing maybe different is [node:149003 link=Vie;] is more designed like a traditional restaurant: [Vie has] appetizers, soups, salads, entrées, you know? This is different. We're going to do the [nightly] prix-fixe menu and then a list of à la carte items. I guess there's more freedom. Like one of the things we're going to be doing is we get these beef ribs from Dietzler [Farms] and we're doing a garlic-mustard chimichurri with mustard greens. But it's just going to be a slab of ribs, the chimichurri and the mustard greens. And at Vie I wouldn't probably do that. Not that I wouldn't serve ribs, because I do. But [at Vie] you feel like you need something else. So I'm excited about that."—Paul Virant on [node:149925 link=Perennial Virant;] (1800 N Lincoln Ave, 312-981-7070), his return to city restaurants after several years gaining accolades with Vie in Western Springs. Is his new way of doing things successful? Check out our [node:14819521 link=Restaurant review: Perennial Virant;].