We ate the weird new Lay's chips
Four new flavors of Lay's potato chips play tricks with our taste buds. Turns out, there's a reason we don't put potatoes in our coffee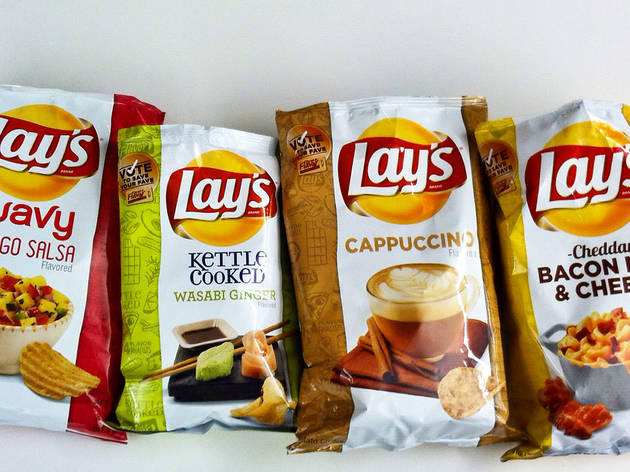 For years, somehow, American society managed to function with the bare mininum of potato chip flavors—barbecue, sour cream & onion, salt. Then came the vinegar and lime revolutions. Perhaps if you traveled to Canada or England, you'd marvel at the ketchup- and chicken-flavored chips and wonder why such common flavors never clicked in the States. More recently, the weridos at Pringles made their potato-ish snacks taste like cinnamon and peppermint. Now, the food scientists at Frito Lay are just stoned and bored.
As part of its "Do Us a Flavor" contest, Lay's has launched four new fan-submitted flavors of its chips. They range from the mundane (bacon and cheese) to the bonkers (coffee). It is up to us consumers to vote on the survivor. Our staff ripped open some bags to decide which variety should win. Turns out, you can eat just one.
Cheddar Bacon Mac & Cheese
Kris Vire "My grandma always used to have these fake bacon bits called Bac-Os she put on salads. This is that in chip form."
Zach Long "Like a regular bag of cheddar chips with a few drops of liquid smoke mixed in."
Amy Cavanaugh "These are just like any other cheddar chips, so there's nothing wrong with them if you like cheddar chips. I don't especially."
Laura Baginski "Just tastes like a typical barbecue-flavored chip. I would eat the shit out of that crock of bacon mac & cheese on the bag, though."
Brent DiCrescenzo "The bacon on the bag looks like Beggin' Strips, but I'm not sure a dog's keen nose would find the bacon in here."
Cappuccino
LB "I like coffee-flavored everything. Except for this."
ZL "There's a reason why you've never dipped your chips in coffee grounds and cinnamon."
AC "This tastes like a fake powdered cappuccino I once had 20 years ago. It was so vile I can still remember it."
BD "They're holding back on the awfulness of these. Go all in and make them soggy."
KV "This is a vile abomination. Burn it to the ground!"
Wavy Mango Salsa
BD "It's like shaking a packet of Kool-Aid into a bag of Ruffles."
KV "Potato chips shouldn't have Jolly Rancher flavors. This might work better as a tortilla chip."
ZL "In theory, this combination of salty and sweet should work, but these tasted like they were in a bowl of Hawaiian punch."
AC "There's a reason why we haven't seen fruit chips till now—while they do taste like mango, I feel like I should eat them for dessert."
LB "So sickly sweet I may have to make a doctor's appointment to get my sugar levels checked."
WINNER: Kettle Cooked Wasabi Ginger
LB "Actual flavor complexity! The heat of the wasabi comes through, as does the bite of the ginger. Addictive!"
AC "These sat on the table next to my desk all day yesterday, and I think I ate half of them. You get wasabi up front, followed by ginger, and it totally works."
KV "A faithful re-creation of the flavors I like with a California roll. Not so much with an Idaho russett."
BD "I want to mix these with Calbree Shrimp Flavored Chips and make poor man's sushi."
ZL "Finally, a flavorful potato chip that also clears your sinuses."