Why do restaurants play vinyl? | Ask the critics
Our dining writers answer your foodiest questions.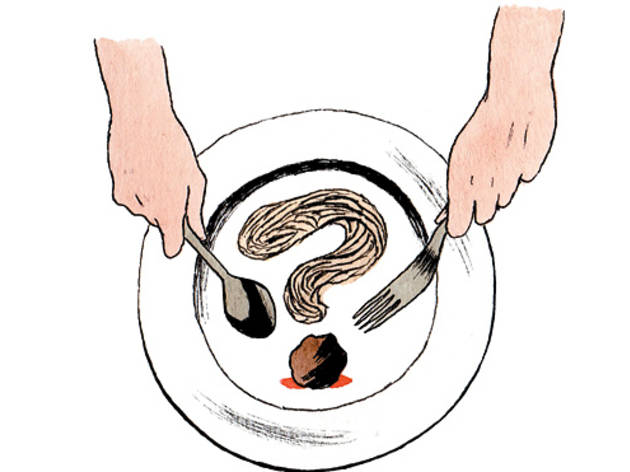 Not all foods are better eaten out. Which do you prefer to eat at home? —Candace, South Loop
We'll admit to being a little particular about our salads. The thought of eating greens from a bag—all that bagteria!—freaks us out (and yes, Candace, that's where a lot of salad greens at restaurants come from). We are similarly given pause by the thought of eating fresh lettuce that may not have been washed as thoroughly as we would wash them ourselves. And then there are those awful tomatoes restaurants insist on using all year long, and the dressings that are too thick and overused, and the copious use of dried cranberries. And don't even get us started on the sketchiness of salad bars.
Ada St. only plays records, and g.e.b. is also using vinyl. Au Cheval is using reel-to-reel. What's the point?—Aaron, Uptown
The point is hipster credibility, man! Some chefs—male chefs, mostly—are insecure creatures who are always on the search for another way to push the message to diners that they're cool. Utilizing outdated music technology is a good way to do this, because it sends multiple messages: a seriousness about "sound" (something about the music being "warmer," whatever the hell that means), a rejection of populist technology (iPhones: so 2009) and a suggestion that their love of music is somehow so deep—so integral—that current-day technology cannot express it. Can you hear a difference? Not at all. Any musical subtleties these analog systems highlight are completely lost among the din of a restaurant. Not to mention the fact that some of the music put on reel-to-reel must have come from a digital source—meaning those subtleties were never really there. These music systems are meant to be seen, not heard. The only thing we hear is a gimmick.
Ask us a question! If we answer it, we'll send you a cookbook. E-mail eatoutdrinkup@timeoutchicago.com.