Yuzu Sushi & Robata Grill
A Sushi Wabi alum breaks out on his own.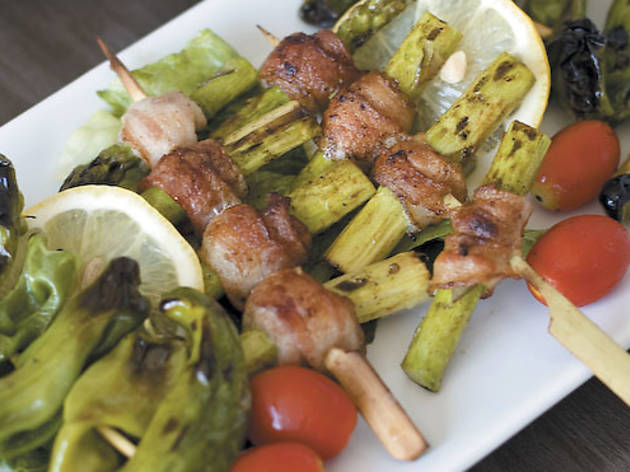 Yuzu Sushi & Robata Grill Thai-run sushi joints are nothing new in Chicago. But a Thai-run sushi joint where the chefs manning the sushi bar sport fedoras and work to a hipster-approved soundtrack? Unseen until now. The captain of this ship is Sushi Wabi alum Yut Vong, who delivers a similar glut of the over-the-top maki Chicago crowds have come to know as sushi. But Vong's strength doesn't lie in cream cheese and spicy mayo: Instead, it's found on the grill, which is used to add just enough char to meats such as beef short rib marinated in a Korean treatment of red-pepper paste, soy and sesame oil, or pork shoulder bathed in sake doctored with honey, garlic and cilantro. Juicy chicken thighs carry a good dose of miso and scallion, and the fish tofu is, in a word, awesome, the silky texture undisturbed by a gentle grilling. Thai touches show up in standard noodle dishes and solid curry puffs (made by a server's mother), but do you really need to come here for Thai food? Leave that to the Thai joints, and come here for above-average nigiri and grilled skewers—and be sure to bring a bottle of sake to carry you through the whole shebang. 1715 W Chicago Ave (312-666-4100). Bus: 9, 50, 66. Lunch (Mon–Sat), dinner. Average main course: $8. BYOB.