Gym sex
For some gay men, health clubs are all about the hookup.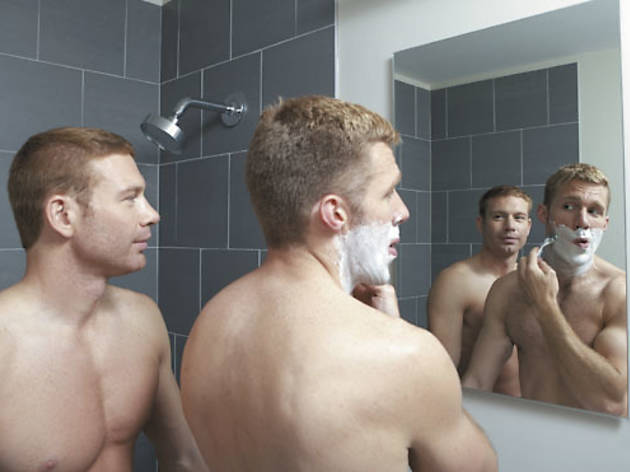 "I want to bury my face in your ass." When an attractive, thirtyish guy said that to me in the middle of a crowded locker room many months ago, it was a wake-up call. Up until that day, I hadn't taken the notion of sexual activity at the gym, aside from the occasional cruise or furtive glance, all that seriously. Turns out, a steam-room circle jerk is as common an occurrence for some men as the flu in winter.
John, a friend and thirtysomething North Sider who agreed to be interviewed for this article (all names in the story have been changed to protect sources), recounted numerous gym hookups when we spoke via phone. He mentioned a Naperville gym as the site of his first sexual encounter many years ago. "My initial reaction was it was a little creepy," he says of a guy who started masturbating in an open shower stall across from his, "but I wasn't turned off by it." John surrendered to temptation and has since become a frequent practitioner. "I figure, why not maximize my incentives to work out," he says. "It doesn't seem to be that abnormal of an idea if you think about it."
This summer, I was alone in the steam room when a guy sat down across from me and deliberately arranged his towel to reveal a perky boner. He asked if I was gay and when I nodded, he asked if I'd ever jerked off in a steam room before. I said I hadn't and he waited expectantly for me to make a move. Instead, I just sat there and watched the steam engulf his cock like fog over San Francisco Bay.
In the age of Grindr, Craigslist, Scruff and a thousand other places for gay and bi men to meet and have sex, why risk getting booted from the gym over some hanky-panky? For starters, says John, there's an exhibitionist element. "There is kind of a show-and-tell aspect in a locker room or shower area at a gym because there are mirrors everywhere and everybody's kind of checking each other out," he says. "That kind of culture of excitement by virtue of the aesthetic just blends itself over into something that could be sexual." John also says many of the men he encounters hook up out of necessity. "Their girlfriend isn't going to think twice if they're like, 'Honey, I'm going to the gym.' "
At the family of health clubs I belong to, there is usually a staff attendant monitoring the locker room area and straight guys abound. But Will, a former staffer at a North Side gym, says he always looked the other way. "I always felt like a narc," he says. "If I walked into the locker room or sauna, I would very obviously be interrupting naughty play." John likewise argues it's a nonissue. "It's in the best interest of the gym to look the other way as long as it doesn't get out of hand," he says. And regarding a straight-guy snitch, John is similarly confident. "No straight guy is going to want to run up to the desk and be like, there's two guys fooling around in the shower," he says. "That's not a straight-guy thing to do."
It must take balls, no pun intended, to initiate an encounter. I found myself back in the steam room on a recent Saturday and for the first time, was hyperaware of six or seven guys anticipating some action. On the one hand, I thought about the warning from guys like Will. "It made me very wary of dating any gay guys who worked out there," he says. As I dressed and wandered into the night, I thought about parting words from John. "It's interesting how just under the surface there exists this subculture," he says. "It's like waiting for the right button to be pressed."