On the Edge
New bar Parlour hints at an emerging queer gayborhood.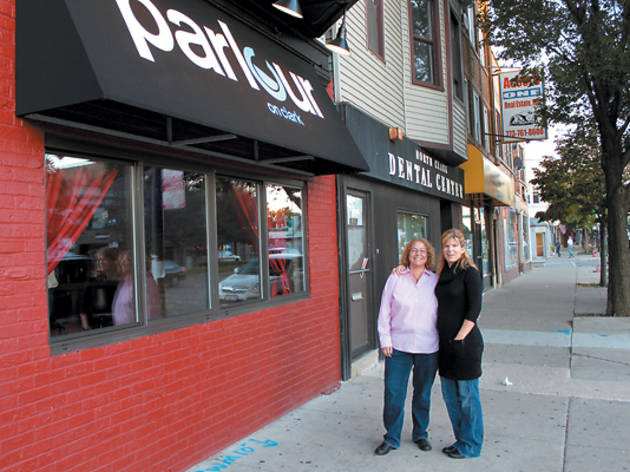 Pulsating house and electronic beats, a sea of vodka cocktails, guys gyrating on the dance floor: At first glance, the scene in Edgewater's recently opened gay bar Parlour (6341 N Clark St) is standard fare for an LGBT nightspot. But looking more closely at its diverse array of patrons, men and women of a wide range of ages and ethnicities exuberantly chatting with one another, it's clear this eclectic mix represents something unexpected: a gayborhood on the rise.
With touches like a sleek bar painted with whimsical designs by local artist Joshua Thissell, modern artwork and plush accents (velvet drapes over exposed brick), out owners Jennifer Murphy (of now-defunct Girl Bar) and Nikki Calhoun have created a warm, inviting space. "We wanted to come up with a name that felt like a place that you could come home to," Murphy says. "I thought, How cool would it be to invite people to the parlor?"
Parlour isn't the only new LGBT-friendly establishment to land on the Clark Street block just south of Devon Avenue. With help from Diane Mikutis, a real-estate developer who co-owns the new community-oriented art space and yoga studio the Edge Gallery with partner Nicole Lyons, two new ventures plan to open across the street from Parlour within the next three months: Deseo, a Mexican restaurant owned by the Barbanente family (former owners of now shuttered gay fave La Donna), and Norse, a neighborhood pub and sports-bar hybrid that's leaving its gay or straight status ambiguous.
"It's a very diverse area with lots of available retail space," Mikutis says of the sudden interest in this Far North Side block. "Beyond that, it's also a TIF area," she adds, referencing tax increment financing, a city government program that sets aside tax money for development in various 'hoods, "so there are available funds that can be utilized to help improve the properties on Clark." Additionally, Mikutis is working with Ald. Patrick J. O'Connor to brand the area as the Edge, a reference to the site where Edgewater and Rogers Park meet.
While locals abounded when we visited Parlour opening weekend and on its bustling Thursday lesbian night, Lipstick, there were a surprising number of commuters from as far away as Lincoln Park and Skokie. Another intriguing element was the healthy mix of men and women—a trend Murphy and Calhoun have welcomed. "As far as our marketing and for kind of a base clientele, we are gearing the bar towards the guys," Murphy says, "but in our hearts we want it to be all-inclusive, even straight friendly."
The Clark and Devon intersection historically has been a mini gay hub, with the fetish-oriented watering hole Touché serving the area since the '80s and more recent additions like the mammoth bar Jackhammer, leather shop Mephisto and B&B Ashland Arms strengthening a queer presence. But according to Jackhammer owner Jimmy Keup, only recently has the neighborhood seen an influx of permanent gay residents. "With the housing boom, a lot of gay people bought in the neighborhood, which has really helped the area to be less transient," Keup says. "There's now a sense of pride, a sense of ownership."
Parlour already has established itself as a stop on a new bar-hopping path. Citing differences in bar licenses (Parlour has a 2am license; Jackhammer and Touché, 4am), Keup enthusiastically says the addition of Parlour has given locals more options for a complete night out. "A lot of the customers were tired of Boystown and the Boystown attitude," he says. "It's nice that they don't have to travel as far to have a diverse variety of places to go."