Out in the Park
Our guide to gay days at Great America.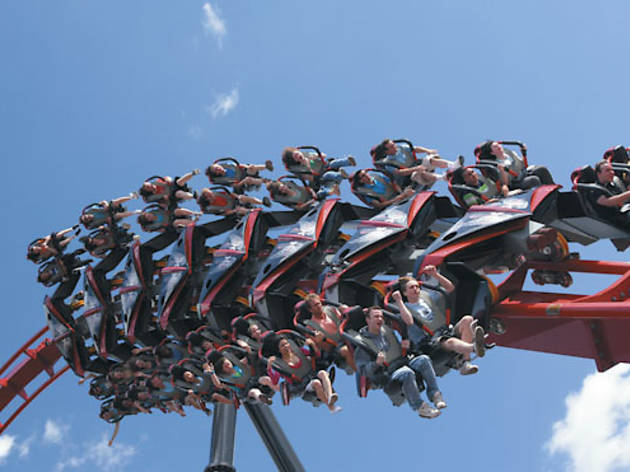 Great America is already seriously gay. (Only at IML do we spend more time putting on a harness and going for a ride.) But on Saturday 8 it gets even gayer with Out in the Park, an official Six Flags event in which several thousand queers and their allies can hit all the rides from 9pm to 1am while beats by DJs Matthew Harvat and Phil DaBeatz circulate throughout. In anticipation of the event, we spent an exhausting day hitting each attraction to determine which ones are gaydar worthy.
DO Ride X-Flight, the new "wing coaster" that made its debut earlier this year and thrills riders by placing them on both sides of the track instead of on it. X-Flight climbs to 12 stories above the park before zooming passengers through an intense 55mph adventure including multiple corkscrew turns and a hair-raising dash through an air-traffic control tower.
DON'T Be fooled into thinking that Sidetrack Sodas, a concession stand near the entrance to the park, is an offshoot of the Boystown bar. Disappointingly, there wasn't a booze-fueled slushie or showtune in sight.
DO Extend your hands high in the air for both Raging Bull and the American Eagle. At an elevation of 202 and 127 feet respectively, those first drops are the best in the park. Raging Bull in particular drops down as smoothly as lube into a willing bottom.
DO Check out the digital photos of riders available for purchase after exiting most thrill rides. People's expressions are eerily similar to their sex faces, so if you're wondering what that cute guy or girl you're cruising in line will look like when you take him or her home after the park closes, this is the best way to find out.
DON'T Shop at park stores like SF Locker Room thinking it's the place to get a jock strap for your next underwear party. We were shocked to learn it sells only children's merch (although the shops outside the Batman and Superman rides offer plenty of capes and funderwear for a superhero theme night).
DO Get your picture taken at one of the Character Stages. It's a thrill to pose next to the likes of Wonder Woman and Foghorn Leghorn (a bigger cock we've never seen), and we can only imagine the tizzy this will create for furry fetishists.
DON'T Spend too much time or money trying to win a stuffed animal. Even though some of the games—The Big One, Hole in the Wall, Gordon's Balls—sound enticingly gay, they're pretty difficult to win.
DO Get soaking wet. Although water park Hurricane Harbor will be closed for the season, you can still get sprayed aplenty on Logger's Run, Yankee Harbor and Roaring Rapids, where when you enter the cave you should be on the lookout for Donald Duck posing like he's ready for some hot action.
DO Check out the novelty military dog tags available for $6.99 at County Fair. Surprisingly, there's a Gay Pride version for sale (go Six Flags!), but we know you'll want the one that says "Princess."
DO Eat at Totally Kickin' Chicken or any other place that sells chicken strips. The food in the park is overpriced (and not that great), but the strips provide fuel for the exhausting day, and these birds aren't anti-gay (ahem Chick-fil-A).
DO Buy tickets in advance. You'll need a wristband for Out in the Park and although you can purchase the day of, you'll save $10 and get free parking (which otherwise costs $20 per vehicle) if you buy now at gaysixflagschicago.com, promo code out12.
Out in the Park happens Saturday 8 at Six Flags Great America in Gurnee.