REVIVAL, a performance art spectacle, comes to the Pritzker Pavilion
REVIVAL, a "fully immersive queer experience," happens at the Pritzker Pavilion October 26 and 27, and you'll be forgiven, if you've seen the rather cryptic...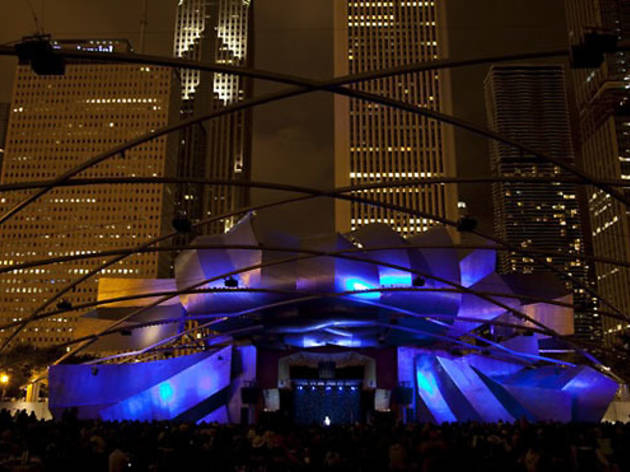 promotional material
, for assuming it's an evangelistic event masquerading as a gay dance party: "REVIVAL asks you to plug into a visceral and sexy experience that asks: What are we praying for? What are we willing to sacrifice? The chrysalis is in formation. Prepare to be converted." Okay, so maybe the promo copy evokes
this
more than
this
. Still, we sought more info and asked Eric Hoff (
Hit the Wall
) to enlighten us. Hoff is a founding organizer of the event, along with Jesse Morgan Young (
BAATHHAUS
) and Jane Beachy (
SALONATHON
), with support from the Department of Cultural Affairs and Special Events.
How would you describe REVIVAL in a nutshell? Is it describable in a nutshell?
Sure. Why not? [Laughs] REVIVAL is a mashup of dance party, performance art and theatrical spectacle.
And it's taking place not just on the Pritzker stage but backstage as well?
Audiences will witness nine world-premiere performance art pieces by Chicago artists, all of whose work is sort of genre-defying. It's a fully immersive, fully interactive experience. It evolves from dance party into a choose-your-own-adventure performance art experience and culminates with a theatrical spectacle back on the stage. But we do utilize the entirety of the Pritzker building, so the backstage areas, the practice rooms, the freight elevator, the hallways… It's pretty cool.
Was it always part of the plan to use this particular space?
We looked at lots of spaces and would love to do REVIVAL in lots of buildings across the country eventually, but this trial run has been a great opportunity to use an obviously very well-known building and utilize [it] in nontraditional ways. We were fortunate enough to have a meeting with Shoshona Currier at DCASE, who's the curator of the In the Works residency here at the Pritzker stage, and she was keen on the idea. We've been so lucky because everyone at the Pritzker has been really accomodating and wonderful. I mean, it's really kind of a weird piece we're doing compared to their traditional programming.
So they weren't worried about the safety of, like, using the freight elevator?
There are always safety concerns, but we've been doing lots of checks.… We're expecting between 150, 175 people per night, and the Pritzker has a lot of room for us to spread out. We have a really wonderful team of "sentinels," we're calling them, who are helping with the experience, and they're all costumed similarly in bright white. So there's a team of people who will guide the audience through the experience if they need help. The whole goal of the experience is to present performance art to Chicago in a really new way.
How did the revival theme come about?
Jesse Morgan Young, who's my co-creator, my creative partner—he and I have been ruminating on this idea for two and a half years. We were talking about the desire to really challenge ourselves with how we create things. We had the idea of an interactive, immersive experience, but we wanted to be sure we're really addressing the needs of the community. In an era where everyone is connecting digitally, in a time where we have 1800 Facebook friends but it's hard to feel intimate with someone, we wanted to create an experience with a viscerally felt intimacy among a large group of people. So we came up with these two questions to sort of guide our artists and ourselves in the process:
What are we praying for? What are we willing to sacrifice?
I come from a church background—my dad's a minister—and I grew up with a lot of the language of the revival movement. We want people to feel revived of mind, body and spirit through art.
So it's a riff on the revival idea, not a literal take?
Yeah, a riff. [Laughs] People may be speaking in tongues but we have no power over that!
REVIVAL happens Oct 25 and 26 at 10pm at the Pritzker Pavilion.