Steamwerks: the Musical
A new play parodies the Boystown bathhouse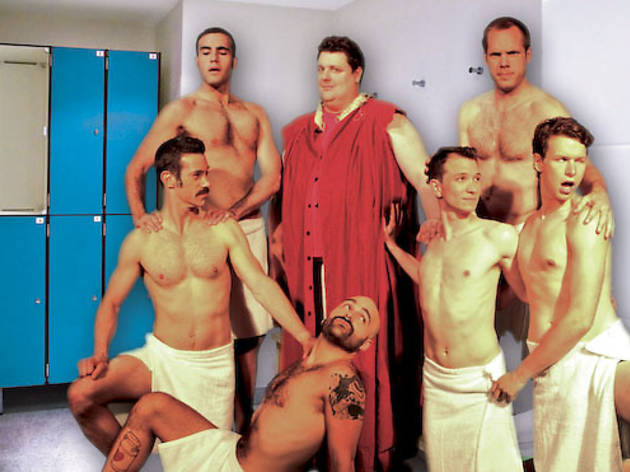 This was meant to be my hottest—or should I say easiest on the eyes—interview as a TOC editor. When the Annoyance announced plans for a musical spoof of Boystown bathhouse Steamworks, I immediately contacted director Clay Goodpasture in hopes of assembling an interview with the beautiful cast at the venue itself in which we would be clad in nothing but towels. It wasn't meant to be. "When I first started this, I really wanted to partner with Steamworks and I think Steamworks is going to be disappointed they did not take themselves up on this partnership, so that's all I'll say in that regard," confesses Goodpasture. "You could tell they were fearful of content." Instead, Annoyance cofounder Jennifer Estlin swapped out a couple of letters in the title to avoid any disputes. Steamwerkz the Musical opens June 22.
With an intentional nod to Alice in Wonderland (the musical's tagline is "fall into the hole"), Steamwerkz introduces us to fresh-faced Nebraskan Al (John Loos), who chases an attractive guy into the venerable club and discovers, "debauchery and wonderful, beautiful sex," according to Loos. He meets a variety of Wonderland characters along the way including employees Twinkie Dee and Twinkie Dum (Zach Zimmerman and Chris Kervick), the King of Steam (Jason Geis) and the mentoring Chester (Andy Eninger) in the role of the Cheshire Cat (the Walrus and the Carpenter become Cum Blob and Bloody Band-Aid).
Steamwerkz was written collectively. After the Annoyance jumped on board, Goodpasture connected specifically with gay men, including some of his fellow GayCo ensemble members and other queer comedians (Rob Anderson and Ben Kramer round out the cast) and gave them an outline. "Everybody got assigned a couple of songs and they wrote those songs based on that story arc," he says. "We just started improvising scenes."
They also visited Steamworks to research story ideas. Not surprisingly, it was full of self-discovery. "This experience very much demystified bathhouse culture for me," says Kramer, who plays both Duane (Alice's Caterpillar) and Mad Max (the Mad Hatter). "A lot of gay men, on the surface, will talk shit about Steamworks like it's a dirty place to go," he says. "It's a very normal thing to do and it's really just following an impulse. Everyone is there for the same reason, so what is there to be ashamed of?" Loos describes it less philosophically. "My first opinion was that it was really clean and really nice, but I compared it to a haunted house, a hotel and a laser-tag arena," he says.
Slings. Glory holes. Fisting. Chains. Hand jobs. Poppers. Rimming. Scat. Sounding. No stone (or should we say bone?) is left unturned, and it's all played to over-the-top comic exaggeration (in part why references to HIV/AIDS are minimal). The sexual explicitness benefits straight viewers, says Goodpasture. "We're going to get a lot of heterosexual couples," he says. "We're going to get a lot of women not only because we have very attractive men in towels, but because they want to know what goes on in this place, and we've put a lot of information in there for them to grab onto. I'm really excited about that."
Despite its apparent vulgarities, the cast insists it's a love letter to Steamworks that will simultaneously make the community proud. "It is a celebration of coming out," Goodpasture says. "Whereas we're very silly in it, I think it has a core message. If anything, I think it's going to make people head right down the street to Steamworks. It's just a good, good time."
Steamwerkz the Musical previews Friday 15 and opens June 22.

[Update: Since publication, Steamworks has contacted the Annoyance, seen a preview and is now working with them to promote the show.]