Tello Films
A new website aims to be the lesbian HBO.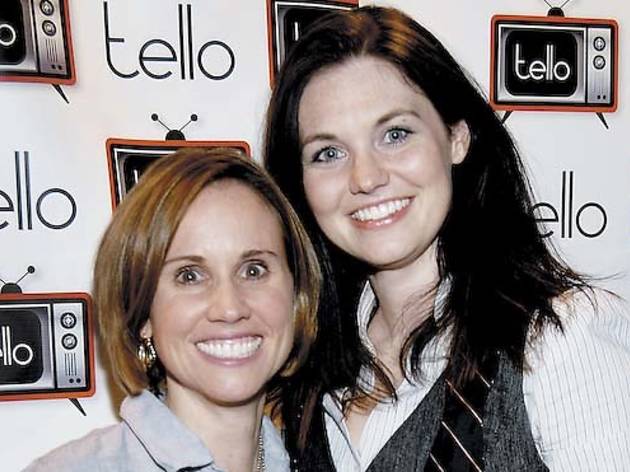 There aren't many lesbians who hold Glenn Beck in high esteem, but at least two gay women see something aspirant about the conservative commentator. Chicagoans Christin Mell and Nicole Valentine run tellofilms.com, an online producer of original and aggregated content by and for gay women. "My most ambitious dream is that we have the same number of subscribers as Glenn Beck," says Mell in reference to GBTV, the Web-based station Beck launched September 12 with an instant following of 80,000. "There are enough lesbians out there."
Tello Films is the brainchild of Mell and Valentine, who met six years ago at a coed gay soccer league and bonded over shared taste in pop culture. "We were talking one day about this [BBC] lesbian show called Bad Girls that was on a while ago and both geeked out about the story line," Mell says. "When it was over we were really hungry for something else, and that was right when YouTube was taking off. We said, 'Let's become the lesbian YouTube.' "
The site launched in 2007 as a place for visitors to upload lesbian content. But with little cash in hand to spread Tello's mission, Mell and Valentin instead reached out to "celesbians" and gay icons with projects to promote. They were able to get in touch with and interview women like Crystal Chappell and Jessica Leccia, who shared a lesbian love story on Guiding Light; comedian Bridget McManus; and actress Jill Bennett. "Lesbians want to promote their movies because there's not a lot of venues," Mell says. "When you say, 'I've got a camera, I'll put you on video,' it's like, 'Oh, yeah, I'll totally do that.' "
What Mell and Valentine soon discovered was that gay women were hitting Tello's site but hoping to find more original content, not upload their own. "We found that lesbians, while always hungry for content, are very voyeuristic," says Mell, "but as far as producing their own content they've turned to us and said, 'We'll watch what you make.' "
That nudging tapped the creative urges of Mell, who produces and directs, and Valentine, who produces and writes. They in turn reached out to Nancylee Myatt, the co-executive producer of teen drama and lesbian fave South of Nowhere, who was itching to create a lesbian Western. With some start-up money, they created Cowgirl Up, a comedic Web series that stars McManus, Mandy Musgrave (South of Nowhere) and Second City Mainstage and e.t.c. alumni Maribeth Monroe and Nikki Lindgren. The series was a hit, driving as many as 35,000 visitors to the free trailers and teasers and 5,000 to the series in the premium section, which launched November 2010 and charges $3.99 a month.
Tello's most intriguing venture, however, is the merger of theater and Internet in the form of Chicago-based stage shows filmed for the site's premium content section. McManusland and Who Knows Her Better? were both game-show-style theatrical experiences starring McManus and Elizabeth Keener (The L Word), respectively, which enjoyed sold-out runs in Chicago and now appear as Web series at Tello. Ticket sales for the events helped underwrite production expenses and will do so again with I Hate Tommy Finch, a lesbian-themed stage play starring Nicole Pacent and Shannan Leigh Reeve happening Friday 14–Sunday 16 at Parlour and being filmed Saturday as a Web series by a professional crew. "The great thing about Chicago is people are scrappy here," says Mell, who hopes Tello can one day have enough subscribers to employ professional content providers. "There's a creative team of eight people working on this one project, not because it's going to make us millions, but because we love it."
I Hate Tommy Finch plays Friday 14 through Sunday 16.