The queer year that was | 2011 in review
2011 offered a rainbow cornucopia of highs and lows.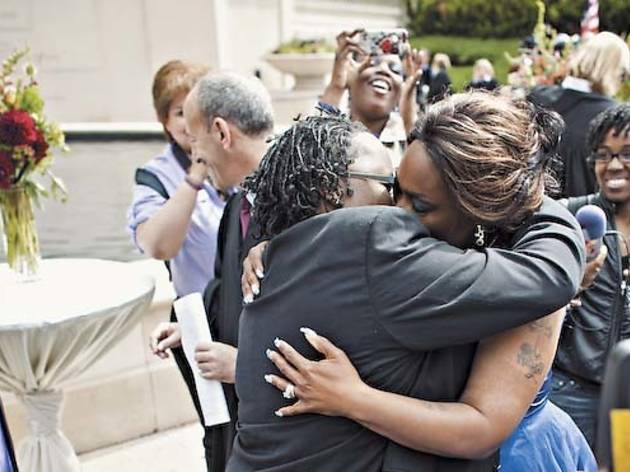 Our universe continues to expand well beyond the borders of Boystown, including an influx of new nightlife options aimed at women and people of color: the Latino/a-friendly Watra Thursdays at Watra Nightclub near Midway Airport; Juicy Fridays, a hot night of go-go girls at Brudder's Lounge in Avondale; the bustling Runaway Wednesdays at Junior's in Pilsen; and the rowdy Tempting Tuesdays at Rebel in Wrigleyville. The owners of Scarlet opened Taverna 750, a small-plates Italian spot in the former Cornelia's in June. Hydrate followed suit with a new artisanal cocktail lounge, Elixir, in August. West Town's Beauty Bar has also become a hot space for the occasional queer party, and queer life returned to the Whistler with its monthly bash Slo 'Mo. But perhaps the cruisiest gay hot spot to open in 2011 was Topman on Michigan Avenue, which launched in September. (If only it would get a liquor license).
Our community desperately needed this after a rough summer. Violence in East Lakeview in June and July, including a caught-on-tape-stabbing, provoked dialogue both constructive and not (such as a CAPS meeting, a Facebook page called Take Back Boystown and a series of benefit performances called We Are Halsted) concerning the influx of LGBT youth (many of color) walking Halsted Street after dark. Meanwhile, the Chicago Gay and Lesbian Hall of Fame is no longer municipally funded but continues to soldier on with outside support.
There was also lots to be proud of in 2011, including the hard-fought December 2010 passage of the Illinois Religious Freedom Protection and Civil Unions Act, which took effect June 1 and featured a massive wedding ceremony for 30 couples at Millennium Park on a balmy June afternoon. The few sour faces and their limp protest signs couldn't spoil it for the hundreds who gathered to celebrate the historic victory for the diverse couples of every age and color who finally got to proclaim "I do!"
The biggest news to affect our city streets was the October announcement that the Chicago Pride Parade, whose estimated 800,000 visitors caused the June celebration to burst at the seams, would undergo significant changes in 2012 to ease congestion and curtail drinking. Be on the lookout for a new parade route that kicks off in Uptown at Montrose and Broadway, a truncated parade that reduces the number of contingents from 250 to 200 and a 10am start time (uggh). Also outdoors, the Gay World Softball Series, the largest gay sporting event of 2011, brought thousands of LGBT athletes to Chicago in August. Although no local teams took home trophies in the A, B, C or D Divisions, the Chicago Sidetrack Classics won first place in the Masters Division.
We can all agree that queer arts flourished this year. Summer smash The Homosexuals by Philip Dawkins, the story of sexual friendships among a group of men, became the gay talking-point theater piece of 2011, while this autumn's The Kid Thing by Sarah Gubbins similarly sparked discussion among lesbians. Both were produced by About Face Theatre. If you were lucky, you also caught out comedian Cameron Esposito's utterly joyful Side Mullet Nation at the Playground (and currently at the Comedy Bar) or Tim Paul's heartbreaking No Fats, No Femmes at the Annoyance. Reeling, the second oldest LGBT film festival in the nation, entered its dirty thirties with a first-ever opening night film by a local filmmaker, Stephen Cone's wonderful The Wise Kids.
We fondly remember out Puerto Rican, women's health advocate and community activist Christina Santiago, 29, who was killed in the tragic stage collapse at the Indiana State Fair in August. In September, an indelible publication, the decades-old Gay Chicago, called it quits.