The lesbian nightlife scene in Chicago
The closing of Star Gaze raises the question: Who needs a lesbian bar?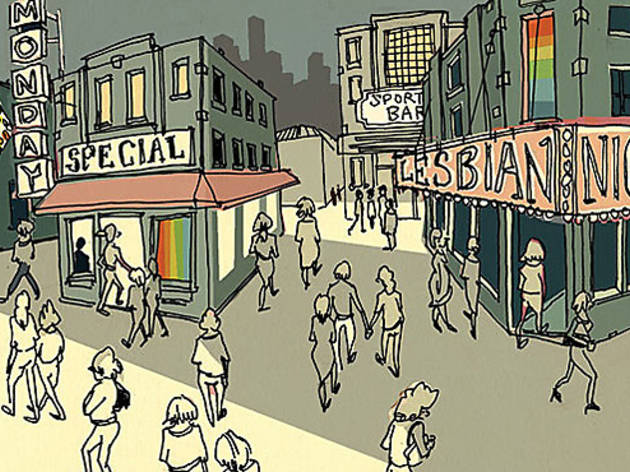 It's a little after 10pm on Saturday night, and two fresh-faced girls are belting out Def Leppard's "Pour Some Sugar On Me" at Spyners Pub. A handful of middle-aged lesbians halfheartedly clap at the song's close but never really break conversation with their old friend Jack Daniel's. As the night wears on at this divey watering hole (often referred to by heteros as "Lesbian Karaoke Bar"), the college kids start to outnumber the sapphic regulars. Soon, Spyners doesn't look like the last surviving lesbian bar in Chicago—it just looks like a bar trying to survive.
When the Andersonville lesbian mainstay Star Gaze closed, the demographic of lesbians similar to its 62-year-old owner Mamie Lake felt the hit the most. The younger lesbians politely pay respects to Star Gaze, but in reality the closing barely registered as a blip on their radar screen. "I think Star Gaze is probably a greater loss in the scope of LGBT history in the city and to older gay women who found it a safe place," says Trish Bendix, the Chicago editor of AfterEllen.com. "But it won't necessarily impact the lesbian community as far as a lack of places to go."
Kristen Kaza, producer of the Chicago-produced gay documentary Fish out of Water, couldn't agree more. "For many women in Chicago, it may not have been relevant to them anymore, or ever." Kaza contends that "gay male bars receive significantly higher traffic because the men are usually there for the main purpose of meeting and possibly hooking up, and gay women often need an additional, or just alternative, motivation." Kaza cites film screenings, music concerts, and roller derby as events that bring out gay women, and she echoes a growing sentiment that Chicago's modern lesbians don't feel the need to have a designated lesbian bar.
"With society becoming more open and acceptable to the GLBT community, we have more options than before, so being a gay- or lesbian-focused bar is no longer good enough," says Kelly Zeng, founder of Sapphic Adventures Meetup group and organizer of Guerilla Girl Bar (a bimonthly event in which members of the lesbian community take over a straight bar for a night). Guerilla Girl Bar aside, Sapphic has hosted more than 150 meetup events to bring lesbians together over common interests other than drinking and dancing. Zeng cites a member survey in which not one bar party ranked in the top 20 events as proof that "lesbians prefer a much wider range of cultural, outdoor and entertainment activities outside of bars." Still, just like many lesbian party promoters, she announces upcoming events via Sapphic's Facebook page, embracing social media as a way to garner support for a very fluid scene.
"The lesbian nightlife scene in Chicago is like a really beautiful hobo…moving from place to place," says Jenae Williams of the production company Chicago Dirty Girls. "You have to be very on top of things to know what's really going on unless a party has become a staple." Williams uses her Twitter page (ChiDirtyGirl) to keep followers in the loop, and she and other promoters throw Stardust, the Thursday night dance party at Berlin (954 W Belmont Ave, 773-348-4975) that's garnered a sizable lesbian contingent.
Aside from Stardust, there are three weekly bar nights around town aimed at lesbians, and other than Circuit Girl Friday (3641 N Halsted St, 773-325-2233), they mark a recent trend: straight bars catering to lesbians by offering a temporary home. Trickster Tuesdays bring the tatted-up Suicide Girl crowd to the Rockbox (2624 N Lincoln Ave, 773-871-0205) and on Fridays, Doll House transforms the Wicker Well (1637 W North Ave, 773-276-8477) into a ladies' night that often leans Latina. (Those looking for a lesbian-friendly bar on other nights can check out T's [5025 N Clark St, 773-784-6000].)
However, the success of these weekly parties is fleeting enough that the majority of long-running lesbian nightlife options are monthly events: Chances on third Mondays at Subterranean (2011 W North Ave, 773-278-6799), Off Chances on second Tuesdays at Danny's Tavern (1951 W Dickens Ave, 773-489-6457), FKA on first Thursdays at Big Chicks (5024 N Sheridan Rd, 773-728-5511) and. Most of the city's lesbian party promoters don't see the monthlies as a sign of discrimination compared to the nightly parties taking place in Boystown; it's more an issue of supply and demand. "We may not have a bevy of bars that will always be hopping, but we do have a lot more options than the same old, same old," says Bendix. "And that always keeps things interesting."