5 minutes with Kristi Yamaguchi
Kristi Yamaguchi pens a kids' book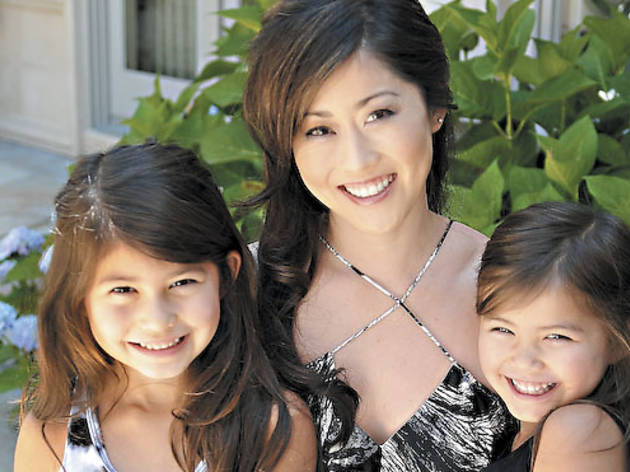 Dear Kristi Yamaguchi…how can we say this nicely? If you weren't so damn cute we'd hate you. But can you blame us? The world-renowned figure skater, dancer, nonprof founder and mom of two is now the author of the kids' book Dream Big, Little Pig! (Sourcebooks Jabberwocky, $17), all about a pig who finds her true calling. Before Yamaguchi came to Chicago to debut her newest title, we caught up with her by phone to talk about her daughters and why she'll always be obsessed with swine.
Olympic gold medalist, Dancing with the Stars winner and now kids' book author—are you trying to make the rest of us look bad? Where do you get all the time?
[Laughs] Just trying to keep busy, I guess. I'm always used to having something to work on. But this [book] is a very different challenge for sure. It's been an incredible process, from when I first signed with First Books, who's based in Chicago, actually.
Did your daughters help you create the story?
Definitely. They've been along the whole ride with me. Keara even helped me pick the name of the main character, Poppy—that's the name of my youngest, Emma's, friend from school. It's been so much fun to create a character, someone positive and inspiring. Also, every night, I read a book with my girls before bed. To have one of my own that I wrote when I sit down with my kids? It's great.
How old are your daughters? Are they doing any ice skating?
Keara is 7 and Emma 5. They're just starting it now, as beginners, for the fun of it. I love that they're getting joy out of the sport—even though I sometimes have to put my skates on just to keep them out there.
So how did you decide to make your main character a pig, of all things?
I've been a pig fan for as long as I can remember. I've loved Miss Piggy since I was little, always carried pig good-luck charms on tournaments, and was even born in the year of the pig. And Poppy the Pig, she's trying to find her niche in life, and tries so many things before she realizes ice skating is her passion. She's all about perseverance—getting over the tumbles and the doubters and finding your joy, finding that spark.
Kristi Yamaguchi will be at the John Hancock Observatory's Skating in the Sky rink Monday 28 at 6pm and at Anderson's Bookshop in Naperville Tuesday 29 at 7pm.