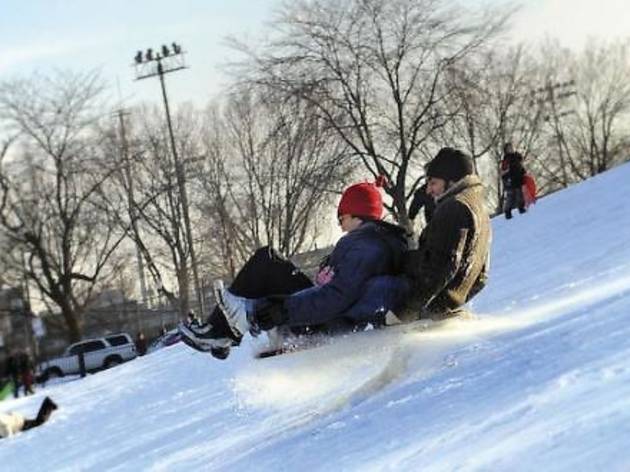 Grab the sleds, slip on the snow pants and head down to Mayor Daley's old stomping grounds for some old-school-meets-new-cool action. Dive right into the neighborhood vibe by visiting hole-in-the-wall Bridgeport Bakery (2907 S Archer Ave, 773-523-1121) for oversized glazed doughnuts with sprinkles for the kids (70 cents each) and one of the much-lauded bacon buns for yourself (85 cents).
Enjoy your yeasty delights on your way to nearby Henry C. Palmisano Nature Park (formerly Stearns Quarry Park, 2700 S Halsted St) most recently the site of a garbage dump after time as a working quarry and (about 180 million years ago) an ancient coral reef. After zipping down the city's newest (and least crowded) sledding hill, stroll down the metal walkway to a lagoon surrounded by the steep stone walls from the quarry.
Refuel and warm up at Ramova Grill (3510 S Halsted St, 773-847-9058), a gem of a joint that has been churning out simple diner fare since 1929. Opt for a wooden booth where the kids can chomp on grilled cheese sammies and shoestring fries ($1.40 each) while you savor a bowl of the famous housemade chili ($3.25).
After lunch, walk north to Monster Island Toys (3335 S Halsted St, 773-247-5733) to marvel at the righteous collection of new and vintage Godzilla memorabilia. A $5 Godzilla magnet for each kid is a playful way to end the date.
BREAKDOWN
Food = $8.30
Souvenirs = $10
Total for one adult, two kids = $18.30