2012 spring break camps
These camps get a thumbs up for keeping kids entertained.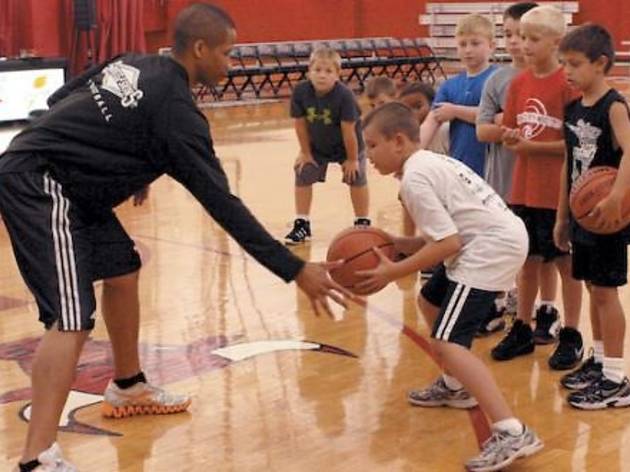 Lookingglass Theatre
The theater's annual Springglass Spring Break Camp has become a kid favorite, and this year's Odyssey theme, in which students adapt their own versions of Homer's classic, is sure to make for some happy campers. Where else can you learn to juggle and stilt walk, all before lunch? 821 N Michigan Ave (312-337-0665, lookingglasstheatre.org). Apr 2–6, 9am–3pm. $350, payment plans and scholarships available. Ages 8–14.
Chicago Bulls/Sox Academy
Attention aspiring Michael Jordans: Pick from fast-pitch, baseball or basketball camp, or sign up for the Spring Break Combo Camp for both hoops and baseball. 6200 River Bend Dr, Lisle; other locations in Glen Ellyn and La Grange (630-324-8221, bullssoxacademy.com). Mar 26–28, 8:30am–3pm. $280. Ages 6–14.
Irving Park YMCA
Join the fun on the Northwest Side, where campers play games, swim and make crafts. Bonus: The camp runs from 7am–6:30pm so there's no need for working parents to find childcare. 4251 W Irving Park Rd (773-777-7500, ymcachicago.org). Apr 2–6. $320, members $200; daily rates available.
Hyde Park Art Center
At Creativity Camp, mini Monets produce original works of art, while the other half of the day focuses on theater arts. 5020 S Cornell Ave (773-324-5520, hydeparkart.org). Mar 19–23 and Apr 2–6, 9am–3pm.$395, members $370. Pre-Kto grades 5.
Lillstreet Art Center
For this year's spring camp, Lillstreet teams up with the Oriental Institute for a museum visit and some ancient-Egyptian art projects that both kids and mummies will appreciate. 4401 N Ravenswood Ave (773-769-4226, lillstreet.com). Apr 4–6, 9am–3:30pm. $330. Ages 8–12.
Chicago Botanic Garden
Kids can explore the wonders of the plant world with hands-on activities. Art, cuisine and conservation are among the themes. 1000 Lake Cook Rd, Glencoe (847-835-5440, chicagobotanic.org). Mar 26–30, 9:30am–3pm. $345. Ages 5–8.
Smarty Party
With this Lakeview spot's rep for fun, educational classes, its take on spring break will be nothing short of fantastic. 1846 W Belmont Ave (773-687-0521, smartyparty.us). Apr 5, 6, 9–13, 9am–1pm. $40 per child. Ages 4 and older.
Wishcraft
Sewing and other specialized craft sessions are geared to kids who love to get creative. Dates and times vary; check the website for a complete schedule. 2312 W Roscoe St (773-348-9474, wishcraftworkshop.com). Apr 2–13. (More dates TBD). 9am–2pm. $55–$75 per day. Ages 6 and up.