A countdown to a no-fuss New Year's Eve party at home with the kids
Follow these ten steps for a great family New Year's Eve celebration.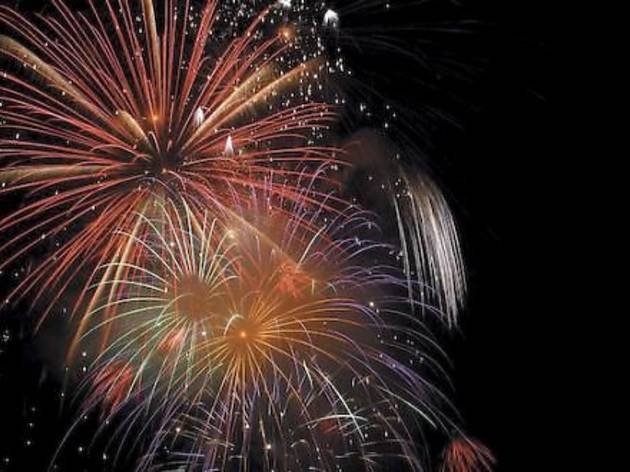 It's a common conundrum: Stay in with the kids or go out for New Year's Eve? If you still need a sitter, this article will help. But if you've had enough of amateur night for one lifetime (or two), we've got a simple plan for a rockin' party—at home.
10. Benjamins are optional
Whatever your budget, the content of your party is more important than its trimmings (think about all the fancy soirees you've attended that were akin to watching paint dry; you don't want to do that to your kids).
9. Getting people to come over
At this late date, paper invites are moot—unless you can slip Santa a few extra bucks to work overtime into the New Year. Electronic invitations are nice; you're probably familiar with Evite, but Punchbowl and Pingg offer comparable services.
8. Setting a scene
Our advice about decorations: Skip 'em. They just go into the garbage the next day. A clean house and a few scented candles are really all you need—we like the Skeem Filigree Sweet Balsam Candle ($19 at Enjoy, an Urban General Store, 4723 N Lincoln Ave, 773-334-8626) to set a festive mood. If you're too busy to do the cleanup yourself (before or after the party), use TaskRabbit to hire household help on the fly.
7. Let them eat…grapes
If you already have a tradition of eating a particular food for NYE, bring it out. Some families race for the pickled herring, and others—Spaniards, for instance—eat round foods, like grapes, to symbolize coming full circle. Pick a store that has a wide range of foods and treats—we frequent Gene's Sausage Shop and Delicatessen (4750 N Lincoln Ave, 773-728-7243)—to get everything you need in one stop. Gene's, for example, has produce, desserts, nonalcoholic drinks, wine, cheese and plenty of pickled herring.
6. Get crafty
Visit the bargain bins at local craft stores—we like Jo-Ann Fabric and Craft (2639 N Elston Ave, 773-227-7874)—to grab pom-poms, foam crafts and other materials that will keep kids busy. Set up a craft area in your home (and line it with newspapers to contain the mess). While you're there, pick up confetti and noisemakers on the cheap.
5. Take a break
It's easy to get caught up in planning. Take it easy and head to a drop-in craft time—we like the one held every Friday from 2–5pm at Flourish Studios (3020 N Lincoln Ave, 773-281-8140), where professional artists work with kids on NYE-themed art projects while parents relax.
4. Remember your heritage(or someone else's)
The Japanese throw bonenkai (forget-the-year) parties to let go of grudges in the new year, and in the Philippines it's common to wear polka dots. It might be cute to have your own Baby New Year, though be careful—the Greeks used such a symbol in hopes of fertility. And also in Greece, St. Basil's cakes—10" versions are available from Artopolis Bakery (306 S Halsted St, 312-559-9000) for $12.50—have a silver or gold coin baked inside; whoever finds it is said to be lucky during the coming year.
3. Look over the past year
Talk about what's happened over the past year and write it down in a journal—Target offers a three-pack of tiny Moleskines for under $10—that you can label "2011" and put away for safekeeping. It's also a nice way to remember how much you've done together as a family, which can get lost in the bustle of the holidays.
2. Surprises are welcome
Keep mum until about a half-hour before the countdown, then bring out surprises: sparkling grape juice, DIY cupcake decorating, goodie bags, anything that will ramp kids up for the excitement of the countdown that will be the climax of your evening.
1. C'mon, feel the noise
Kids love busy and noisy countdowns (even if you choose to have yours at 6:59pm). Haul pots and pans out of cabinets (they make great drums), throw confetti and be generous with hugs and kisses. You've survived another year of parenthood.