A "Green Revolution" at the Notebaert Nature Museum
The Nature Museum pedals bikes as eco-friendly and fun.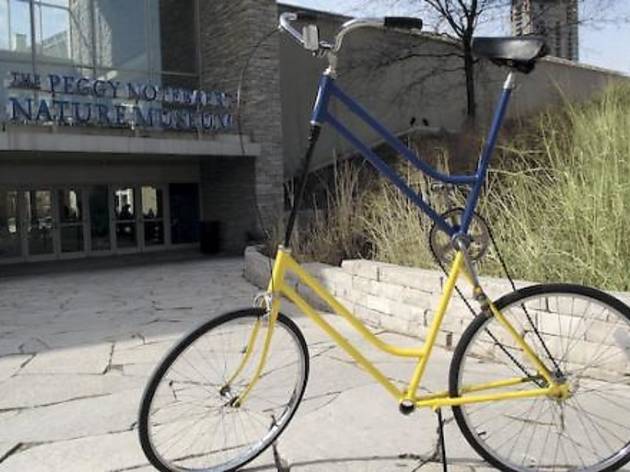 "We don't have to work very hard to get that point across," adds Alvaro Ramos, vice president of exhibitions and the museum experience. He admits, though, that organizers had two ulterior motives for wheeling out these metal steeds.
"First, we want people to understand that bikes are not only a fun way to interact with your urban environment, but also a way for you to connect to nature," Ramos says. The second message? "Bikes are a very sustainable form of transportation, good not only for your physical health but also for the health of the environment."
That's where the exhibit, which opens March 31 and runs through September 9, will really connect with families, who Ramos says are the primary target market. He and his core team of four Nature Museum staffers, who've been developing the exhibit since last summer, are driving the fun home by getting local kids involved. That's why they reached out to a few of the city's prominent bicycle-advocacy organizations that work with young enthusiasts.
West Town Bikes NFP, based in Humboldt Park, and Blackstone Bicycle Works in Woodlawn do much more than keep mechanics busy. These nonprofits also run programs connecting underserved youth with bikes while providing job skills and experience to teens. In a section of the exhibit dubbed the Wheel People Bike Shop, kids can learn how to be mechanics, practicing on customized wooden bikes—sometimes led by peers from these groups.
"Some of the high-school students in our employment programs will be providing service at the museum once a week," confirms Alex Wilson, West Town's executive director. "[They'll be] doing both basic bike repairs and also safe-cycling instruction."
Another component of the exhibit focuses on cycling artifacts. While some kids might find history boring, Ramos and his team are betting that history on wheels is another matter.
"Kids will have the opportunity to engage with a number of very fascinating bicycles—historic bikes, trick bikes," Ramos says. For example, they'll see a reproduction of a late-1800s high-wheel bike, also known as a Penny Farthing. "We'll have steps that lead up to it, so you can sit on it and feel for yourself exactly what it's like to ride one of these things." (The wheels will be locked in place, so parents don't have to worry about Junior joyriding through the museum.)
Moving into the present era, the flashy rides include "a modern-day tall bike, the kind you often see in the Critical Mass parade—two bikes that are welded together," Ramos explains. (A West Town specialist built this double-decker just for the exhibit.) And families can sit in a stationary pedicab, which will "take them on [virtual] tours around Chicago, via a theater display."
But it would be silly to have an entire exhibit devoted to bicycles without providing a chance to ride. As the weather warms up, Ramos says, "We're going to have a lot of tie-in programs, including bike tours that originate at the museum," which is conveniently located right near the lakefront bike path.
Again, the Nature Museum has invited the outside bike agencies to plug in. For an Earth Day celebration, West Town's Wilson says they're arranging a bike rodeo. "We're planning a safety course geared toward younger elementary-school students, overseen by our high-school students." Later, for the museum's summer-solstice celebration, West Town will organize and lead a family-oriented community bike ride through Lincoln Park. The exact route isn't planned yet, but it will be short enough to accommodate families with young kids.
As Ramos discusses the exhibition details, he reveals that the museum actually has a fourth goal in mind for the exhibit. "We want to show people that cycling is a very democratic form of transportation, and the bikes are as diverse as the people who ride them."
"Bikes! The Green Revolution" keeps pedaling all summer long, through September 9, at the Peggy Notebaert Nature Museum. To learn more about programs at West Town Bikes, visit westtownbikes.org; for Blackstone Bicycle Works, read more here.