A master pumpkin carver thrills families with his monster-gourd creations
Wheaton dad Joe Adkins turns his obsession with pumpkins into sculpted masterpieces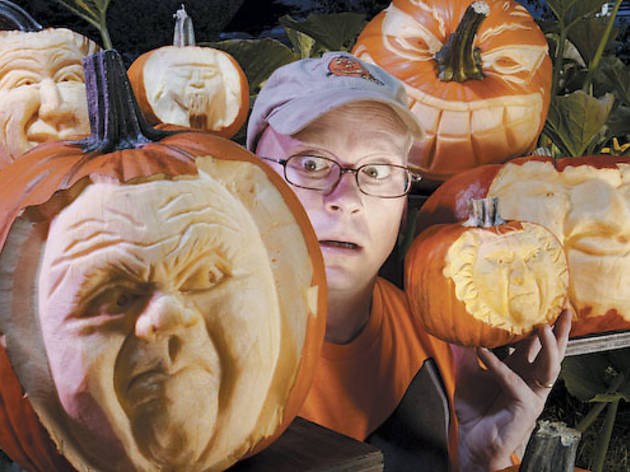 Plenty of dads have hobbies—maybe they spend time in a woodshop in the basement, or tinker in the garage. But Joe Adkins, a Wheaton father of two girls, ages 6 and 8, has turned his affinity for pumpkin carving from a personal obsession into a local attraction.
His wife Sarah spends much of the year landscaping the front yard with colorful flowers. Come October, Adkins, a massage therapist and instructor at the National University of Health Sciences, takes over. He typically carves 50 to 70 pumpkins, each more than 300 pounds, for display—but even before October rolls around, he's hard at work growing the giant gourds that will become his masterpieces.
"It begins in April," Adkins says. "I start the seeds in a cooler with a liter bottle of hot water changed every five hours to maintain a temperature of 80 degrees." At the peak of growing, these Atlantic giant pumpkins gain 15 pounds every day; Adkins cuts them from the vines at about 400 pounds.
Adkins says his familiarity with the pumpkins from the beginning helps him get a feel for each one's "personality." "I like to grow them from the seed, see them grow and carve using their natural shape," he says. Though he sometimes takes requests, "I go with the flow," he says. "I never know what the pumpkin will look like before I get started."
Some might call what Adkins does "carving," but it's really more akin to what sculptors do with a block of marble or granite. His tools include chisels, clay-sculpting tools, melon ballers and whatever else he has on hand to create three-dimensional characteristics. People come by at all hours to catch a glimpse of his front yard, he says. "Everyone smiles, and it creates a lot of joy. It's difficult to be unhappy after you've seen a giant carved pumpkin."
Adkins has always had what he calls "a thing" for pumpkins. He started with run-of-the-mill stencils, but his craft took off after a visit to Sonny Acres, where he happened upon a VHS tape showing surface carving techniques. "In the beginning, it would take me up to eight hours to carve a small, store-bought pumpkin," Adkins says, adding that he now averages about 2.5 hours for a giant pumpkin. His favorite: a face with angry eyes and bared teeth that he says is more reminiscent of the Goblin King in Jim Henson's Labyrinth than a classic jack-o'-lantern, on a "small" two-hundred-pounder.
On October 16, Adkins is teaching a class and doing carving demos at Blick Art Materials in Wheaton (79 Danada Square East, 630-653-0569). On October 29, he'll do more demos—and sell carved pumpkins—at the Haunted Halloween Flea Market at DuPage County Fairgrounds (2015 W Manchester Rd, Wheaton).
Adkins says casual carvers shouldn't be afraid to mess up. "Mistakes can make it turn into a better creation than you could have planned," he says. "And rarely do you mess up so badly that it's trash." For kids too young to use sharp tools, he recommends paints, markers, rhinestones and allowing them to direct the design.
"If I had a million dollars, I'd buy a [large] pumpkin patch," he says. "I can't stop. I'm totally obsessed." But he says his family is cool with his obsession. His wife, a third-grade teacher in Norridge, often brings his creations to her classroom. And his daughters appreciate the fringe benefits. "You have to have a pumpkin patch for the Great Pumpkin to come," Adkins says.