Chained and unchained
Forget what you think you know. There are good indie restaurants in the 'burbs, and good chain restaurants in the city.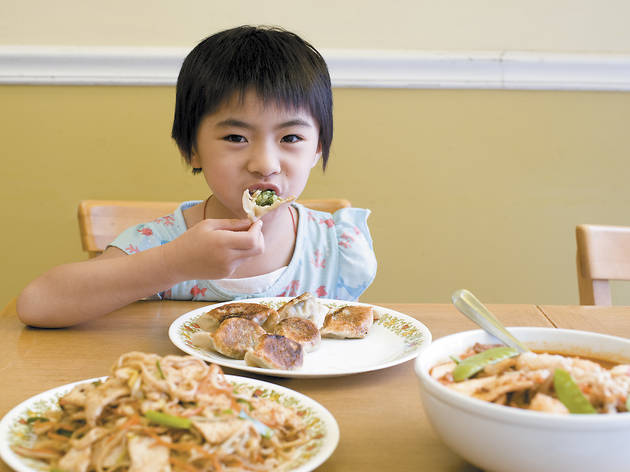 1/3
Photograph: Nicole Radja
Laura Moy eats Fish Potsticker, Szechuan Noodle Soup and Chicken Fried Noodle at Katy's Dumplings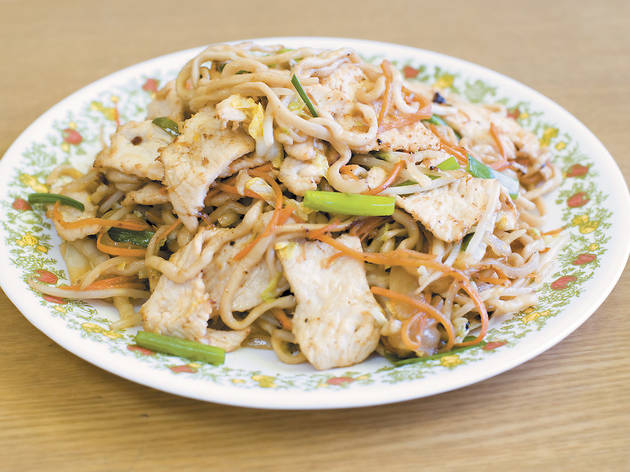 2/3
Photograph: Nicole Radja
Chicken Fried Noodle at Katy's Dumpling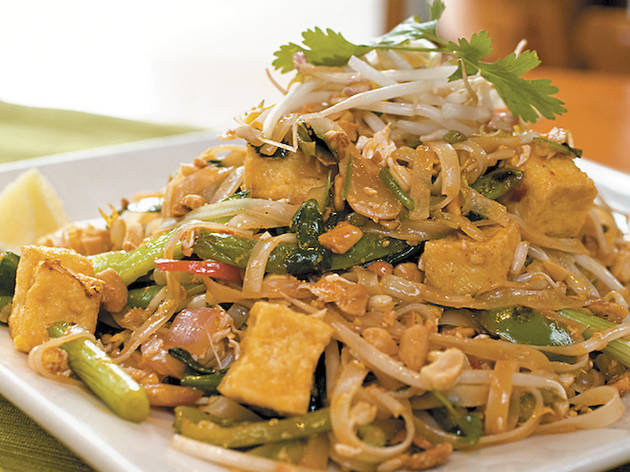 3/3
Tofu Pad Thai from Big Bowl
Suburbs
Katy's Dumpling House
City dwellers might wonder why it's worth driving to the 'burbs for Chinese when Chinatown's right here. But—trust us—you won't find noodles this fresh in the city. Start the gang off with the dumplings, ethereal pockets of noodle skin encasing scallion-flecked pork. Then move on to heaping bowls of beef noodle soup. In this Chinese version of pho, the unbeatable long, soft noodles make this house signature stand out. 665 N Cass Ave, Westmont (630-323-9393).
Cross Rhodes
If authentic Greek eats are more important than flaming cheese and "Opaaa!"s to you and your family, you don't need to travel to Greektown. This diner-ish, cash-only Evanston joint offers huge portions (the $9 gyros platter is piled about ten inches high) of fresh, well-spiced food. Vegetarians love the meat-free versions of moussaka and pastitsio as much as carnivores enjoy the traditional versions here. 913 Chicago Ave, Evanston (847-475-4475).
Rex Italian Foods
North of Harlem's traditional Little Italy, Rex is an institution run by a mother and son who serve artisanal Italian specialities to go or to dine in. The native Sicilians cook up some relatively rare items, such as schiacciata (focaccia stuffed with cheese, meat and veg) . A kids' menu includes mozzarella sticks, pizza and mini versions of the famous subs. 4431 N Harlem Ave, Norridge (708-457-0177).
City
Flat Top Grill
For anyone oblivious to the charms of this Mongolian barbecue chain, here are the basics: Limited only by your bowl size, you create your own stir fry, hand it over to a guy manning the namesake griddle, then wait while the creation is cooked. The best part: There's something here for everyone from your vegan brother-in-law to your kid with celiac disease. 3200 N Southport Ave and other locations (773-665-8100, flattopgrill.com).
Big Bowl
After local chain Lettuce Entertain You sold this pan-Asian moneymaker to the folks behind Chili's, the restaurant slacked on quality. So LEYE bought it back and revamped the food. In addition to authentic Chinese specialties like Mongolian beef and Thai curries, Niman Ranch pork is in the fried rice, and local produce has found its way onto the stir-fry bar. The kids' menu includes an inspired selection of satays, stir-fries and noodle dishes. 6 E Cedar St and other locations (312-640-8888, bigbowl.com).