Chicago-area Fourth of July Parades
Whether for patriotism, floats or music, everybody loves a parade. Celebrate at these small-town marches.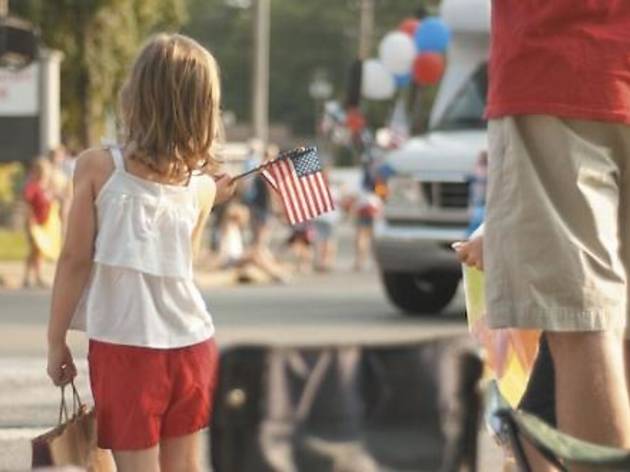 JULY 2
Fox Lake
The parade heads west on Grand Avenue at 10am from the Rollins Road kickoff point. Afterwards, hit the all-day celebration in Millennium Park (Grand Ave and Rollins Rd). foxlake.org
JULY 4
Antioch
Themed "American Heroes," the parade marches down Main Street at 10am, followed by a children's fun fair at Williams Park (741 Main St). 847-395-2160, antiochchamber.org.
Barrington
The 10am parade kicks off the final day of a four-day festival downtown. From Barrington High School (616 W Main St), red, white and blue marchers make their way along Main Street. 847-716-0673, barrington4thofjuly.com.
Glen Ellyn
Kicking off at noon just east of Glenbard West High School (670 Crescent Blvd), the parade proceeds west to Main Street,
north to Linden Avenue and concludes at Lake Ellyn Park. For $2 admission, enjoy a fair filled with moonwalks, carnival games, face painting and more. glenellyn4thofjuly.org.
Morton Grove
Part of Morton Grove Day's Summer Festival, the Fourth of July parade steps off at 2:30pm from Central and Dempster Avenues. 847-965-4100, mortongroveil.org.
Skokie
The noon parade, which includes clowns and vintage cars, runs north from Oakton Community College (7701 N Lincoln Ave) to Oakton Street, then east into Oakton Park. 847-674-1500, skokie.org.
Warrenville
This Children's Parade, designed exclusively for kids, will travel south at noon along Warren Avenue to Cerny Park. From noon–6pm, kids can climb walls, ride ponies and run an obstacle course. 630-393-1186, warrenville.il.us.—Michael Less