Chicago gyms that offer kids' classes
Gyms in Chicago that keep your kids busy while you work out.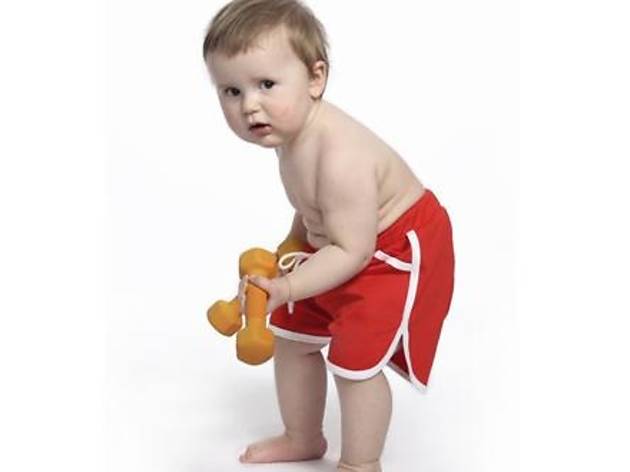 If you're not completely hardcore, slipping on sneakers and strapping your kid in the jogging stroller (or trying to get older kids to join you for a run) when it's this cold and snowy outside just doesn't hold lots of appeal. But finding time to work out without your kid in tow might be next to impossible. Get your fitness fix and let your little guys burn some energy, too, at these gym classes that kids can take while you're doing your own thing.
Bally Total Fitness, Hyde Park (1301 E 47th St, 773-924-9889)
THE WORKOUT Kwando classes teach kids ages 4 and up a hybrid of Tai Kwan Do, boxing and karate while you work up a sweat.
TIME Beginner classes run Monday–Thursday 5–5:45pm, intermediate classes 5–5:45pm Mondays and Wednesdays, Fridays 6–6:50pm
COST $34/month with $48 down and a purchase of a uniform at time of sign-up. Membership not required.
i.d. gym (2727 N Lincoln Ave, 773-477-8400)
THE WORKOUT Instructors of the gym's kids' program teach technical sport basics in baseball, soccer, basketball and tennis to ages 3–7.
TIME Sessions run every Friday, 4–5pm
COST $100 a month
CrossFit Chicago (1444 W Willow St, 773-281-0411)
THE WORKOUT The regimen that's so star-popular in Hollywood now comes in a kids' version. CrossFit coaches run ages 4–12 through squatting, running and jumping moves built around fun and games.
TIME Wednesdays at 4pm (an adult class conveniently runs at the same time)
COST Kids classes at CrossFit , which just launched, are free right now—take advantage!
Edgewater Athletic Club (1040 W Granville Ave, 773-262-2455)
THE WORKOUT Kids can join all-ages swim classes (if they're under age 2, you have to join in).New mixed martial arts classes are slated for this spring, too.
TIME 45-minute swim classes are Tuesdays at 4pm, Thursdays at 4:15pm, Fridays at 7pm and Saturdays at 9am or 2pm. Martial arts will be once a week; see website.
COST $112 for eight weeks session, $98 if you join your kid. Martial arts will cost $80 for an eight-week session; check with gym for time and pricing details.
Lincoln Park Athletic Club (1002 W Diversey Pkwy, 773-529-2022)
THE WORKOUT This super kid-friendly gym offers everything from swim to ballet to music classes, and the Kids Club (members only) lets little sports play computer and board games, scale a mini-climbing wall and create in the art corner. A no-shoes baby room keeps your tots 8-weeks to crawling happy while you sweat.
TIME Classes run once or twice a week Mondays—Thursdays and Saturdays. Kids Club hours are Monday–Friday 8am–1:30pm, 3–7pm and weekends 8am–2pm.
COST $130–$200 for members, $225 for non-members for eight-week sessions. Kids Club prices are $100/month for one kid, $150 for two, $175 for three and $200/month for 4 or more.
Oak Park FFC (1114 Lake St, Oak Park, 708-383-1114)
THE WORKOUT Kids can partake in Spanish lessons, dabble in arts and crafts and search the Net while you sweat.
TIME Anytime during gym hours
COST $20 for a max of two hours at a time per kid, per month
East Bank Club (500 N Kingsbury St,312-527-5800)
THE WORKOUT Everything from private or group sessions of golf, swimming, tennis and more is offered at this club (see websitefor program details).
TIME Check the website for class schedules.
COST Prices vary for classes. In a pinch last minute? The Children's Activity Center will watch your kiddos ages 8 weeks and up for $7 an hour.
West Loop Athletic Club (1380 W Randolph St, 312-850-4667)
THE WORKOUT Both these fitness centers offer a Kids Club like their Lincoln Park cousin; see Lakeview Athletic Club and Evanston Athletic Club for similar services.
TIME Monday–Friday 8am–1:30pm, 3–7pm and weekends 8am–2pm
COST $100/month for one kid, $150 for two, $175 for three, $200 for four or more