Cinco de Mayo celebrations
These fiestas are five times the fun.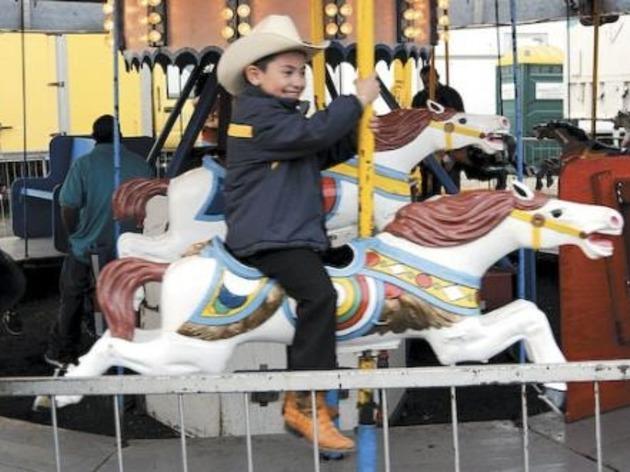 Cinco de Mayo Festival
Last year's fiesta in Little Village had delicious food, carnival games and pony rides. Let's see if it can top itself this year.
26th St and Kostner Ave (773-521-5387, lavillitachamber.org). May 4–6. Fri 6–11pm; Sat, Sun 11am–11pm. Price TBD.

Cinco de Miler Post-Race Fiesta
After you've finished the 5-mile Cinco de Miler race (or cheering from the sidelines), meet the family at Montrose Harbor for this after-party to feast on a Mexican brunch, help crack open piñatas and groove to live mariachi music.
Check cincodemiler.com for race and party updates. Race $45–$50. May 6.

Cinco de Mayo Fiesta
Cantigny Park marks the Mexican holiday with a wee history lesson, storytime, Mexican-inspired crafts and some delish South-of-the-Border snacks.
1S151 Winfield Rd (630-668-5161, cantigny.org). May 6. 4:30–5:30pm session is geared toward kids ages 6–8; 6–7pm session is geared toward kids 9–12. $12.

"El Alma de la Fiesta"
Celebrate Cinco de Mayo all summer at this museum exhibition that highlights Mexican festivals and the art they inspire.
National Museum of Mexican Art, 1852 W 19th St (312-738-1503, nationalmuseumofmexicanart.org). Exhibit runs through Aug 19. Tue–Sun 10am–5pm. Free.

¡Hola! Wiggleworms Concert
Wiggle, giggle, sing and dance to Mexican-themed songs, amigos. Geared toward kids ages 6 months to 3 years.
Old Town School of Folk Music, 4544 N Lincoln Ave (773-728-6000, oldtownschool.org). May 5 at 11am. $12, members $11.

Cinco de Mayo Parade
Keeping the kids entertained is easy at the Pilsen procession, where colorful flags, pretty dancers and festive musicians float past.
Cermak Rd from Wood St to Kedzie Ave (explorechicago.org). May 6 at noon. Free.