Come again | A Christmas Carol at Goodman Theatre
We revisit Chicago's holiday standard with three kids (including one young actress), who are impressed to discover that Scrooge and the ghosts can fly.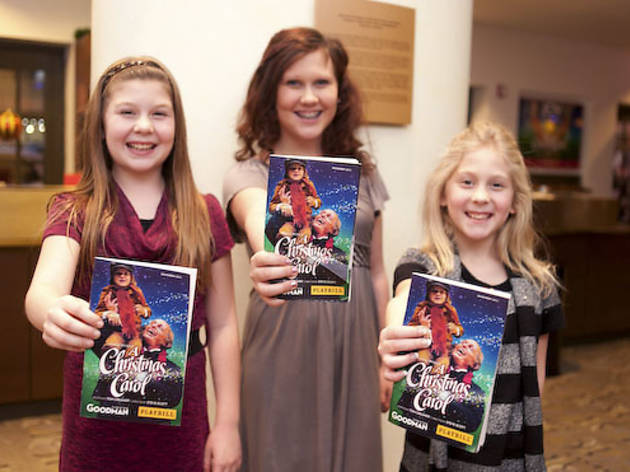 1/8
Photograph: Lizz Sisson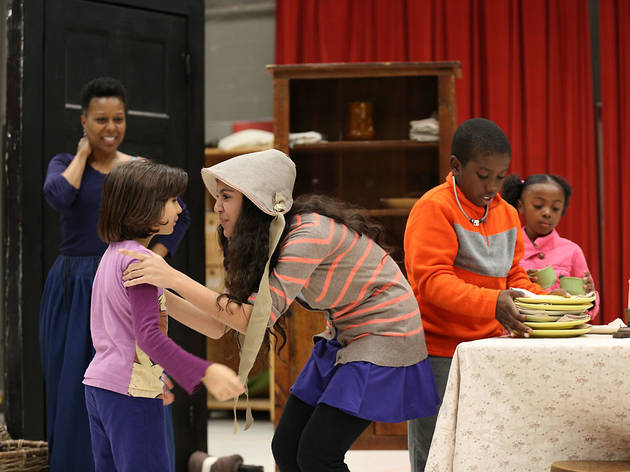 2/8
Photograph: courtesy of Goodman Theatre
Penelope Walker (Mrs. Cratchit) watches over Francesca Mereu (Emily Cratchit), Haley Bolithon (Martha Cratchit/Fan), Brynden Cleveland (Peter Cratchit/Turkey Boy) and Mia Moore (Belinda Cratchit) in rehearsal for Goodman Theatre's 2013 production of A ...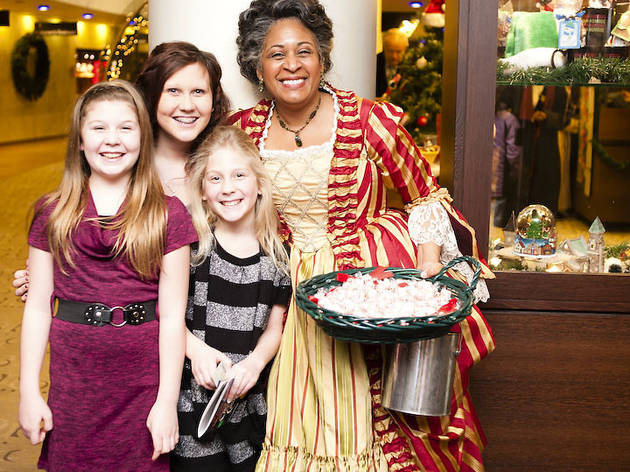 3/8
Photo: Lizz Sisson
Meehan family and Ora Jones at the Goodman theater after A Christmas Carol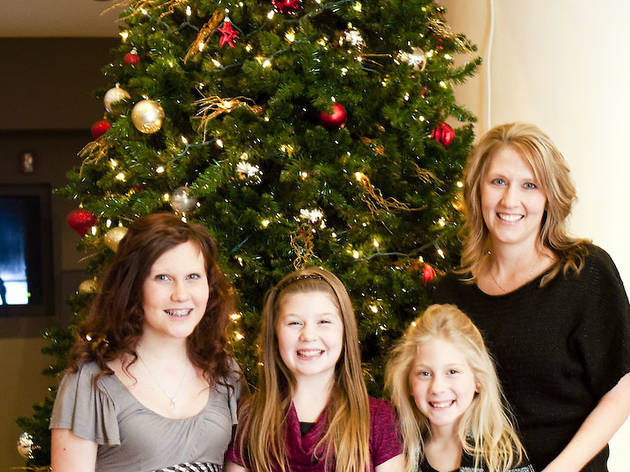 4/8
Photo: Lizz Sisson
Meehan family, Meghan, Alyssa, Jillian and Paula, at the Goodman theater after A Christmas Carol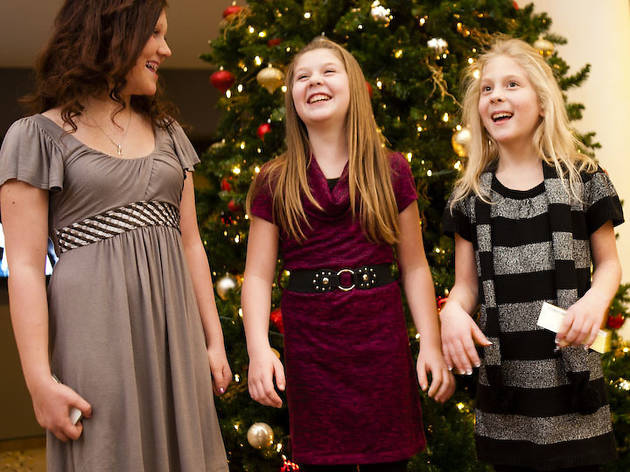 5/8
Photo: Lizz Sisson
Meehan family at the Goodman theater after A Christmas Carol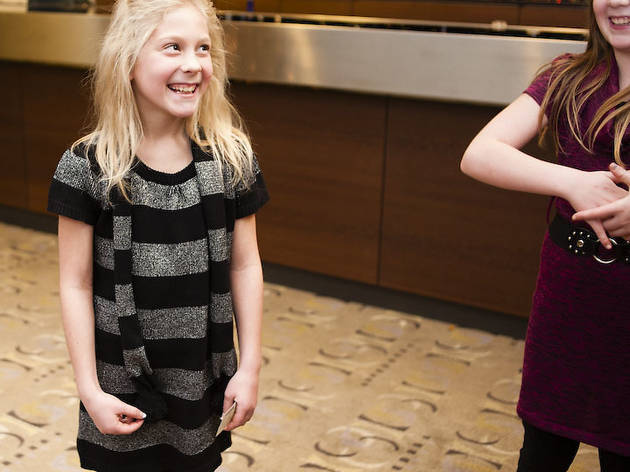 6/8
Photo: Lizz Sisson
Jillian reenacts A Christmas Carol in the Goodman lobby,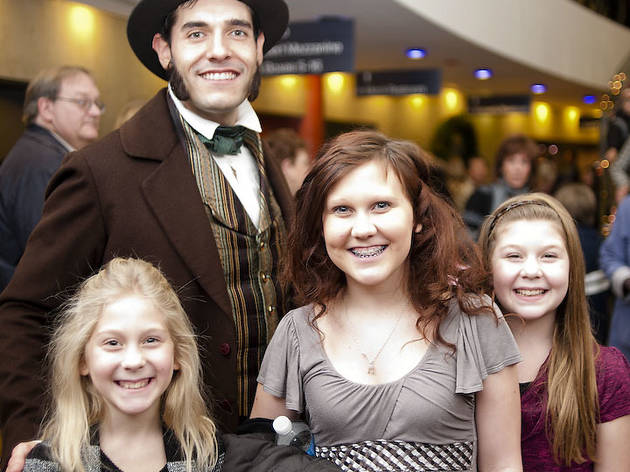 7/8
Photo: Lizz Sisson
Meehan family with Michael Perez at the Goodman theater after A Christmas Carol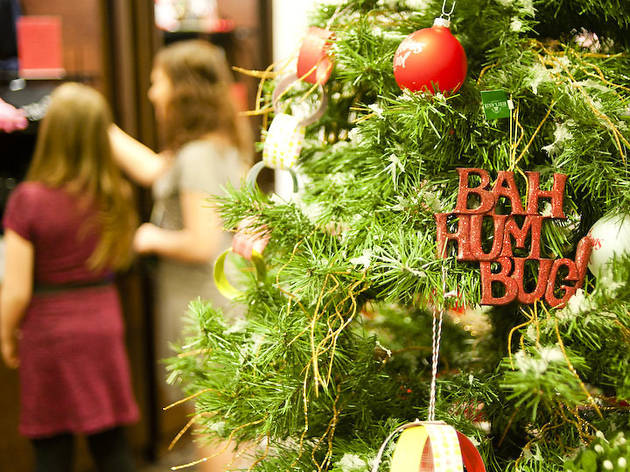 8/8
Photo: Lizz Sisson
Bah Hum bug! Indeed!
You have to wonder if Charles Dickens had any idea what he'd created.
Over the many generations since 1843, when he wrote his enduring, endearing novella focused on old Ebenezer Scrooge's epiphany, artists have been endlessly inspired to play with the story. The more distinctive iterations include a Muppet version and a gender-swapping take starring Susan Lucci as "Ebbie." But most people don't want their holiday traditions toyed with too much—something Goodman Theatre understands very well. That's why its production of A Christmas Carol, now in its 34th year, is the granddaddy of all Chicago-area stage versions.
The Goodman's biggest adjustments are probably a welcome multicultural approach to casting and the addition of accomplished live musicians who open the show. (From violins to French horns, the music continually adds warmth to the sometimes-stark tale.) Still, we wondered: After all this time—and six directors, eight Scrooges, 30 Tiny Tims and nearly 20,000 "Bah, humbugs!" (someone at the Goodman has been busy crunching numbers)—can a sparkling Christmas spirit possibly still reside in this tale of olde?
If the reactions of three sisters from Algonquin are any measure, the answer is a big-grinned yes. From the fourth grader to the high-school freshman, each was captivated by the seasonal spell. And we weren't asking Christmas Carol novices, either: Mother Paula Meehan, a 42-year-old Chicago native, had seen Goodman's production when she was a girl. Meanwhile, her two eldest are young theater enthusiasts; 11-year-old Alyssa even played the narrator in a school production two years ago. But there were plenty of new things to discover here—including the Dickensian language, which this adaptation doesn't dumb down.
"Sometimes, when Bob Cratchit and Scrooge were in the office, I didn't always know what everyone was saying—but then I did," Alyssa tells us, confirming our adult suspicion that kids will get the gist, even if they can't parse every scrap and tittle of dialogue. And she loved the special effects, including the imposingly hooded 14-foot-tall Ghost of Christmas Future. "The spirit of the future was a huge—" She's not sure how to complete her thought. "How did they—?"
Alyssa considers again. "It was big. It was scary, with the fog and everything."
While the play left her wide-eyed with wonder, younger sister Jillian covered her eyes a couple of times—especially during the suspenseful introduction of Jacob Marley. (Director Steve Scott gives the chain-clanking ghost a new, scarier entrance this year.) Still, she also laughed a lot, thanks to Scrooge's antics and some aerial fun. (It's hard to imagine any actor bellowing "Craaatchit!" with as much crotchety menace as Larry Yando, but he also mines the role for plenty of humor, such as when the Ghost of Christmas Past sends him airborne.)
"I saw Alyssa act in it before, but a lot of the stuff today was different—more dramatized," Jillian says. "I didn't know that they actually fly! In this play they did." Then she leans forward to add conspiratorially, "On strings."
A burgeoning actress, Meghan, 14, appreciated the production's technical details. "I loved the lighting and the special effects," she says, clearly wishing her school had similar resources. "And the sets! They were great. The stairs had two levels, and you could actually walk up them."
In the festive lobby afterward, actors mill with audience members, while couples and families pose by the wreaths and Christmas trees. The girls are happy to follow suit, adding a touch of Scrooge-inspired theatrics: Jillian can't help but pretend she's flying. Meanwhile, Meghan wonders if we can have chestnuts for dinner. If the kids have any say in the matter, it seems the Meehan family just discovered a new holiday tradition.
The Goodman's A Christmas Carol turns misers into donors through December 31.