Cookie monsters?
An Andersonville bakery welcomes kids, but not their childlike behavior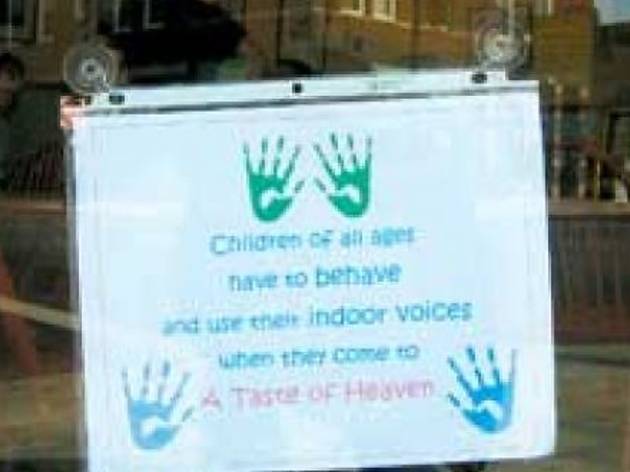 In this age of Nanny 911, everyone has an opinion about how kids should behave in restaurants, grocery stores—even their own homes—and how much parents are to blame for wanderers, screamers and headbangers.
One Andersonville bakery owner, fed up with childish antics in his shop, posted a sign earlier this year on his door that has sparked controversy. Positioned at kid height and decorated with playful kid-sized handprints, it reads: Children of all ages have to behave and use their indoor voices when they come to A Taste of Heaven.
"Kids were out of control—climbing the pipes, running in circles," says Dan McCauley, who moved his 14-year-old bakery/cafe to a heavily family-trafficked stretch of Clark Street two years ago. "I saw couples and singles leaving because of the noise. I know it isn't easy being a parent—I'm one of seven—but parents don't seem to want the job of parenting."
The sign has created a gulf filled with resentment and ill will between patrons with kids and those without. McCauley says more than 30 calls have come in since the sign went up in January from people complaining it conveys an attitude that is antifamily and anticommunity.
Other customers have been pleased with McCauley's willingness to take a stand. "It is a kid-friendly place," insists Lise Helene, an architect who lives in the neighborhood and does not have kids. "Parents just need to monitor their kids' behavior. The sound level had been so bad at times that I've left."
To Dan Crowley, an artist and frequent customer who doesn't have kids, it's a reminder of common courtesy. "Some people don't know the rules, or were never taught them." But some parents who frequented the eatery with their kids before the sign went up now feel unwelcome, worried that even a shriek of excitement over a cookie could elicit dirty looks. They say the sign reads more like a snide insult than a gentle nudge.
"Seeing that sign is kind of a slap in the face," says Elizabeth Hletko, a child psychologist and mother of a toddler and newborn, who lives around the corner. Plus, there's the gigantic rendering of an ice-cream cone in the window, advertising the store's stock of Petersen's ice cream. "That's a mixed message," Hletko says. "You can't market to two-year-olds and expect them not to behave like two-year-olds."
A Taste of Heaven (5401 N Clark St, 773-989-0151) is a bright spot filled with sweet smells and treats—macaroons, giant cookies, decadent cakes—tempting all ages. There's lots of appealing cafe fare, too, like chili, soups and egg burritos. It seems like a natural magnet for families, but McCauley acknowledges there are fewer kids coming in since he posted the sign.
Bruce Chanen, a father of two from the neighborhood, says he recently offered to take his six-year-old son, Alexander, into the shop for ice cream. After Alexander read the sign, he asked his father to buy the ice cream for him while he waited outside. "To him, the sign meant that they didn't like kids," Chanen says. "It scared him away."
"Cell phones are worse," says Madeline Kahn-Roberts, the mother of a toddler and owner of Cafe Boost (5400 N Clark St, 773-907-8674), a coffeehouse across the street. "Adults should know how to behave. Children can't know, we teach them." She welcomes the sign because it's brought her new customers.
Other bakery owners say they wouldn't post such a sign for fear it would drive away customers with kids, a cornerstone of their business. But they say they do wish parents did a better job policing and cleaning up after their kids.
"I have had families in who clearly can't handle their kids," says Stephanie Samuels, owner of Angel Food Bakery (1636 W Montrose Ave, 773-728-1512), who has a kid-size table-and-chair set and children's books on hand for young customers. Other area bakeries also try to be welcoming to kids with extras to hold their attention. Cafe Boost has a toy-and-book area. The open kitchen at Sweet Mandy B's (1208 W Webster Ave, 773-244-1174) is eye candy for kids who love watching the staff swirl colorful frosting onto cupcakes. Margie's Candies (1960 N Western Ave, 773-384-1035) makes permanent fans out of kids by swapping sweets for proof of good grades.
McCauley isn't bothered by the the fact that he's lost customers, he says, save one mother and daughter, who seem to have been scared off. "The little girl always said please and thank you, and looked me in the eye," he says. "But I haven't seen them since the sign went up."