Dan Schachner, Puppy Bowl VIII referee | Interview
The voiceover actor and Nate Berkus Show announcer gives us the inside scoop on Animal Planet's big game.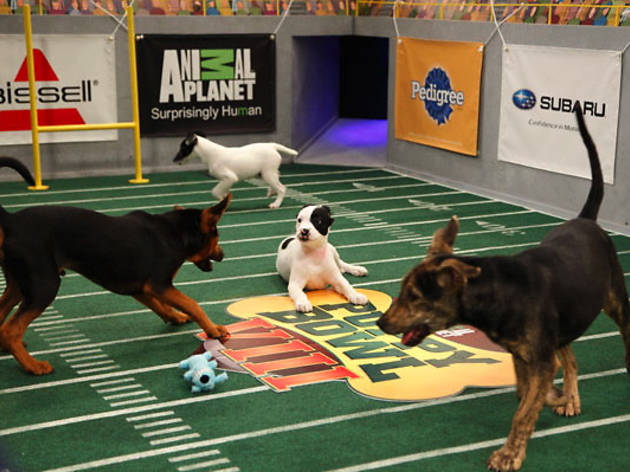 1/10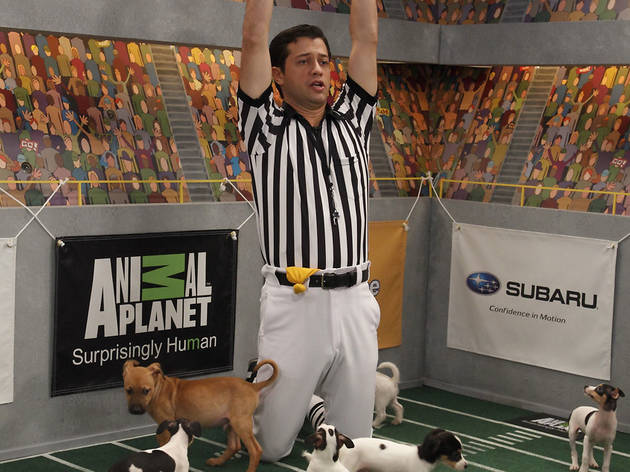 2/10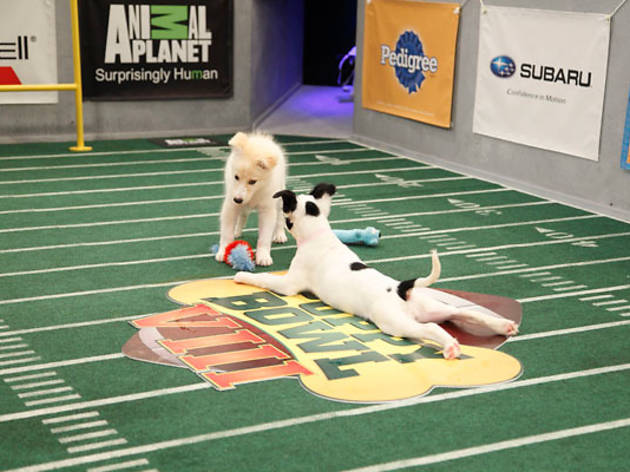 3/10
Kim Holcombe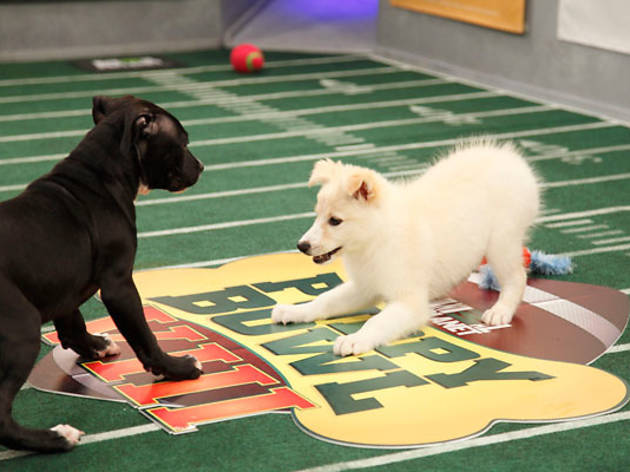 4/10
Kim Holcombe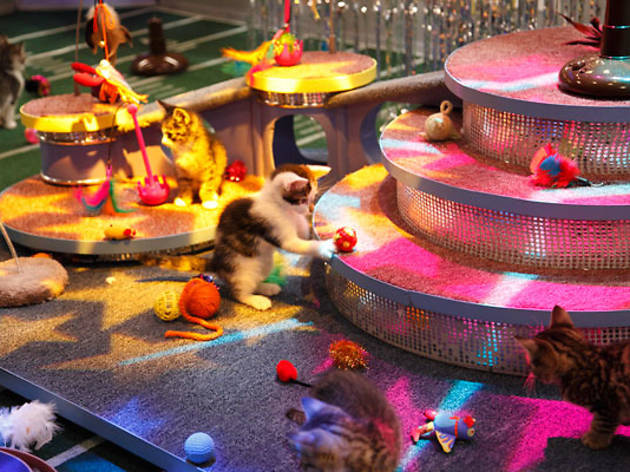 5/10
Kim Holcombe.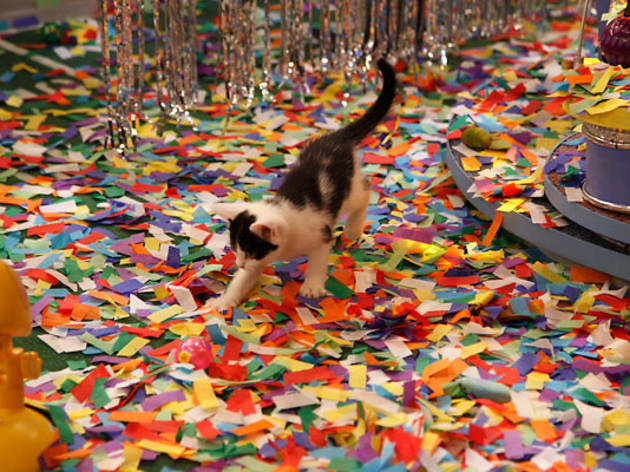 6/10
Kim Holcombe.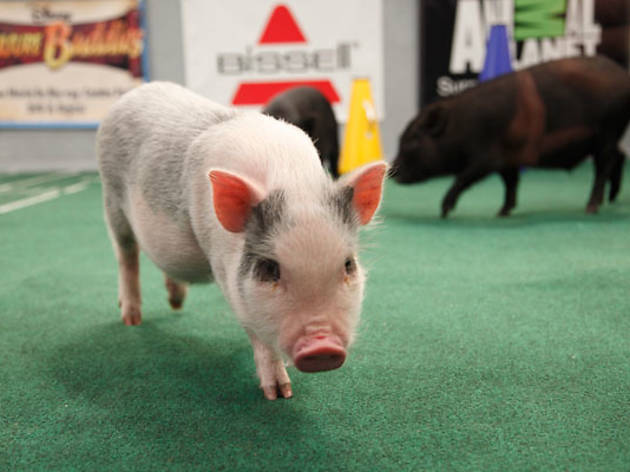 7/10
Kim Holcombe.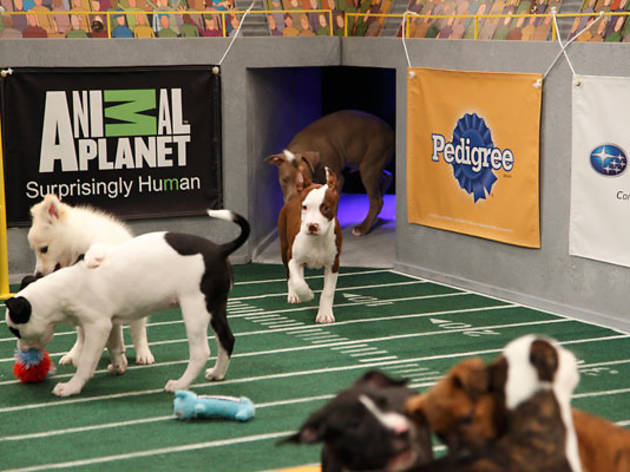 8/10
Kim Holcombe.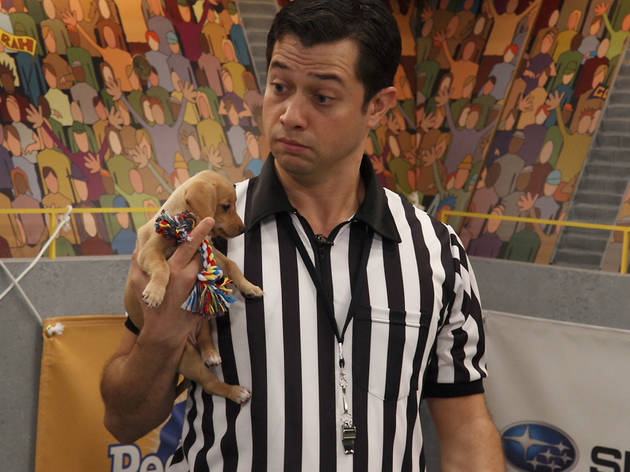 9/10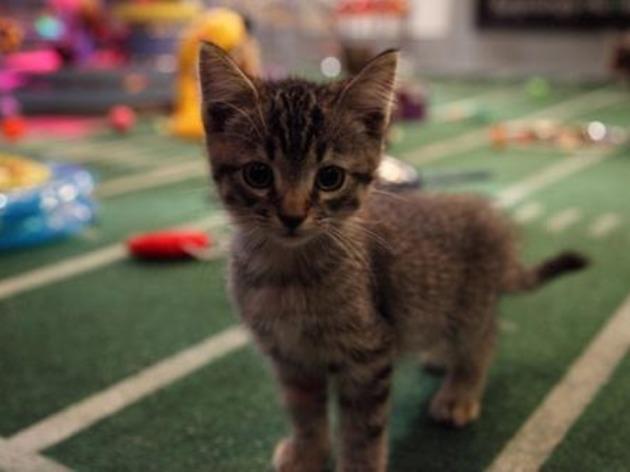 10/10
Photo: Courtesy of Animal Planet
We don't know if this Puppy Bowl VIII halftime performer's name is Meowdonna, but it should be.
One of our favorite things about Super Bowl Sunday is the furry, four-legged version on Animal Planet. Dozens of puppies from shelters coast to coast will compete in Puppy Bowl VIII, with one special pup declared the day's MVP (Most Valuable Puppy). The canine teams are cheered on as they race down the set's "field," this year by peppy pigs. (Previous Puppy Bowls have featured cheerleading bunnies and chickens.) Twenty kittens take over at halftime.
But it all adds up to more than just one of the cutest games ever played. In partnership with Petfinder.com, Animal Planet's Puppy Bowl encourages pet adoption. Earlier this week, we caught up by phone with wooferee—er, referee—Dan Schachner, for a from-the-sidelines preview of this year's broadcast.

How does one become a Puppy Bowl ref?
I've hosted a couple product shows for [Animal Planet] and they were kind enough to remember me, which was a dream come true.

It's a job not just anyone can do. What are the biggest challenges?
You're on a field with ten-plus dogs at any given time, it's a miniaturized field, and you're the only human. We're large in comparison to these puppies! You've got to watch out for puppy tails and puppy feet, and other little presents left behind. You've got to keep your eyes peeled.

Wait—so then who's watching the game?
It's taped in advance. The eyeballs are going to be the people who tune in. We have a skilled crew watching [and] we also have handlers. We have representatives from the American Humane [Association] there to make sure all of the action is controlled.

Are any children on set?
No, the only young creatures we allow are puppies. You're right, though: Kids would love an event like this. I have two kids myself, ages 3 and 5, and they begged me to bring them to the shoot. But because there's so much going on, there are so many cameras and so many elements, and the day is so long, it would be tough for the kids to sit there and watch an entire game. In the end, it's better they watch it on television. In the future, I do hope we open it up to children because I think they would really enjoy this event. I know mine would.

Have your kids pestered you for a puppy?
Oh, yes! As far as I'm concerned, my two boys are my animals. They're house-trained and they have their shots. I'm good on animals right now. In a couple of years, when they can take some responsibility walking and feeding [one], I most definitely would [get a puppy].

This kind of show could be done with many other kinds of animals. Why puppies?
I think puppies are the best animal athletes because they have a ton of energy. They're also photogenic. They're a great face for what we're trying to do, which is raise awareness about adoption. We work very closely with Petfinder.com, and we've located shelters and rescue centers across the country. About fifty-eight dogs have been brought to this Puppy Bowl, all of which are available for adoption.
Are they trained?
No, there are a few handlers and puppy wranglers, but none of [the puppies] are trained for this event. What you'll see on the field is natural ability.

This year, the Puppy Bowl will have pig cheerleaders. How did the pigs and puppies interact?
Piggies are great. They provide a lot of motivation but, off the field… [Pauses] Their dressing room is a pigsty. We don't get them too close to one another, but the puppies can see the pigs and the pigs can certainly see the puppies. And they motivate each other. They're great. No fights.

Were any of the puppies bad sports?
If they're bad sports, it's my job to penalize them by giving them a five-yard, 10-yard, or 15-yard penalty, depending on the severity [of the violation]. The good news is that no one got kicked off the field this year. If anyone did come off the field, it was because they were too tired and needed a nap.
What was your favorite Puppy Bowl moment?
Calling my first touchdown. When the chew toy crosses the end zone. It doesn't matter which one—any end zone counts. It's really a wonderful moment.
Anything special this year that viewers should look out for?
One new element that we're really excited about is Meep, the Tweeting Bird. He's a cockatiel who's perched up in the stands with a BlackBerry, and he'll be tweeting highlights throughout the entire game. You can follow him on Twitter at @meepthebird.
---
Catch Meep, the Tweeting Bird and the rest of Animal Planet's football fauna during Puppy Bowl VIII, 2–4pm CST on Sunday, February 5. Follow the Puppy Bowl on Twitter using the hashtag #PuppyBowl.