Dinner is served
...and you didn't have to lift a finger, thanks to meal subscription plans that do the cooking for you.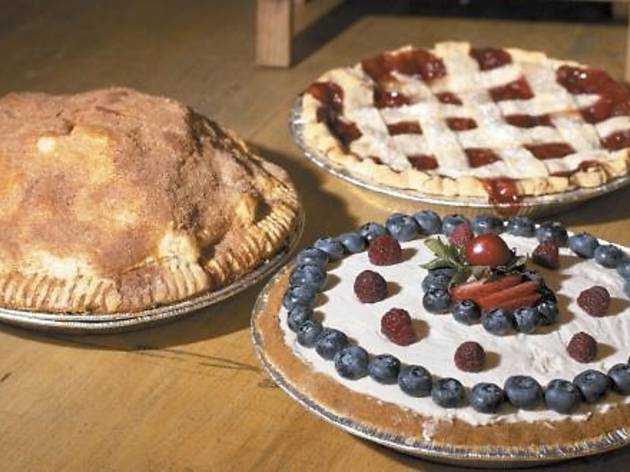 1/4
Photo: Erica Gannett
Pies from First Slice.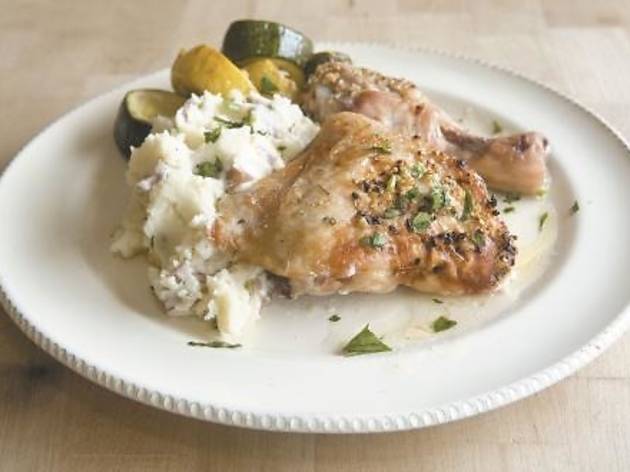 2/4
Photo: Erica Gannett
Meal from The Perfect Dinner.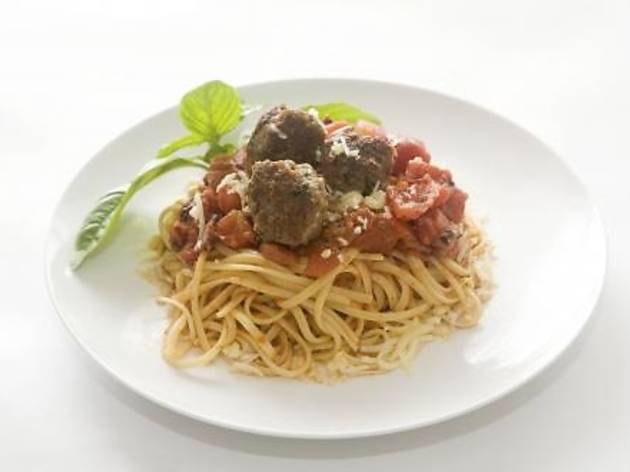 3/4
Photo: Erica Gannett
Spaghetti and meatballs from Let's Eat Home.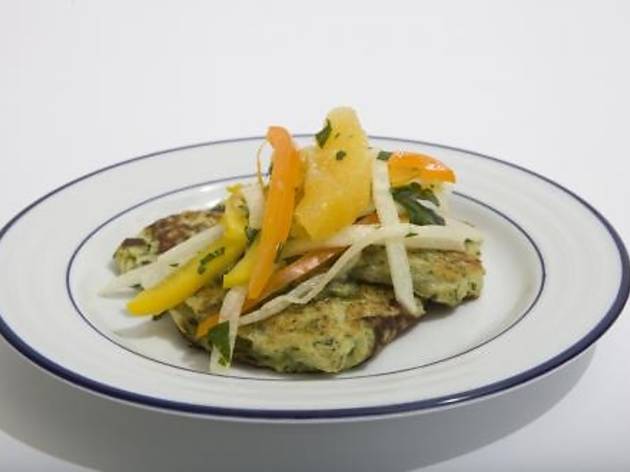 4/4
Photo: Erica Gannett
Meal from Meez Meals.
SERVICE
First Slice (4401 N Ravenswood Ave, 4664 N Manor Ave or 163 E Pearson St; 773-506-7380)
THE SCOOP
You commit to a 12-week subscription that gets you three three-course meals per week, typically frozen (except for the salads and pies). All the proceeds benefit First Slice's programs to feed Chicago's hungry.
PICKUP OR DELIVERY?
Pickup at any of the three locations on Fridays, Saturdays or Sundays; times vary by location.
COST
$74.63 per week for a family subscription (enough to feed two adults and two kids; individual plans available for $38.41/week).
SAMPLE MENU
Spinach and butternut squash lasagna, Italian chopped salad and chocolate–peanut butter pie
YOUR KIDS WILL ASK FOR SECONDS OF…
Pie! Every meal comes with First Slice's signature treats.
---
SERVICE
The Perfect Dinner (809 South Blvd, Oak Park; 708-660-8731)
THE SCOOP
There are eight meal choices made fresh daily. You can place an order in advance or pick out what you want at the shop.
PICKUP OR DELIVERY?
Your choice. Pickup is available weekdays 10am–7:30pm and Saturdays noon–6pm. Or schedule delivery for $2.50 within three miles; a higher charge for longer distances. You can keep a credit card number on file, too, so the baby-sitter can order a wholesome dinner.
COST
$20–$30, depending on the meal and the size. Entrées, which typically include a protein and a starch, have two to six servings and cost around $7–$9 per serving. Desserts, salads and sides are extra, ranging from $5.50–$10.50, depending on portion size.
SAMPLE MENU
Baked chicken with mac and cheese, beef stew and other comfort foods are the specialty, but there are plenty of gluten-free and vegetarian options, too.
YOUR KIDS WILL ASK FOR SECONDS OF…
Mac and cheese; meatloaf with cheesy potatoes
---
SERVICE
Let's Eat Home (773-882-0752)
THE SCOOP
Pick from an ample list of dishes that personal chef Stephanie Podell prepares after you fill out a questionnaire about your family's likes and dislikes.
PICKUP OR DELIVERY?
Delivery is free within a 15-mile radius of Oak Park; a fee is tacked on for longer distances.
COST
The "Recession Gourmet Service" includes three entrées, one side dish plus a loaf of bread and a weekly dessert for four people for $375. Dinners are meant to serve four people for 12–16 meals, so make room in your freezer for lots of leftovers.
SAMPLE MENU
Old-fashioned chicken potpie, baked ziti, garlic-and-sour-cream mashed potatoes, noodle kugel. Podell will also prepare recipes based on South Beach and other diets.
YOUR KIDS WILL ASK FOR SECONDS OF…
Spaghetti and meatballs. Podell specializes in meal services for new moms, with grocery shopping and cooking included.
---
SERVICE
Meez Meals (773-844-7568)

THE SCOOP
Meals are delivered with a cookbook and the ingredients diced, prepped and vacuum-sealed. There's a hotline number to text with questions. Because so much of the prep is done, kids can help "cook."
PICKUP OR DELIVERY?
Delivered anywhere in Chicago, Evanston, Skokie and Oak Park on Mondays in a cooler box that keeps cold for 12 hours.
COST
For a family of four, three meals per week is $80 (or $65 for two).
SAMPLE MENU
Roasted chickpea tacos or pan-fried gnocchi. All Meez meals are vegetarian but include directions for adding meats (that you buy yourself) if you wish.
YOUR KIDS WILL ASK FOR SECONDS OF…
Zucchini and pesto pancakes