Easter brigade
Pick your fun from the plethora of Easter-themed parties, egg hunts and brunches going on this weekend.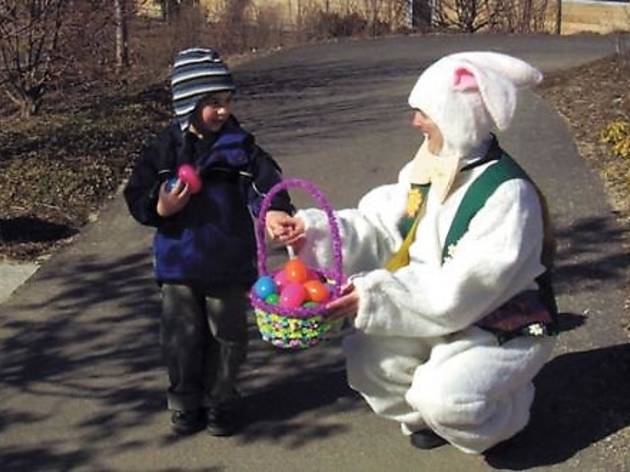 Easter Egg Hunt
Bubbles Academy, 1504 N Fremont St(312-944-7677). Thu 21, Fri 22, 5–6:30pm; $20.
Classic Easter activities like face painting and an egg hunt are supplemented with hands-on craft projects for happy little hands. Snacks are on hand for when tummies growl, and there's open play space for those in the mood to make their own good times. Registration required; call or visit bubblesacademy.com to register.
Breakfast with the Easter Bunny and Egg Hunt
Cantigny Park, 1S151 Winfield Rd, Wheaton(630-260-8260). Sat 23, 9–10:30am, egg hunt at 10:30am. $23, kids ages 3–12 $15, kids under 3 and egg hunt free.
Feast on a breakfast buffet before hunting for eggs outside the Robert McCormick Museum. Includes photos with the Easter Bunny, live magic and bunny ears. Call to register.
April Hop!
Easel Art Studio, 1911 N Milwaukee Ave(773-360-1720). Sat 23,noon–2pm; $25.
Hop to it and decorate eggs and a basket for the season. Lunch is included. Weather permitting, an egg hunt follows in nearby Erhler Park. Register online or call ahead.
Eggcellent Adventure on the Farm
Angelic Organics Learning Center, 1547 Rockton Rd, Caledonia(815-389-8455).Sat 23, 9–11am, noon–2pm; $11.
Kids learn all about eggs and baby bird development, and meet chicks and ducks. But it's not ova till it's ova: Collect colorful eggs from rare-breed hens and, using natural dyes, color them yourselves to take home as a springtime keepsake.
Macy's Bunny Breakfast
Macy's, 111 N State St(312-781-1000). Sat 23 at 9:30am; $28, kids $19.
Hunker down to a morning feast with the bunny of the hour at Macy's.
Breakfast and Brunch with the Easter Bunny
Morton Arboretum, 4100 Illinois Rt. 53, Lisle(630-968-0074). Breakfast Sat 23, 9–10:30am; brunch Sun 24, seatings at 9:30am, noon and 2:30pm. Breakfast $32, kids $26, members discount, kids under 2 free; brunch $45, kids $31.
Sniff spring flowers and chum it up with the Easter Bunny, then fill up on a Saturday breakfast buffet or Sunday brunch.
Botanic Garden Easter Brunch
Chicago Botanic Garden, 1000 Lake-Cook Rd, Glencoe(847-835-5440). Sun 24, 9–10:30am, 11am–noon, 1–2:30pm; $25–$55.
Spring is in the air at the Botanic Garden's Easter brunch; be sure to walk the grounds post-feast and enjoy the plants starting to bloom.
Easter Day Play
Pump It Up, 821 W Eastman St(312-664-7867). Sun 24, 9–11am and 11:30am–1:30pm. $10.
Kids can make like a bunny and bounce at an Easter playtime to burn off their Peeps-induced sugar highs.
Easter Sunday Brunch
Hilton Chicago, Indian Lakes Resort, 250 W Schick Rd, Bloomingdale(630-529-0200). Sun 24, 10am–3pm; $34–$38, kids $16–$17, kids under 5 free.
Tuck into this Easter brunch, complete with a chocolate fountain, live music and, of course, a visit from that bunny himself. Call for reservations.
RECOMMENDED: The best Easter events in Chicago