Ella Jenkins plays the Old Town School of Folk Music on January 16
The First Lady of the Children's Folk Song is still rockin' at the tender age of 87.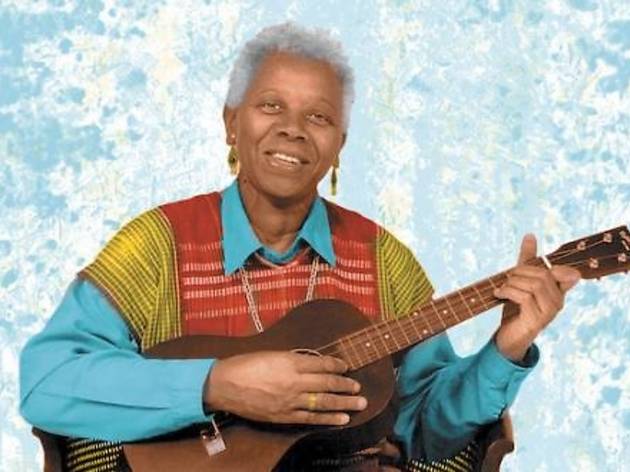 Ella Jenkins doesn't believe in lying about her age—and rightfully so. Blame it on her fascination with children, but her bright smile, quick wit and unstoppable work ethic have kept the 87-year-old singer lively, with no sign of slowing down any time in the near future. She'll put her talents on display Monday 16 as part of the opening festivities for Old Town School of Folk Music's new hall.
Long credited with putting children's music on the map, Jenkins won a 2004 Grammy Lifetime Achievement Award that cemented her pioneer status. But music has been part of her world for almost as long as she's been alive.
Jenkins, a South Side native, was exposed to different genres of music growing up, from the neighborhood church's gospel to rhymes sung by local schoolchildren. Her Uncle Flood introduced her to blues, jazz and her beloved harmonica, which quickly became a signature instrument.
Despite the odds against her—including prejudice, poverty and a lack of professional music training—Jenkins recollects her potentially daring career move as a no-brainer. "I think a lot of children like to imitate what they see adults doing, like playing house. When I was 14 and was a teenage director for the YWCA, I'd see other people performing, and pretty soon I started writing and had a book of songs I'd composed myself."
With a natural interest in everything around her (and a skill for imitation), from a young age Jenkins was fascinated by performers and pledged that one day she'd join them. "I always liked watching people singing and acting on stage," she says. "As a young child, you start off with something simple—words, rhythms and rhymes—and you might just add a phrase or two, and all of a sudden you're composing." While she often jokes that she might have been a movie star were it not for a fear of memorizing lines, Jenkins nonetheless found her career path—complete with old-fashioned ethics.
When asked about her career-long loyalty to Smithsonian Folkways, it's clear that staying true to her roots was never in question. "Even after 29 records, you just never realize how quickly the years go by until I meet people who grew up on my music whose children now listen to it. That's what makes it all worthwhile."
Jenkins's latest musical release, A Life of Song—featuring songs and stories that relate to her upbringing in a multicultural world—has been included in the Smithsonian African American Legacy series, bringing to light the beginning of her career in the midst of the civil-rights movement, which prompted Jenkins's inclusion of traditional African folk songs and call-and-response singing into her music.
In spite of growing up in an era of segregation and racism, Jenkins spent her life absorbing as much as she could about other cultures, leading to both serving as a U.S. delegate to Hong Kong and playing on all seven continents. In her view, one of her greatest successes has been "performing for children around the world and learning about different customs and languages. The main thing when you travel is, you travel with who you are and grasp who other people are."
Jenkins's next project is a book called Random Thoughts, a collection of poems, ideas and stories she jots in a daily notebook. Truly an anomaly in a warp-speed world, Jenkins takes her time to appreciate the little things in life, which she continually taps into as a source of inspiration. "There's so much flowing around, and I think each day is just so important. If you start losing interest in ordinary things, what else is there?"
Ella Jenkins performs at the Old Town School of Folk Music on Monday 16.