Even more 2012 summer camps
We've added many more camps to our 2012 guide. Check out all the new listings here.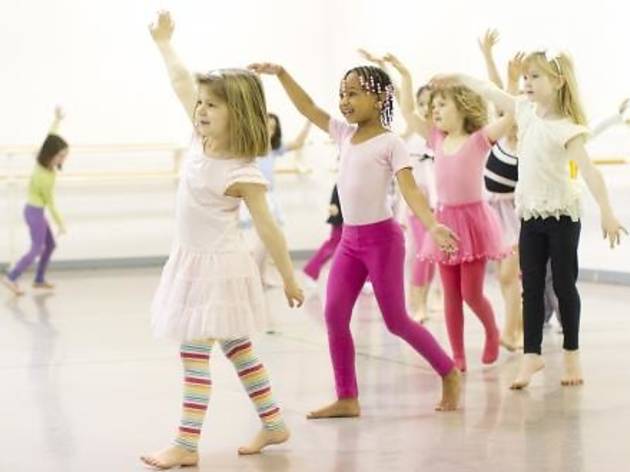 Beverly Arts Center Summer Camp
Preschoolers through teens enjoy activities with focuses in music, dance, drama, visual arts, fitness and computers. Two-week teen jewelry-making camps and a new chess scholars camp are also available. Weeklong sessions are spread over the course of the summer beginning in June. Save by registering early. 2407 W 111th St (773-445-3838, beverlyartcenter.org). Jun 19–Aug 23. $275, members $247. Ages 5–12.
Camp Kupugani
Kids build self esteem and learn about diversity while rock climbing, taking river walks, canoeing and night hiking under the stars help at this multicultural summer camp. Campers also burn some serious energy through swimming, biking and even archery. One-week session are available for boys. Girls can partake in two- or four-week sessions. 6903 W White Eagle Rd, Leaf River (815-713-4110, campkupugani.com). Jun 24–Aug 11. $930–$3350. Ages 7–15.

Cervantes Kids Summer Camp
Campers broaden their language skills while taking a journey into Spanish culture with crafts, songs, games and field trips. Weeklong summer sessions are offered in June and July. 31 W Ohio St (312-335-1996, chicago.cervantes.es). Jun 18–Jul 28. $320–$600. Ages 6–12.

Chicago Children's Theatre Summer Camp
For the first time, CCT offers a two-week summer camp for future actors, directors and storytellers. Kids will take part in acting workshops, story creation, movement and craftwork sessions, all of which leads up to a final production written, performed and designed by campers. 1464 N Milwaukee Ave (773-227-0180, chicagochildrenstheatre.org). Jul 16–Jul 27. $700. Ages 8–13.

Child's Play Touring Theatre Summer Camp
From writing to rehearsal and performance, this drama camp encourages ensemble building, artistic thinking and problem solving. With five one-week sessions, campers sharpen their skills in acting, improvisation, singing, dancing and stage direction. A low student-to-artist ratio facilitates a fun, safe and supportive camp. 2518 W Armitage Ave (773-235-8911, cptt.org). Jun 18–Jul 20. $250 per week. Ages 6–13.
Corner Cooks' Kids Summer Culinary Camp
If your budding chef is going stir crazy at home this culinary camp will add spice to his or her summer. Rachael Ray and Bobby Flay wannabes learn to cook globally-inspired dishes such as dumplings, banh mi, tom yum, gazpacho, tikka masala, samosas, crepes, calzones, and souvlaki. Two four-day sessions are available. 507 Chestnut St, Winnetka (847-441-0134, cornercooks.com). Jul 16-26. $400. Ages 9-14.
Creativity Camps at the Art Center
Hyde Park Art Center Creativity Camps explore the art world through a range of multimedia activities. A combination of visual arts, theater arts and outdoor play helps campers learn to produce original works of art and explore artistic themes with the help of professional artists from the Chicago area. Five weeklong camp sessions are available. 5020 S Cornell Ave (773-324-5520, hydeparkart.org). Jun 11–Aug 31. $395–$710. Ages 4 and up.
Dancenter North Summer Workshops
Six-week ballet, jazz and tap workshops will have your child pirouetting in no time. Plus, your kiddo can shine in a new, three-week musical theatre workshop, which will produce its own version of Wicked. 540 N Milwaukee Ave, Libertyville (847-367-7970, dancenter-north.com). Jun 11–Jul 28. Prices Vary. Ages 7 and up.

Dunes Discovery Camps
Kids discover the natural world along the shores of Lake Michigan during daily adventure outings. This overnight camp offers the chance to explore wetlands, prairies, dunes and woodlands, while experiencing native and historic cultures through hands-on activities such as crafts and nature games. Camp is split into three weeklong sessions. 700 Howe Rd, Chesterton, IN (219-395-9555, duneslearningcenter.org). Jun 17–Jul 13. $340. Ages 9–14.
DuPage Children's Museum
With hands-on learning activities, campers get the opportunity to explore a variety of topics in science, math, art, and engineering. Multiple sessions allow for more advanced activities, such as advanced lego construction, biology, and chemistry labs. 301 N Washington St, Naperville (630-637-8000, dupagechildrensmuseum.org). $135–$197. Ages 3–10.

Easel Art Studio Summer Camp
Campers take part in theater, pottery, yoga and dance lessons, among other activities. Each day, kids paint, draw and play during trips to local parks. Easel offers daily class prices or discounts with a five-day pass. Registration is limited. 1911 N Milwaukee Ave (773-360-1720, easelartstudio.com). Jun 18–Aug 31. $45–$350. Ages 4–9.

Facets Kids Film Camp
Young filmmakers build foundations in the techniques, language and process of filmmaking. With dozens of hands-on activities such as acting, storyboarding, screenwriting, reviewing and moviemaking, campers will learn to work just like the pros. Facets offers half-day sessions in June and two full-day sessions in July. 1517 W Fullerton Ave (773-281-9075, cicff.org). Jun 18–Jul 20. $350–$450. Ages 7–14.

HSDC Youth Dance Program Summer Dance Camps
This dance camp offers kids the opportunity to study a variety of movement styles, including ballet, hip-hop and jazz. Younger kids experience a weeklong environment that builds gross motor skills, musicality and kinesthetic confidence, while older dancers ages 7–13 take technique classes toward a specific type of dance. Three sessions are available for full- and half-day rates. 1147 W Jackson Blvd (312-850-9744, hubbardstreetdance.com). Jun 18–Aug 17. Prices vary. Ages 18 months to 13 years.
Italian and Cultural Language Summer Camp
At Casa Italia's four-week camp, bambinos are immersed in Italian through songs, games, storytelling, movies and skits in morning sessions. Italiano is also the language of choice during the afternoon session's cultural activities, including soccer, bocce, dancing, cooking, painting, etiquette, fencing, sewing and beading. Classes are available for either morning, afternoon or full day sessions and are divided by age group. 3800 Division St, Stone Park (708-345-5933, casaitaliachicago.net). Jun 18-Jul 13. $750 for full day, $490 for half-day. Ages 4-13.
Lake Barrington Field House Summer Camps
Kids can heighten their basketball, football, soccer, or volleyball game during weeklong, full- and half-day sessions at this sports camp. Cheerleaders-in-the-making bring it in new pom camps, while reality TV fanatics will flip for camps with "Survivor," "The Amazing Race," and other TV-related themes. Half-day sessions available for smaller kids. 28156 W Northpointe Pkwy, Lake Barrington (847-387-1516, www.lakebarringtonfieldhouse.com). Jun 11-Aug 17. $150-$250 per week (discounts end Jun 4). Ages 3–18.
Lincoln Park Athletic Club Rock Climbing Camp
Campers take part in one of the fastest growing sports in the country with help from professional climbers and trainers. Kids learn basic climbing skills that improve balance, coordination, and strength on LPAC's outdoor climbing wall. 1019 W Diversey Pkwy (773-529-2022, chicagoathleticclubs.com/lpac). Jul 9–Aug 24. $200–$1,000. Ages 7–15.
Mark Kistler's Summer Art Camp
Author and Emmy Award-winner Mark Kistler, host of Public Television's Imagination Station, returns to the North Shore to teach 3D drawing during a weeklong camp. This summer he is joined by animator Tim Decker, formerly of Disney Interactive and The Simpsons, who will teach sessions on clay animation and puppet making. Kids can choose between drawing-only, clay animation-only or a combined mega camp. Clay animation is aimed at kids ages 8 and up. 460 Sunset Ridge Rd, Northfield (847-291-2777, Draw3D.com). Jul 30–Aug 3. $89–$267. Ages 5–14.
Music Institute of Chicago
The oldest community music school in Illinois offers music- and theater-themed sessions during the summer months, including camps that center on singing, acting, dancing, and storytelling. Sessions are broken down by age group. Registration deadline for most sessions is June 1. Locations vary with each program. (847-905-1500, musicinst.org). Jun 11–Jul 28. Prices vary. Ages Kindergarden to 7th grades.

One Strange Bird
Kids work with art mediums such as clay molding, painting, drawing and cartooning. Weekly themes are offered during the summer with options for full- or half-day schedules. 2515 W North Ave (773-276-4420, onestrangebird.com). Jun 4–Aug 10. $200–$350. Ages 5 and up.

Play On Summer Drama Camp
Run by Second City teacher and children's theater-book author Lisa Bany-Winters, this Chicagoland summer camp aims to immerse campers in the live theater experience. Among other activities, campers make regular trips to see live performances by Broadway in Chicago, the Chicago Shakespeare Theater at Navy Pier and Second City. Play On offers two sessions over the course of the summer. 1330 Ridge Ave, Evanston (847-337-9614, playonltd.com). Jun 18–Aug 2. $840 one session; $1,600 both sessions. Ages 2nd to 8th grades.
Poetry Foundation's Teen Poetry Boot Camp
If your poetry-lover is sick of Wordsworth and needs some fresh summer reading material, then this free camp can help. Teens read, discuss and respond to contemporary poems by writers such as Terrance Hayes, Patricia Smith, and Sharon Olds. 61 W Superior St (312-787-7070, poetryfoundation.org). Jul 11, 18, 25 from 1–3:30pm. Free. Grades 9–12.
Sister-Arts Fiber Art Camp
The nimble-fingered can cast off summer boredom by learning to knit, crochet, felt, sew, or make beaded jewelry. If your young artisan is a fan of Uglydolls, check out the "DYO Ugly Doll" class where campers can create their own plush monsters. Sign up for one week, a five-week session or all ten weeks. Kids attend either a full day or pick and choose from different morning and afternoon classes. 721 W Wrightwood Ave (773-929-7274, sisterartsstudio.com). Jun 11–Aug 31. $245–$460 per week. Ages 7–14.
Stage 773's Performing Arts Summer Camp
Whether you're a beginner exploring theater or a seasoned performer, participants perfect their performance skills with workshops in writing, acting, and set design. Classes are taught by members of the Chicago theatre community, providing students with invaluable tutelage in preparation for the final performance on June 30th. 1225 W Belmont Ave (773-327-5252, stage773.com). Jun 18–29. $150–$575 (scholarships available). Ages 7–14.
Striding Lion
With the help of instructors, campers write the script, music, and choreograph the moves for an original production in which they will be the stars. Locations vary (773-769-7540, stridinglion.org). Jul 23–Aug 24. $250. Ages 4–10.

Tennis on the Lake
This sporty summer camp has weeklong half-day and full-day classes for junior tennis players from beginner- to tournament-level play. Players are grouped together based on age and skill level. 3650 N Recreation Dr (773-278-8877, tennisonthelake.com). Jun 6–Sept 2. $250–$450. Ages 5–17.

The Body Trek Summer Science Camp
Young scientists explore anatomy and gain experience with hands-on labs and guest lectures. Campers will dissect animal specimens such as a heart or a lung, work in small group activities and observe surgeries via a closed-circuit television. New this summer: a South Loop location at the Daystar Center. Options for one- or two-week sessions are available depending on location. Locations vary (630-325-1900, robertcrown.org). Prices vary. Ages 5th to 8th grades.
The Chicago Mosaic School
Under any other circumstance, we wouldn't encourage kids to play with broken glass. But at the Chicago Mosaic School—after safety training, natch—supervised campers are provided materials such as broken dishes and tiles to create beautiful mosaic stepping stones, tiles, gazing balls, and jewelry. Two sessions are available for each five-day camp: "Garden Critters," "Space Invaders," "Plant This" and "Get Your Fashion On." Classes vary by age. 1800 W Cuyler Ave (773-975-8966, chicagomosaicschool.com). Jun 20–Aug 5. Times vary. $175. Ages 6 and up.

The Viola Project
Kids learn how to party like an Elizabethan and fight like an Amazon when the Viola Project partners with the Oak Park Festival Theatre to bring Richard III to the professional stage. Offering five weeks of interdisciplinary Shakespeare as well as classes in Elizabethan dance, sword play, costume design, and satire writing, this camp is sure to be a crowd pleaser for young Shakespearean enthusiasts. 2554 W Gunnison St, #3 (773-349-2685, violaproject.org). Jul 9–Aug 10. $295. Ages 10–16.

Youth Company Chicago Music Theatre Camps
Expect magic carpets, genies, and feisty monkeys donning fez hats at this musical theatre camp. The program will culminate in a professionally-designed stage adaptation of Disney's Aladdin. Two five-week camps are available. Kindergarten through 2nd grade actors attend half-day morning or afternoon sessions. Grades 3–7 attend full-day classes. Locations vary (312-324-3700, youthcompanychicago.org). Jun 18–Aug 24. $1300 (scholarships available). Kindergarten–7th grade.
Youth Yoga Camp
The young and limber can strike a warrior stance, perfect the lotus pose and learn other stretches at this one-week yoga camp. Each two-hour class at Soulistic Studio & Spa includes a full yoga practice, an eco-art project using recycling materials, and a discussion about sustainability. Two sessions, divided by age group, are available. 805 N Milwaukee Ave, ste 200 (312-226-7685, soulistic.com). Aug 13–24. $150. Grades 1–8.